Naše unisex kolekce obsahuje klasické domácí oblečení pro ty, kdo dávají i po lockdownu přednost pohodlí. Letní edice se vyznačuje kratšími rukávy, neformálními doplňky a světlejšími odstíny.
Značka Penn je známá používáním barevných bloků. Mezi oblíbené barvy patří tmavě modrá, bílá, červená a šedá, které se velice dobře kombinují a snadno si z nich vytvoříte outfit na celý týden.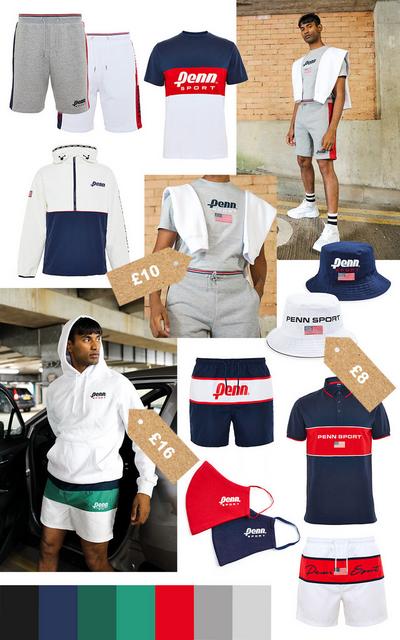 Sportovní kraťasy
Pokud nějaká součást našeho šatníku zaslouží medaili za věrné služby během lockdownu, jsou to tepláky. Na léto jsme pro vás připravili jejich zkrácenou verzi. Můžete si k nim vzít, stejně jako Ramzan, tričko s krátkým rukávem a vytvořit dokonale sladěnou soupravu. Tento pohodlný denní outfit dotvoříte teniskami a některým z našich elegantních kloboučků.
Tónované topy
Oblékněte si některé z triček Penn X Primark a uvidíte, že si ho okamžitě oblíbíte. Máte-li raději volnější střihy, sáhněte pro cyklistických šortkách, bílých ponožkách a teniskách pro svěží vzhled, nebo vytvořte kombinaci s džínami a koženou bundou, když budete chtít něco elegantnějšího.
Hledáte něco formálnějšího na letní večeři? To není problém. Vyměňte tričko za polokošili s tmavě modrými a červenými bloky, ke kterému se skvěle hodí modré džíny a tenisky.
Třikrát sláva mikině s kapucí
Mikina s kapucí nesmí chybět v žádném letním šatníku, protože v parných dnech nikdo nevyhledává teplé kabáty a bundy. Svěží bílá mikina s kapucí se skvěle hodí k šortkám se zavazováním v pase a zeleným pruhem. Přesně takový outfit si vybral Ramzan na pláž nebo do posilovny.
Mikiny s kapucí jsou skvělé na nejrůznější volnočasové aktivity, nicméně jejich využití ještě rozšíříte, když si přes ně přehodíte některý z našich blejzrů a skvělý "smart casual" outfit dotvoříte černými džínami.