Home
Recreate those little moments at home
One of the things we're all missing while in lockdown is eating out with friends and regular coffee shop meets. Just because you can't go out to your fave restaurant or café doesn't mean you can't recreate them at home. Make the most of life's little luxuries just now and maintain your social calendar with friends and family, even if it's from afar and why not do it with a little flair? We tell you how…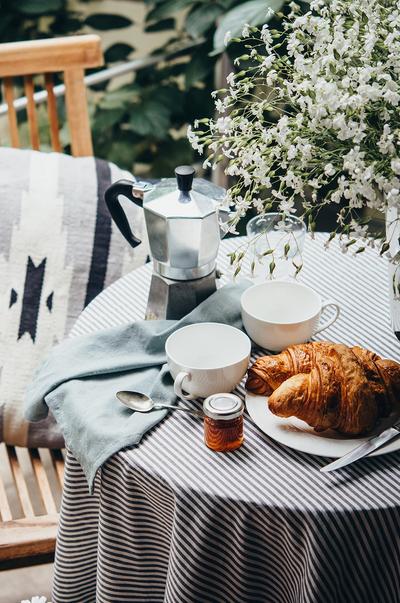 Recreate Café Style Dining At Home
If that coffee and cake meet is usually the highlight of your weekend, fear not because it still can be. If you can't go out to the café, bring the café to you. Spend the morning baking scones or your fave pastry (no judgement for using ready-made croissant dough here!) and fill the air with that fresh baked smell. Pop some pods into your coffee machine or make up a cafetiere, froth up the milk and set the table. Recreate your favourite gallery café or coffee shop style at home by rearranging your kitchen table, clear the surfaces to keep it minimal, sit the chairs facing each other so it feels authentic and you're good to go, whether dining alone or with company.
Virtual Dinner Parties
Don't let the regularity of dinner time become monotonous, now is the time to really make a meal of it Whether you're living alone, as a couple or with housemates why not host a virtual dinner party with your friends? Invite them to join you via Houseparty, Google Hangout or Zoom and really bring the dinner party vibe alive. Set a theme for everyone; is it a French night, Mexican, or Italian? Reflect this in your menu, table decorations and selected playlist and have everyone cook a different dish so you can all discuss. Then sit down and eat together as if you were in the same room and even better, there's no bill to pay at the end.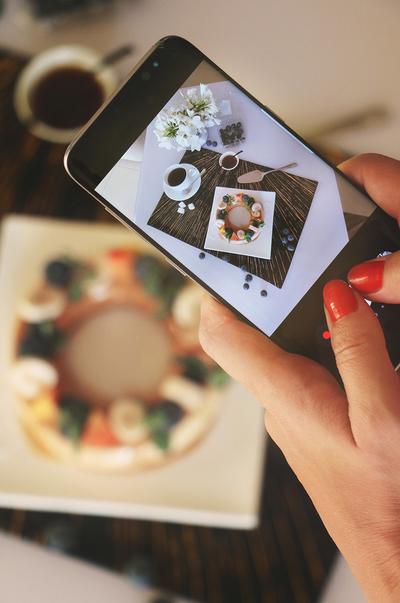 Bring Date Night Home
For couples self-isolating together you can still make date night happen. Do you have a restaurant wish-list you usually work your way through? You can still maintain this ritual, simply choose a restaurant from your list and select a starter, main and dessert from their menu to make at home. To make your night feel super special take some time to set the table by throwing on a tablecloth, bringing out your best fabric napkins and the cutlery you normally save for best. Want to up the romantic ambience? Add candles, dim the lights and choose some relaxing jazz background music. Currently living apart from your love? Invite them to join your digitally and make it feel like true quality time.
Friday Night Post Work Meet Ups
If post work catch ups on a Friday night used to be the start to your weekend there's no need it for that to change completely. Schedule in that videocall with the girls/guys/besties and make sure it's in everyone's diary. Once you log off from work on Friday afternoon take some time to get dressed up like you would if you were actually going out, or simply put on your lippie. What you're really missing isn't the venue you usually go tp, it's seeing your friends faces and having a laugh with them and it's still possible to make that happen to round up the working week, or every night of the week if you choose!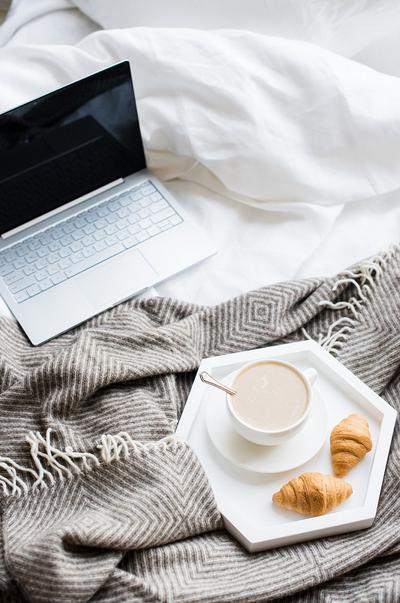 Weekend Brunching
If breakfast during the week has been more dash and grab to make your 9am video call, give yourself more time at the weekend to relax and enjoy. Brunch with the girls is the kind of weekend moment you simple can't miss, especially for the gossip, so schedule in a Houseparty call with your besties and get everyone to dial in at the same time. Got a craving for waffles, or pancakes? Pull out that cookbook and recreate them in your kitchen and top with whatever sweet or savoury option you currently have in the fridge. Make plenty of coffee and settle in for the long haul – we all know these brunch session last hours! Enjoy!