Home
The Beginners Guide to Video Meetings
For some the idea of a video call can be daunting to say the least, especially when it's with your boss and colleagues rather than your besties, but with most of us working from home at the moment they're becoming a necessity to stay in the loop and keep your work life as connected as it would be back in the office.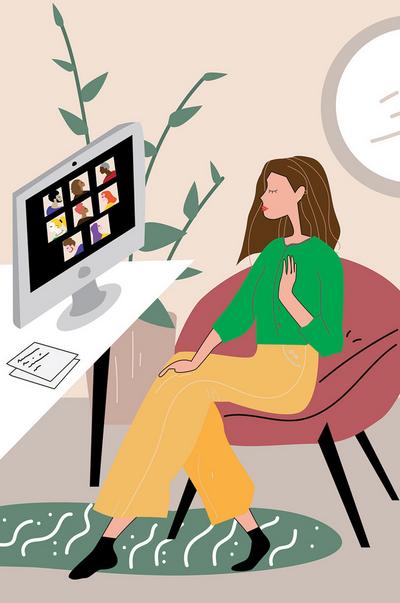 If you're unaccustomed to the world of conference calls then having to take meetings online can be a major adjustment but you can prepare for your on-screen office debut by reading our guide, not only will prep calm your nerves but you'll avoid being the subject of office banter when you return!
Stay At Home Style
So, you can absolutely let your work attire become a lil' more casual when you're not office bound but if you usually take great pride in your work wardrobe then don't let your style game drop just because you're behind a screen. A smart top or shirt is key, after all, you'll likely only be seen on a call from the waist upwards. If you're a risk taker then keep your joggers and fuzzy socks on but be warned if the doorbell rings or you have to stand up for any reason, you might be caught out!
Behind The Screens
Even if you're a secret slob out of the office, now is the time to appear put-together and organised so be mindful of what your colleagues can see behind you when on a video call. Remember, you're effectively inviting nosy work mates to get a sneak peek of your home, so pop piles of washing out of view and don't dial in to a meeting sat in front of an unmade bed.
Housemates & Family
Many of us house share, or live at home with your 'rents and pets. Plus, your brood might be off school and your spouse self-isolating. But avoid mother dearest appearing in shot by pre-warning everyone you live with that'll you'll be on a call and if possible moving to an empty room. Of course we all want to see your adorable pup roam into view but remain professional and move away from any distractions. PS. If you can't avoid a noisy space then be sure to mute your microphone when you're not talking.
Camera Ready
Try to emulate how you'd normally look in the office. If you'd usually wear makeup, then sticking to your normal consistent routine is key and can help make you feel more ready to work. Position your computer so that the camera is at eye level or above and try to look into the camera when you're talking, it'll appear as though you're making eye contact with the person you're talking to.
Lights, Camera, Action
Use the camera application on your laptop to preview how you'll look before connecting to the call. Good lighting can make all the difference and daylight is ideal so position yourself opposite a window to prevent appearing as a mysterious dark blob!