Home | Women | Kids
Your Self-Isolation Podcast Playlist
While playing a podcast might not compare to socialising with friends, family or colleagues, they can certainly help to keep you company when you're stuck at home alone. Whether you switch off and soak in a bath while you listen or use your favourite as the soundtrack to your home workout, podcasts offer a much needed moment away from your computer or tv screen. If you need some inspo for what to listen to next, here's our guide to the best podcasts to add to your playlist right now.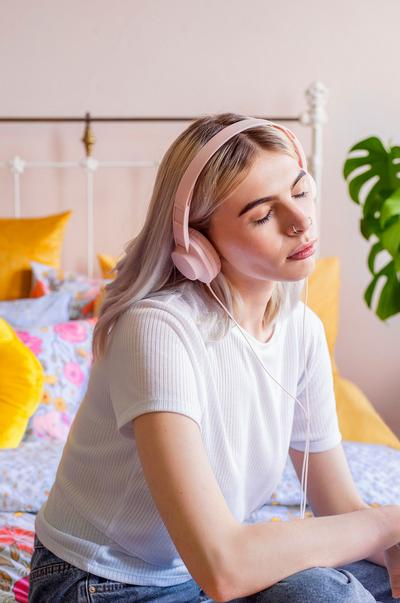 Table Manners by Jessie Ware
If food is your forte, you'll love this chatty podcast hosted by singer Jessie Ware and her chef extraordinaire mum Lennie. Listen as they interview stars from music, tv, film and food over a three course meal at Jessie's very own dinner table.
Happy Place by Fearne Cotton
Our fave presenter chats to inspiring individuals about finding their happy place, be that through major life changes, or helping others – pure positivity and life inspiration!
Here We Go Again by Stacey Solomon
Mums and mums to be will love this honest podcast from TV's golden girl and Primark ambassador Stacey Solomon. Tune in as she debates all things motherhood and childbirth, in her own hilarious way, of course.
Give Me Strength by Alice Liveing
Wellness influencer, bestselling author and personal trainer Alice Liveing unpicks mental health, inner strength and empowerment with sport's most successful females.
The Good Glow by Georgie Crawford
Seeking self-care advice? Georgie Crawford gained a new perspective on life after a breast cancer diagnosis. Listen as she shares her wellbeing tips and speaks to wellness advocates about making positive lifestyle changes.
Desert Island Discs by BBC Radio 4
Your favourite famous faces share their desert island must haves, choosing 8 songs, one luxury and one book to take with them, what would you choose?!
Ctrl Alt Delete by Emma Gannon
If you're lacking enthusiasm when working from home try this untraditional career podcast by award-winning author Emma Gannon.
Revisionist History by Malcolm Gladwell
Learn something new while you listen to bestselling author Malcolm Gladwell as he debunks and dives deep into some of history's most misunderstood people and events.
Podcasts aren't adults only fare, there's no reason why your kids can't get in on the fun! Plus, they provide yet another way to keep your little ones entertained when they can't roam outside, here's our current faves that we're sure they'll love:
Stories Podcasts
For days when you just havn't had a spare moment for story time, this podcast will read to your little ones one for you. Suitable for all ages you can choose from re-telling's of old classics, fun-filled fairy tales and more.
But Why: A Podcast for Curious Kids
No topic is too big or small for this curious podcast to delve into. Plus, you can submit your kid's very own curious questions for the team to answer.
Brains On!
An award winning science podcast for kids, each week a new kid co-host takes their turn to get their most fascinating questions answered.