Men
A Day In The Life Of Kem Cetinay
We've all seen what he gets up to while sunning himself in Ibiza, but what's a normal day like for Kem Cetinay? We spent some time with the chilled out Love Islander, post the launch of his Primark swimwear collection, to get the inside scoop on his day to day rituals. If you're looking for some top tips on how to fit in your gym routine, a hearty brekkie, work meetings and still have time to see your mates, then be ready for some serious inspiration. Kem manages to do it all and make it look easy. Scroll on for the full low down…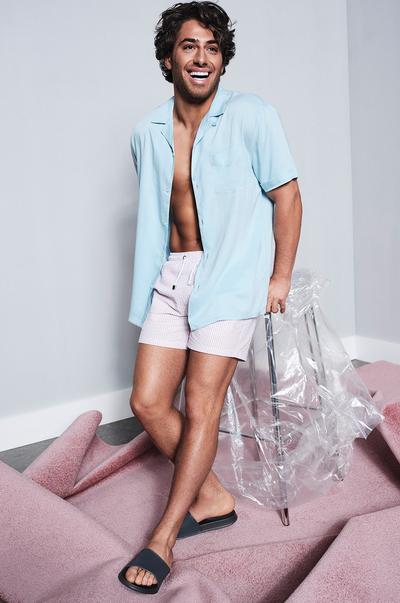 9 am - If I don't have an early call time for work then I naturally wake up at 9 am. I go downstairs in my PJ's and say hi to Rocky our family dog. He's always happy to see me and follows me around the house.
9.30am - I like to have a good breakfast if I have time, and my go-to is always a bagel with salmon and scrambled eggs. I'm a big fan of cold coffee too, so I'll have one of those and then head upstairs to get ready for the gym.
10 am - I drive to my local gym and like to do an hour of weights and half an hour of running. It makes me feel ready for the day if I've had the time to go to the gym, so I try to make it a priority when I can.
12 pm - By midday, I'll be home and I'll get ready for the day. I'll head into London for meetings about up and coming work and projects and usually have lunch up in town.
6 pm - When I get home I check in to see where my friends are and usually we plan to meet at someone's house for a game of Fifa or we will go out to Nando's to get food. Most of my mates live close to me so it is really easy to be able to see them in the evenings and hang out.
9 pm - I usually take Rocky out for a walk in around the local area for 45 mins, it's the perfect wind down for the day.
10 pm - I love to be in bed early and watch some Netflix before going to sleep.