We asked our stunning models to share with us their journey through love. Night owl Luc, who believes in finding happiness through art, discusses what he admires most in people, alongside what he has learnt to love about himself.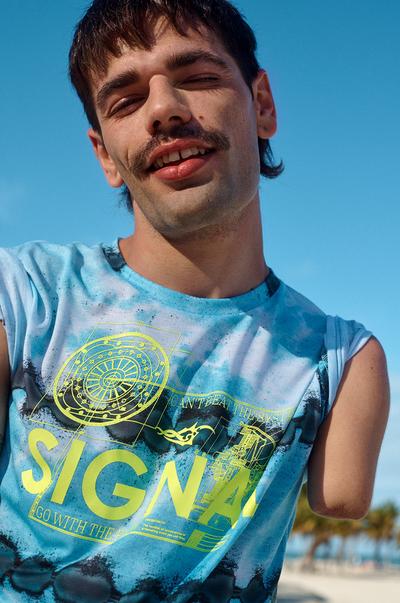 Who was your first true love?
My sister was my first true love.
Have you ever had your heart broken?
Of course.
Is home truly where the heart is?
Yes, for me it's in Berlin.
What does 'one love' mean to you?
One Love means we all have a link in this world. No matter your skin colour or sexuality, we all love.
What do you love most about yourself?
My kindness and curiosity.
How can people make their homes their 'happy place' ?
Through art. Whether that's dancing, painting, singing, or acting.
Who did you want to be, as a child?
I wanted to be Patti Smith.
What makes a person beautiful?
The aura of their soul.
What makes you, you?
Being able to share my feelings and opinions. I love the idea of respecting all opinions, even if they're not mine.
What makes you feel content?
Being alive.
Who are you?
I'm the future. Who are you?
What do admire most in a person?
I admire humility, because being humble allows us to see how much bigger the universe is than us.
Luc's Quick Fire Questions:
Anarchy or order? Anarchy
Make up or fresh faced? Fresh Faced
Heels or trainers? Heels forever
Day or night? Night
Dressed up or dressed down? Dressed up
What's your favourite colour? Blue
What's your favourite word? Incredible
Are you a morning person or night owl? A night owl
Fave pizza topping? Margarita
Last person you text? My Fiancé
Puppies or kittens? Puppies
What's your life motto? 'If you're breathing then everything is still possible'