It's time to get into your comfiest PJ's, put on some music and sit down to read our cast interviews. Macy tells us about her first love, where her happy place is, and hardest of all, she chooses between puppies or kittens!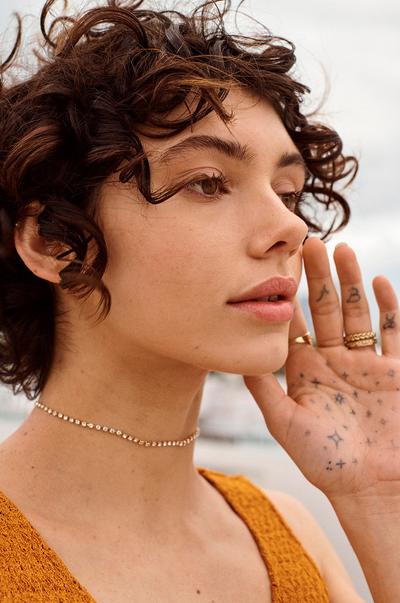 Who was your first true love?
My first true love is my mum. I've always been obsessed with her.
Can love cure all?
I want to say yes but logistically speaking, no.
What does being comfortable in your own skin mean to you?
Being comfortable in my own skin means being able to live authentically.
Is home truly where the heart is?
Yes, my home is definitely where my heart is.
Where is your happy place?
My happy place is with my lover, TJ.
What does 'one love' mean to you?
To me one love is a Bob Marley song.
What makes you feel content?
Having my money sorted and having my loved ones in one place.
Who are you?
I'm an intersectional feminist, I'm an artist. I'm a lover. I'm a fighter and a thriver. I'm multiple version of myself. I'm everything! I'm Macy.
Who do you admire most in life, and are they an inspiration to you?
In life I admire my mum the most. Having a strong, independent, single mother who embraced and celebrated me in all forms, really shaped my world.
When was your first kiss?
I had my first kiss when I was young. One of my childhood best friends would visit and I would kiss her.
Macy's Quick Fire Round :
Anarchy or order? I like the idea of anarchy, but I may be a bit too highly strung for it.
Makeup or fresh faced? I love being fresh faced.
Heels or trainers? What about boots? I choose boots.
Day or night? I choose night-time, when I can cook dinner and relax in my bed.
Dressed up or dressed down? Dressed up. Always!
What's your favourite colour? I'm too indecisive to have a favourite colour.
What's your favourite word? My favourite word right now is abundance.
Are you a morning person or night owl? I can be a morning or night person. It depends on the occasion!
Fave pizza topping? I don't really care for the actual pizza toppings, but I love to have a salad to eat at the exact same time.
Last book you read? It took me too long to actually think of the last book I read. I've definitely been wanting to read more.
Last person you text? The last text I sent was to my sister and mum in our group chat.
Puppies or kittens? Between puppies and kittens I choose puppies, preferably hypoallergenic ones.
What's your life motto? My life motto hasn't been decided yet, that's a lot of pressure. All I can say is treat people how you want to be treated.
What's your favourite emoji? My favourite emoji is the shooting star because I relate 💫