Planet
SOURCING RAW MATERIALS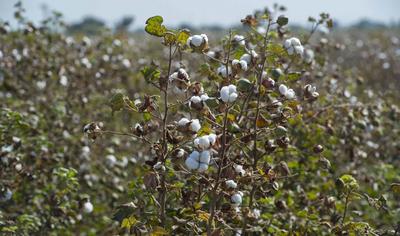 A range of natural and manmade fibres are used to make Primark products. Cotton is one of the most important natural fibres used, but others play an important part in production too. Regardless of the raw material used, it matters to us that it is sourced responsibly.
TRACING WHERE RAW MATERIALS COME FROM
At Primark, we don't buy raw materials directly. Instead, the factories or suppliers that we have approved are responsible for sourcing the raw materials used in our products.
Primark has committed to an initiative from environmental experts WRAP – the Sustainable Clothing Action Plan (SCAP). Alongside other members from the clothing sector, Primark is working to collective industry targets. These include reducing the amount of waste that ends up in landfill to help us reduce the environmental impact of our supply chain. A further element of SCAP aims to improve the traceability of raw materials in our supply chain. We submit the type and amount of raw materials used in our products to SCAP with the help of our suppliers. We also register the country of origin of the materials and fabrics used which means we can track where they're being sourced from.
We also want to go beyond tracing raw materials. We want to ensure our raw materials are sustainably sourced. And we've started with cotton.
SPOTLIGHT ON COTTON
At Primark, our long-term ambition is to ensure that all the cotton used in our supply chain is sustainably sourced. To do that we focus on two areas. We help farmers look after their environment by using less water and chemicals while still getting better yields. And we work to make the farming communities stronger, by building business skills and investing in health and other projects.
The cotton supply chain is notoriously complex. Like many other retailers, our suppliers source cotton from countries like India and Pakistan, where it is often grown on small farms in rural areas.
India and Pakistan are two of the world's largest producers of cotton. Much of the cotton in these countries is grown by smallholder farmers in rural areas and our experience is that many farmers are under-recognised and under-supported, often with little or no access to formal training. So in 2013 we teamed up with agricultural experts CottonConnect and the Self-Employed Women's Association (SEWA) to create the Primark Sustainable Cotton Programme in India. The programme trains farmers in sustainable farming methods, so they can improve their livelihoods through increased income. The programme launched with 1,251 female farmers in Gujurat, India, and has seen transformative results. Cotton quality has improved, and, on average, farmers who have completed their training have increased their profits by almost 200%. We've now expanded the programme to train a further 10,000 female farmers in India, and have committed to training 20,000 farmers in Pakistan through a partnership with a local NGO REEDS, the Rural Education and Economic Development Society.
We've now started to use the cotton from the programme in a number of our products, and that's just the start.
Kanchanben is a 40-year-old female farmer who is part of the project. She grows cotton on six acres of her land. Through the programme, Kanchanben has reduced the amount of fertiliser she uses by 50% and has increased her cotton yield. As a result, she made more money which she has invested in her children's education.
The programme has shown that long-term investment in female cotton farmers can deliver significant results for the farmers, their families, and the local communities involved. We're one of the only retailers doing this kind of project with a particular focus on female farmers, and it's something we're really proud of. Click play to watch the programme in action.