People and Production
Conducting checks and audits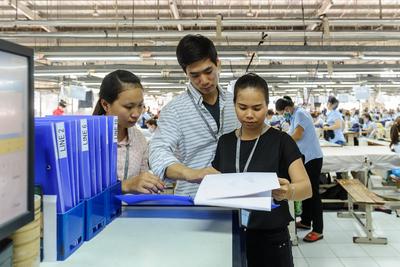 At Primark, we are very selective about who we will and won't work with. We choose and approve every factory before we place an order and require that anyone making Primark products commits to the standards in the Primark Code of Conduct as a condition of doing business with us. We have checks and audits in place so we can measure each factory against these internationally-recognized standards.
BECOMING AN APPROVED SUPPLIER
Before Primark places its first order, a member of the Ethical Trade and Environmental Sustainability Team meets with the factory to explain the standards required and to carry out a formal audit of current factory conditions. Audits help us to assess a factory's performance against the Code of Conduct. In the case of new suppliers and their factories, an audit allows us to be confident that the conditions in the factory are acceptable before we approve a factory for use.
CONDUCTING FORMAL AUDITS
Once a factory has been audited and approved, it will then be audited again at least once a year. In total, more than 3,000 audits are carried out each year in prospective and approved factories. At Primark we pay for our audits so we have our own record of conditions in the factories we source from.
Primark audits allow us to get an extremely detailed picture of working conditions throughout the factory. They cover all workers, from machinists to security guards to kitchen staff. We use different methods to get information, including assessments of fire or machine safety, interviews with management and people in functions like HR, plus reviews of paperwork. Confidential worker interviews are an essential and mandatory component. They give workers the opportunity to tell us confidentially what their working life is like and raise any issues they may have.
We carry out announced, semi-announced and unannounced audits, as well as hundreds of unannounced spot checks a year to assess specific issues.
Primark has also introduced a new program in Bangladesh and Pakistan to assess structural integrity. After the Rana Plaza disaster, the Accord on Fire and Building Safety in Bangladesh was set up. The Accord is an agreement between over 200 apparel brands and retailers, international and local trade unions and NGOs working towards sustainable improvements to working conditions in the Bangladesh garment industry. Any factory making products for a company that has signed the Accord must be independently inspected. We have also employed our own chartered engineer to oversee our own structural integrity program.
REPORTING BACK AND MEASURING PROGRESS
Following any audit, Primark provides the factory with a summary called a Corrective Action Plan. The plan details any non-compliances with the Code of Conduct and details a mutually agreed, time-bound action plan to resolve the issues identified. This plan is then signed off by the factory at the end of the audit. Common improvements relate to providing more evidence of fire drills being carried out or first responders being assigned to each first aid kit.
We know that many workers depend on Primark's business for a living. That's why our preference is to work with suppliers and their factories so that they can make the changes required based upon our audit findings. But, if we find anything critical, we are not afraid to take swift action. We'll stop placing new orders until we're happy the changes have been made. And, in the most extreme cases, we'll stop working with a supplier altogether if we feel our trust has been misplaced or a supplier is unwilling to improve.
Click next to find out more about the work of the Ethical Trade and Environmental Sustainability Team to help suppliers improve and meet our standards.