Beauty
#PrimarkMeets 3INA
Renowned for their vegan, paraben-free, made-in-Europe products, international beauty brand 3INA likes to challenge the one-size-fits-all definition of beauty. And we salute them for it – so much so, we've created a collection with them! Ahead of the 3INA x Primark collection landing in store, we grabbed a cuppa with them to chat about all things beauty, what they stand for as a brand, and their fave products from the collection. Scroll down to read our exclusive interview.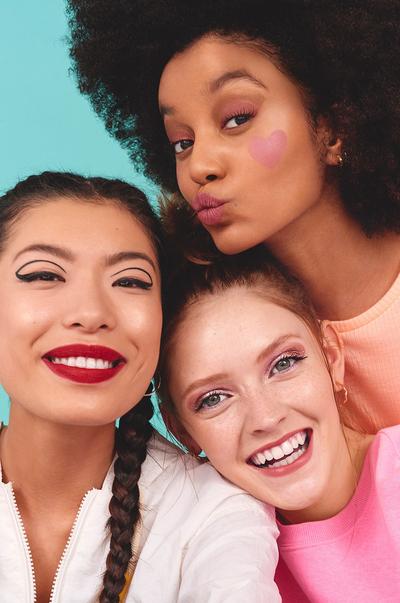 For any of our customers who are yet to discover 3INA, can you tell us what your brand stands for, and what they can expect from you?
3INA was created to give a generation that was tired of unattainable beauty standards a vision to challenge that "one‐size‐fits‐all" definition of beauty. We believe that the beauty should be REAL, HONEST and FUN So 3INA is all about color, self‐expression and playfulness. That's why we make high‐quality, honestly-priced products – so anyone can experiment with color and play with make up without any rules or borders. We see this approach as a global movement that we call #3INAMovement.
3INA products are vegan, paraben free and made in Europe – three amazing USPs. Tell us why these values are so important to you and your brand?
Standing for real beauty isn't just a trendy statement for us. Offering high pigmented, easy to apply products is not enough, that´s why all of our range is paraben free and made in Europe. And on top of that, all 3INA x Primark products are vegan! It´s crucial for us that we don't have to compromise between quality and value.
What excited you most about collaborating with Primark?
A possibility to collaborate with a brand that shares the same values as 3INA was very exciting for us. And a global brand like Primark, that offers superior quality, cruelty free products, at affordable prices so more people can have fun experimenting with makeup sounded like the perfect partner for 3INA.
How long did the collection take to come together, and what was the process?
From the first meeting with the Primark team to the launch date was a full year, with the product production process lasting around six months. Although it was fun, it was often challenging – but we definitely enjoyed working through the process together for this special collection that we feel so excited about.
What does the 3INA x Primark collection have in store for our customers?
Color and inclusivity are the pillars of this collection. Everyone can find something special from it to express their makeup ideas. And because it was formulated for a wide variety of skin tones, you don't have to worry about struggling to find your shade!
Which 3INA x Primark product does everyone just have to try?
In this collection there are some must-have products, such as Cream Eyeshadow that offers that wow‐factor to your eyes, Longwear Lipstick which is the ultimate liquid lipstick, Fixing Spray that helps your make up last so much longer and is just perfect to refresh the face during the long day. There are so many! You should try everything: at the end of the day, 3INA is about playing and experimenting with makeup.
Tough question, but do you have a fave product from the collection?
This is a tough one indeed, but if we have to choose, we´d go for Cream Eyeshadow - for the intense pigments and fast‐drying formula that gives that extra energy to your eyes. Longwear Lipstick - as it´s just so easy to use and we can´t live without its mess‐free formula and silky matte finish that stays put 3‐in‐1 Foundation - the perfect shortcut to a flawless skin as it primes, conceals and covers in one easy step, so your skin is ready in seconds for whatever you should face during the day.
Which three items from the 3INA x Primark collection will you be carrying in your handbag?
The Sculpting Face Palette is an essential for your handbag. It comes in six shades and is all you need for a quick retouch whether you need to contour, highlight or just add some blush to your cheekbones. And it´s just perfect to take your look from day to night. The Fixing Spray is great for refreshing your face and makeup during the day. And of course, Longwear Lipstick is an everyday essential, so you can easily add that vivid color that won´t shift from your lips.
And which three items will you be keeping in your desk drawer for pre‐meeting touch ups?
For desk to meeting touch ups it has to be the Definition Mascara and 3‐in1 Foundation to make sure your skin is flawless in a flash, and your eyelashes are on point.
What three makeup trends should we all be coveting this summer, and which products do we need to create them?
Bright eyes are going to be a big thing this season and a great chance to experiment. For a bold eye shadow look, we recommend pairing Cream Eyeshadow with a graphic eyeliner. You can either apply the eye shadow all over the eyelid with your fingertips or use a brush, then create minimalist graphic shapes using the eyeliner brush. If you're looking for something new, try a glossy look: add a wet finish to your eyelids and lips with Lips & Eye Gloss. Another easy way to stand out this summer is to add a splash of color to your lips that will last for hours with (of course) Longwear Lipstick...!