Home | Woman
10 Summer Style Essentials You Probably Already Own
While we love trying the newest trend pieces, no wardrobe's complete without some versatile essentials. From simple basics for creating endless looks to classic easy-to-wear pieces, these are the summer must-haves you'll be grabbing week after week. We know you already have a pile of these go-tos, so dig 'em out and make room for them in your grab-and-go stash. Missing these key pieces? Now's the time to start adding them to your wardrobe!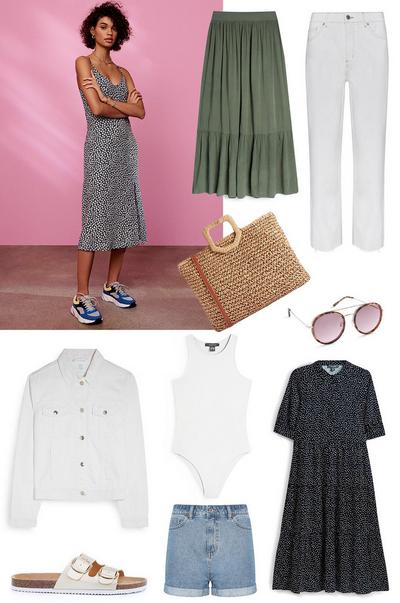 The Denim Jacket
Summer's the time to ditch your outerwear and let your well-planned looks really shine. That said, a denim jacket's a perfect piece for rainy days and cooler nights. Need a great twist on a classic? Go for fresh white denim or one in your fave color.
The Slip Dress
With countless ways to wear it, the strappy slip dress is a summer style chameleon. Wear yours belted with heels in the evening, or layered over a tee for cooler days.
The Denim Shorts
Shorts are musts for the midsummer heat, so make sure you have a couple of pairs in your stash. Find the style and length that flatter you, but go for classic blue denim for the most mix-and-match options.
The "Chuck-On" Dress
For days when you just need to get out the door fast: whatever your plans, a chuck-on dress is the answer. Airy and comfy, they're perfect for the hot weather but chic enough for work meetings and special events.
The Racer-Cut Bodysuit
Versatile solid tees and camis are piled up in every closet, but a bangin' racer-cut bodysuit is a great new pick for easy style. It'll give you a chic shape, and you won't need to re-tuck!
The Statement Sunglasses
Providing protection for your peepers and making a summer statement: a pair of stylin' shades are a great investment, perfect for accessorizing your look.
The Carry-All Bag
When summer sizzles, it's time for a roomy carry-all tote: you'll need lots of space for water and sunblock. Bonus style points for a woven or straw style! Just throw in everything you need and you're good to go.
The Maxi Skirt
Forget the mini: a maxi is a cool, comfy solution when the mercury's sky-high. Bonus: no worries about shaving or leg tanning!
The Slip-On Sandals
Keep your feet looking and feeling fresh in comfy footbed sandals. A cult classic to go with anything, just slip 'em on and go.
The Cropped Jeans
When it gets sticky out, skinny jeans are a no-go. But you can still rock a jeans-and-a-nice-top combo with a straight leg cropped pair. Cropped jeans are great for showing off your new summer kicks too!