Home
5 Ways To Upcycle Your Old Denim
It's time to put your upcycling skills to the test. From faded jeans to worn out jackets, no denim deserves to go neglected. So give them a new lease on life! Our upcycling hacks will give you inspo on how to transform your old denim pieces into your new fashion faves and fun home accessories.
1. Bleaching Your Jeans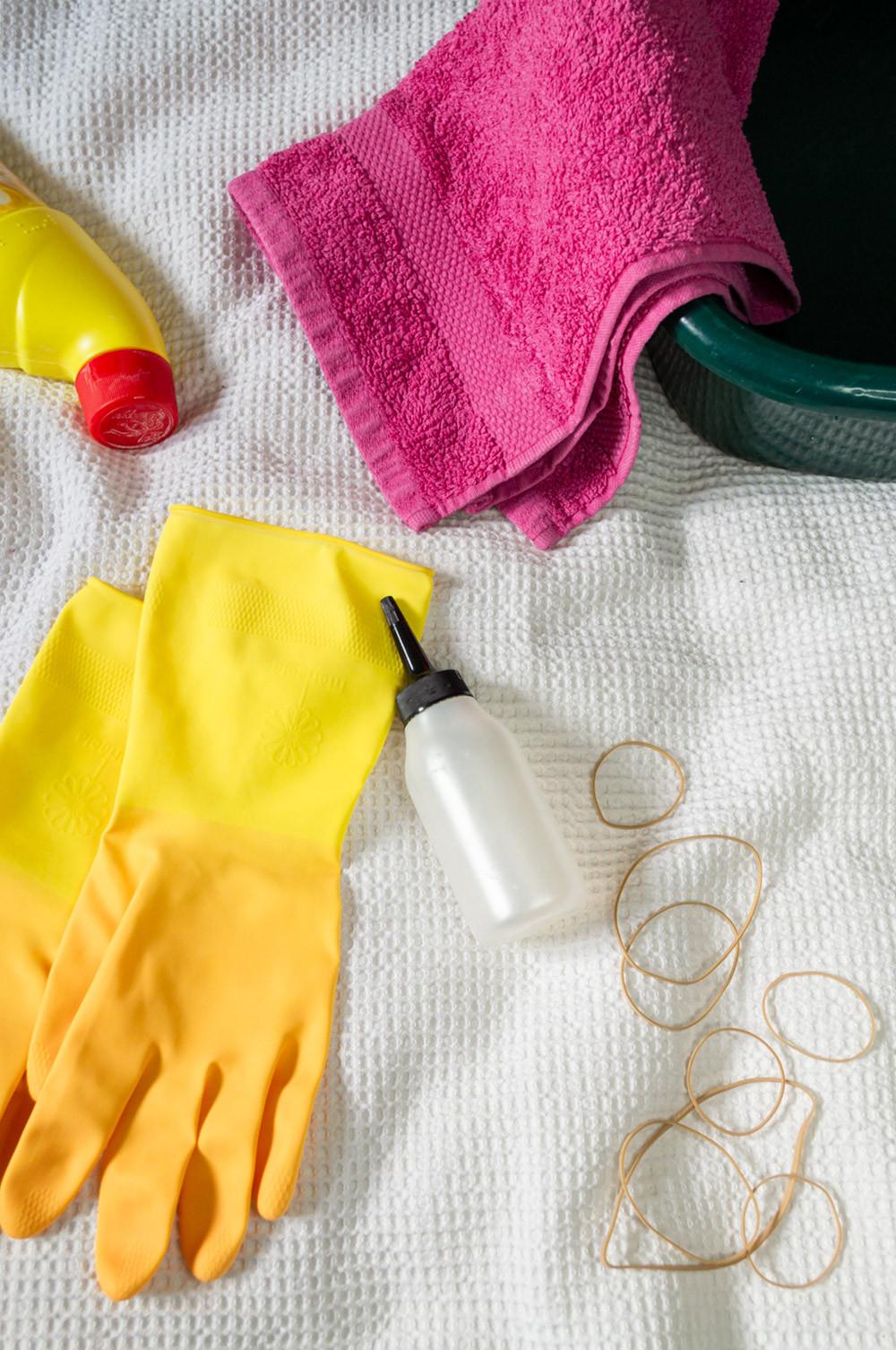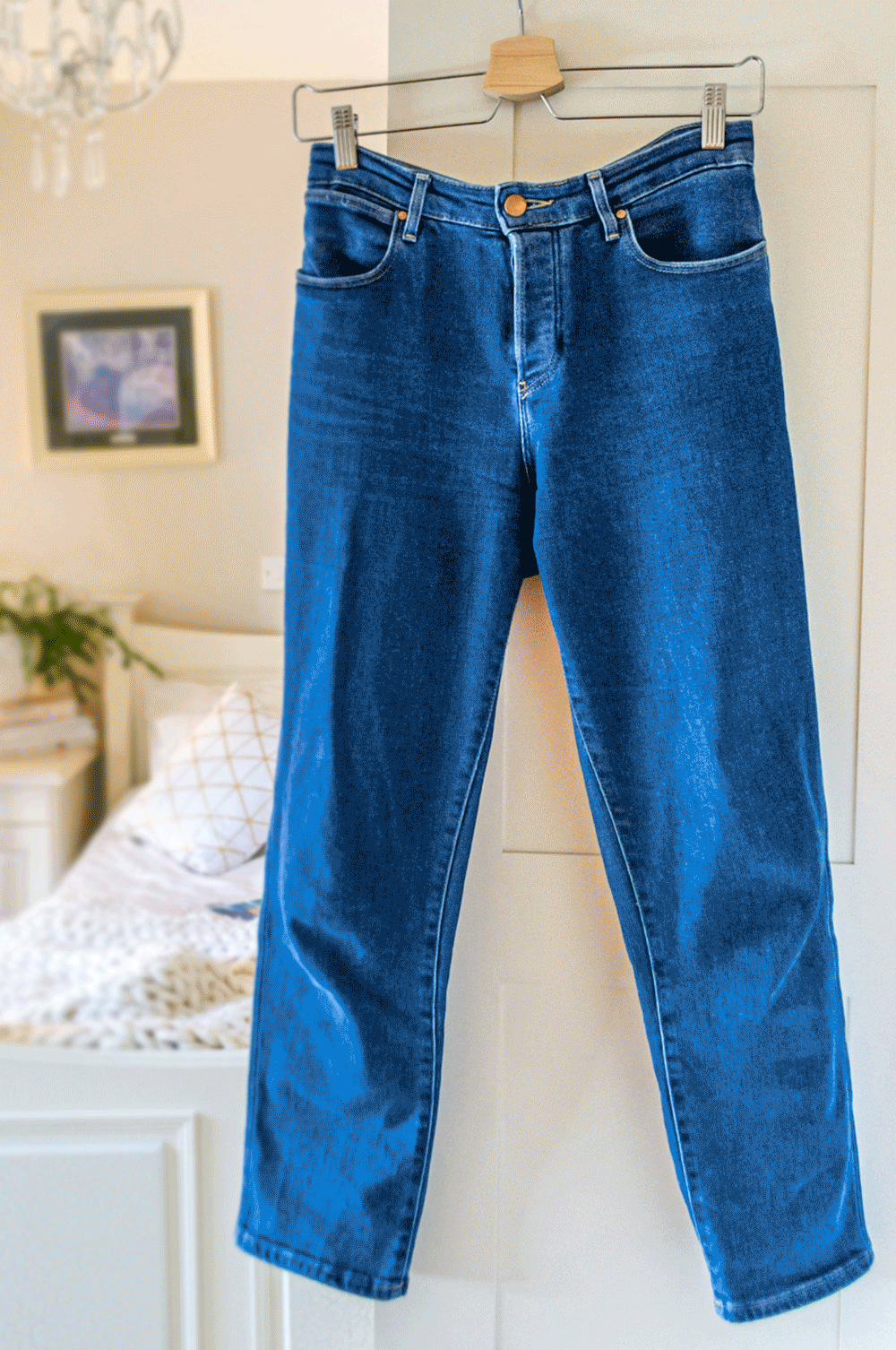 Step 1
We used a small applicator bottle to apply bleach to our jeans. Make your solution with 1 part warm water and 4 parts bleach (dampen your denim before you start!). First, fold the jeans over and back. Work your way across the leg from the bottom up in 1 cm (about half-inch) intervals. Then, every 2 inches or so tie a rubber band around the folded fabric.
Step 2
Time for the fun part! Take your applicator bottle and apply bleach to every second tier you've sectioned off with the rubber band, and leave it to absorb for 5-10 minutes. Round two! Remove the rubber bands and flatten out any creases before applying a second layer of bleach to each tier, working horizontally and filling in the gaps.
Step 3
Once you're content with your creation, submerge your jeans in cold water, rinsing until most of the bleach has been removed. Next up: run them through the washing machine on a normal cycle – but don't use detergent or softener, because it could turn the bleach yellow. Now it's time to make use of the sun: hang your jeans up to dry naturally!
2. Distressing Jeans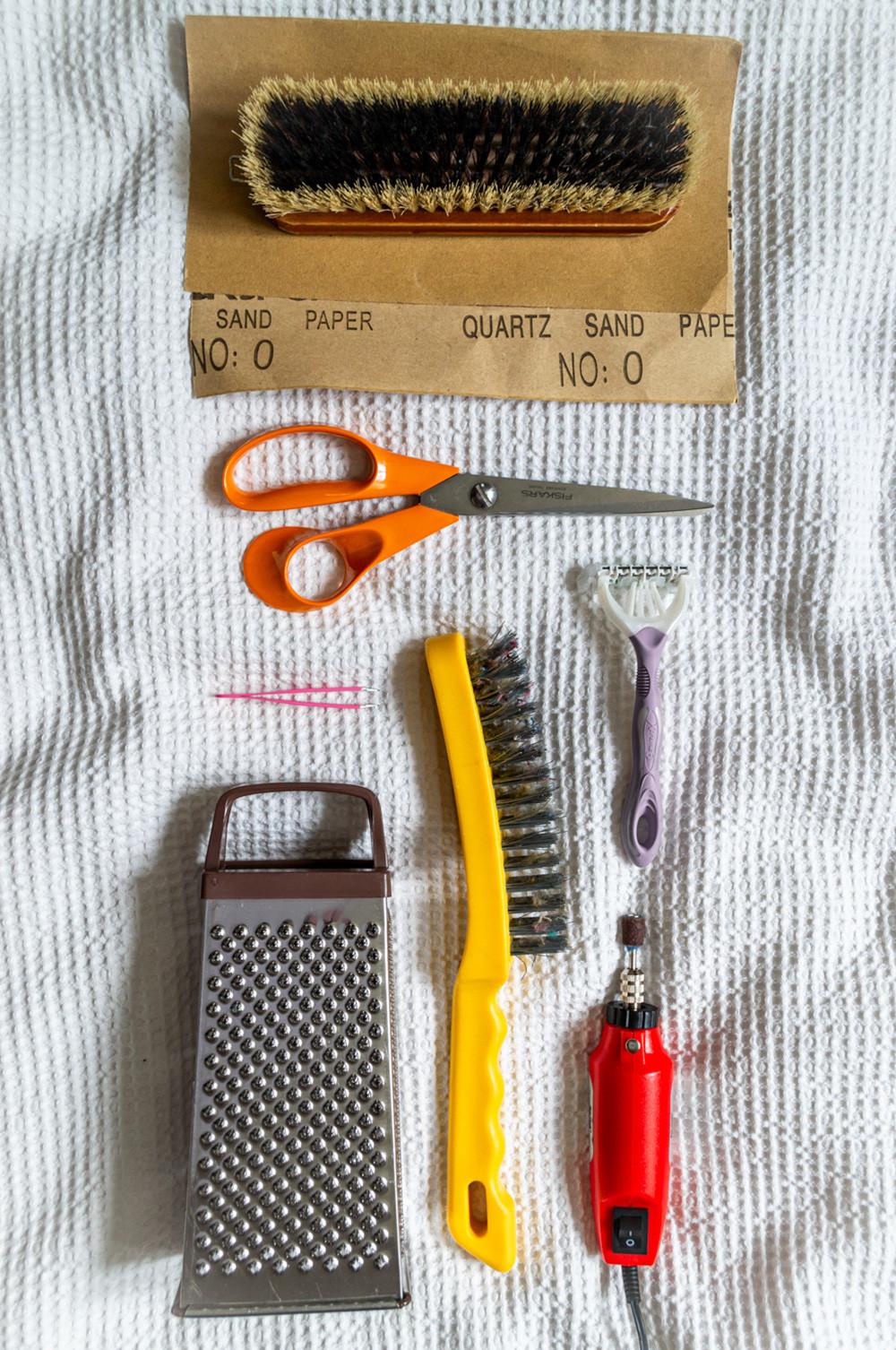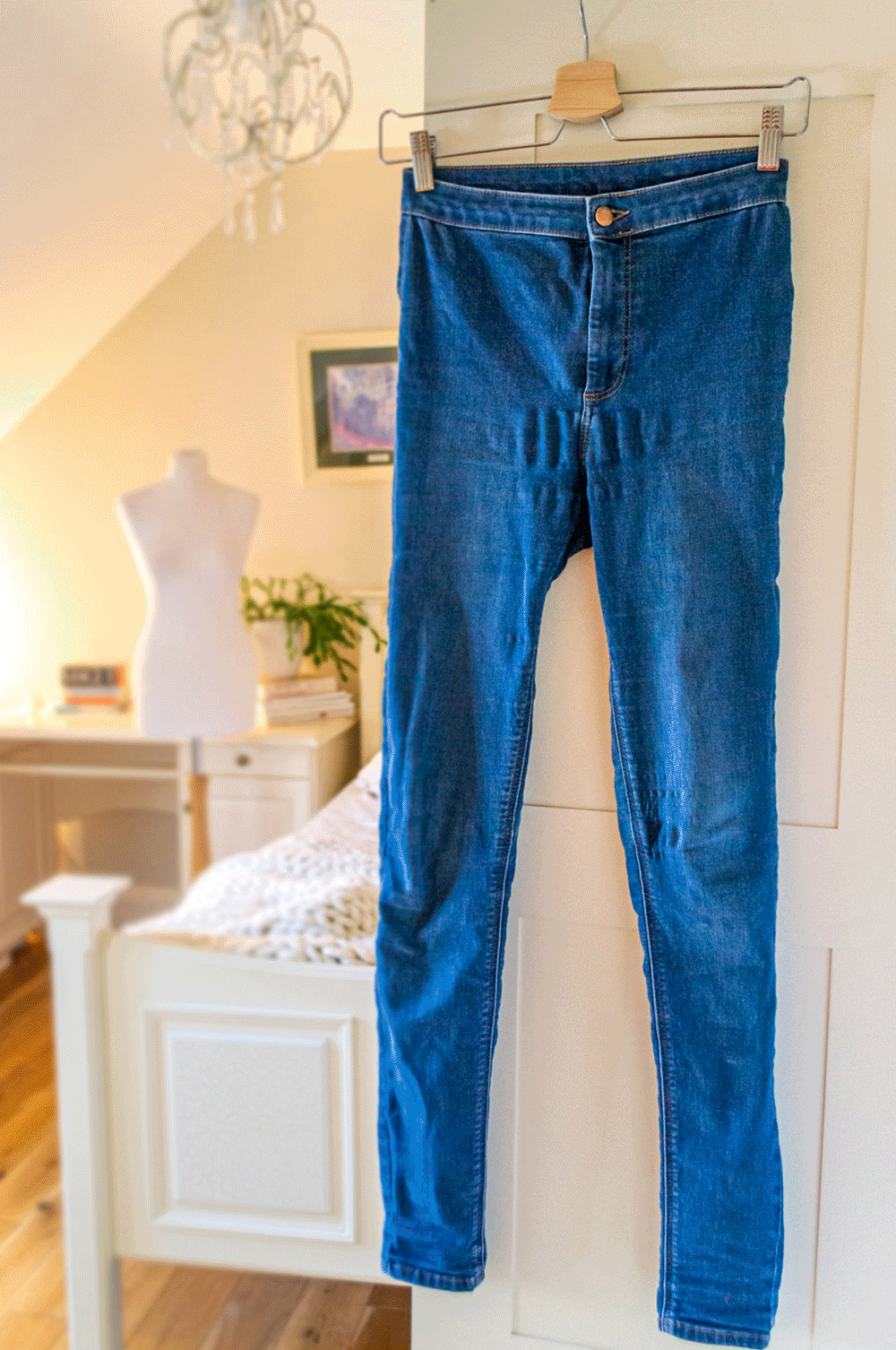 Step 1
It's heating up out there, so now's the perfect time to treat yourself to some upcycled denim shorts. Mark the leg length you want with a pin or pen. Then fold the jeans in half and cut both legs at the same time so they're even.
Step 2
Use a razor, sandpaper, grater or electric grinder to distress them. Focus on areas that would naturally become worn over time, like knees (if they haven't been cut off), thighs and butt. Just apply pressure and rub repeatedly until you see it begin to fade.
Step 3
You know the drill: time to chuck 'em in the wash! This time, feel free to use fabric softener to help loosen the fibers. Once dried, you're ready to hit the sunny day in your "new" denim shorts!
3. Repurposing Jeans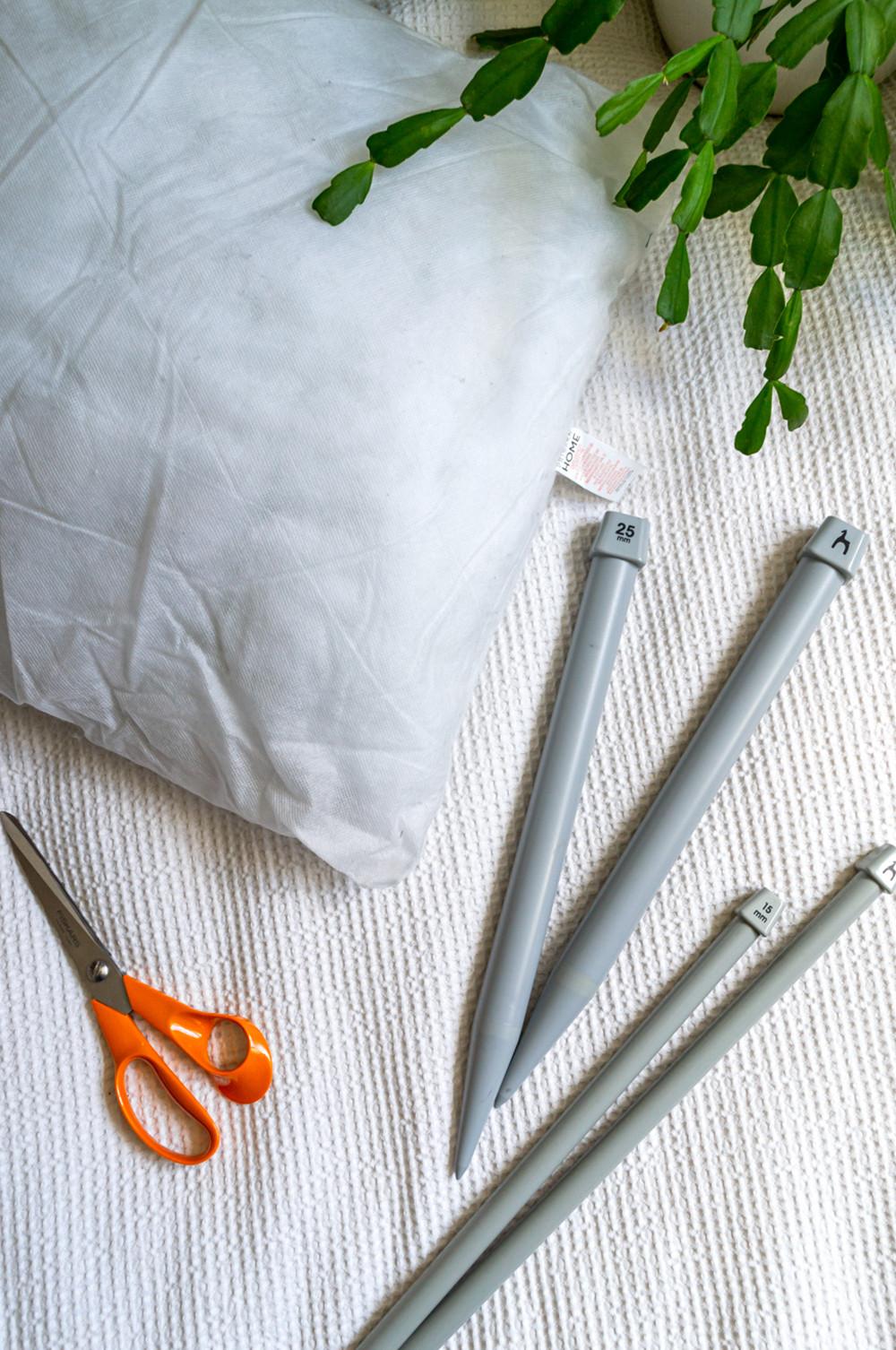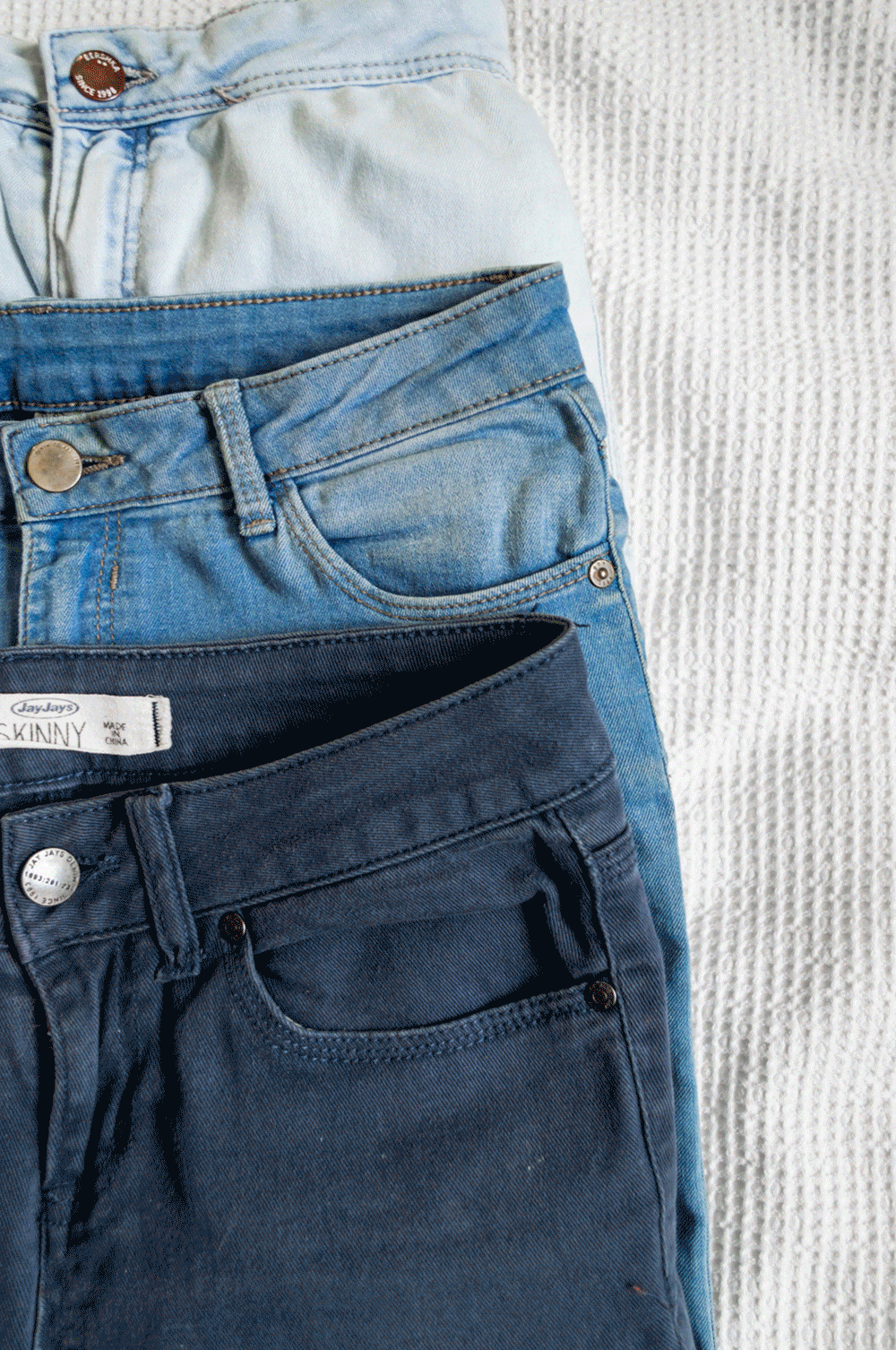 Step 1
We're going to start by turning your jeans into a ball of yarn! It's a great way to minimize waste. Start by chopping off the cuffs at the end of your jeans. Then cut your jeans from the outer leg in towards the thigh, cutting one-inch wide horizontal stripes. Make sure you don't cut the entire way across: leave 1-2 inches untouched along the inner leg.
Step 2
Make an incision in the first loop at the bottom of your jeans. Next, make a diagonal cut where the loop and the untouched denim meet. Continue this process until you've worked your way up the entire length of the leg. Each cut you make will add more length to the continuous strand of denim. Then just roll it into a ball, and get ready to knit!
Step 3
We created a cushion cover by knitting simple stitches on chunky needles using 3 different balls of denim yarn. Knit double the length of your cushion, measuring your knitting against your inner cushion every so often. Then fold the pattern in half, and weave a strand of denim yarn in and out using your hands to join the cover together. This will leave one side open (at this point place your inner cushion inside, then link the fourth side).
4. Repairing Jeans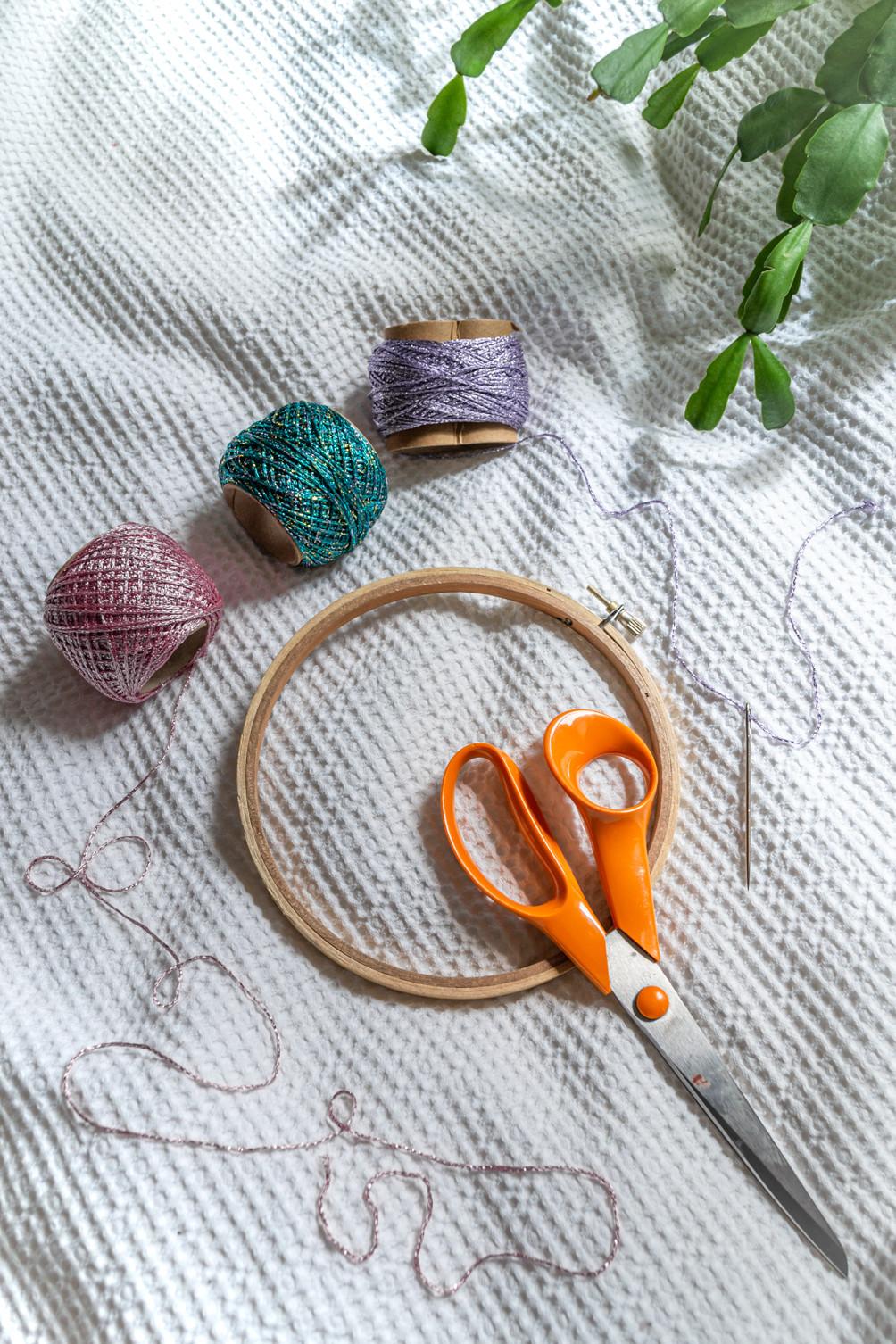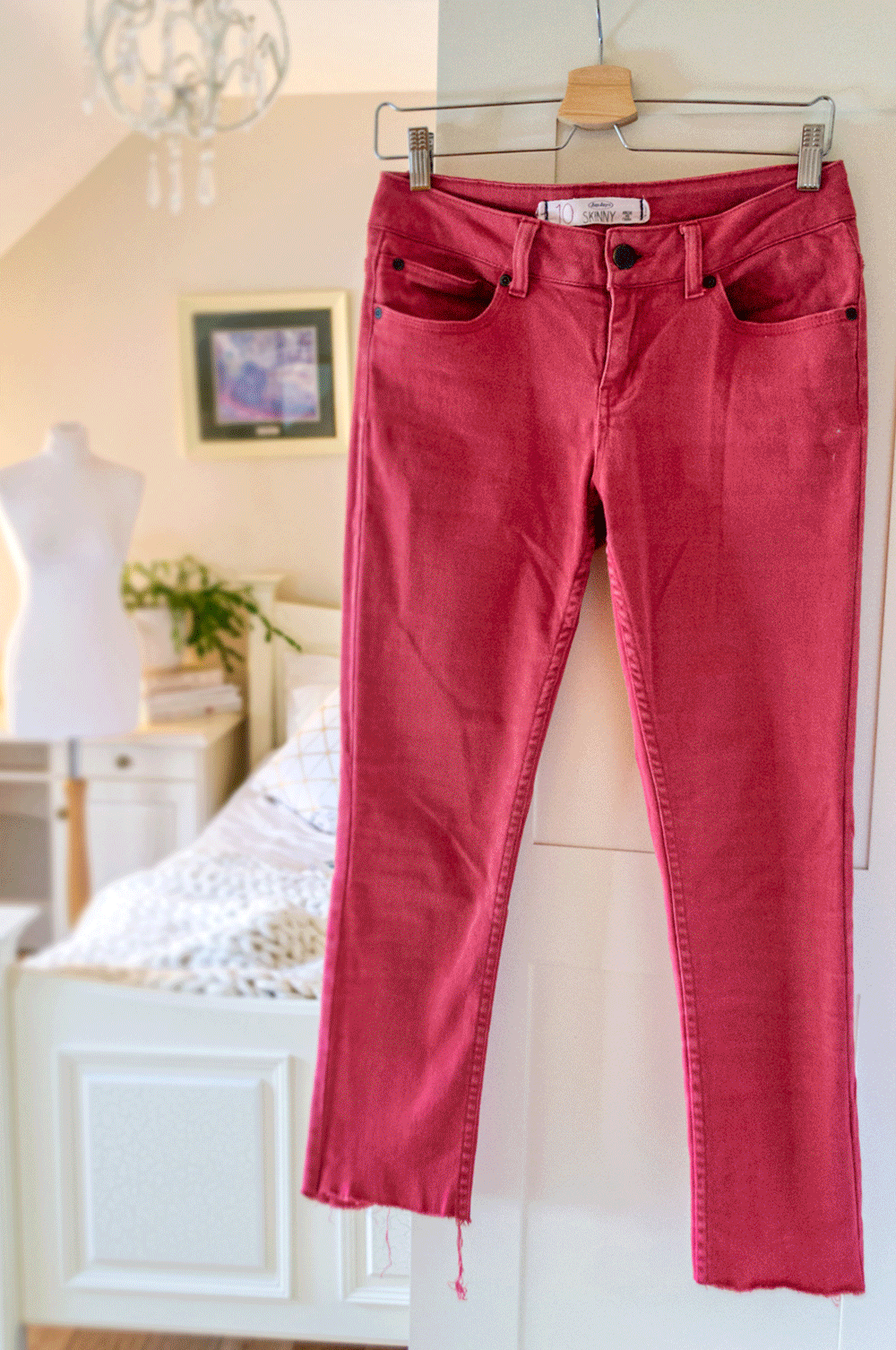 Step 1
First, decide on the placement of your design. Anywhere there's wear and tear is a great place to start!
Step 2
Once you've decided where the design's going, place the inner embroidery hoop under the fabric. Then take the outer hoop and position it on top of the fabric so the two hoops slot into each other. Next, pull the fabric so it's as tight as possible between the two hoops. Lastly, secure the tension by tightening the screw on the outer hoop.
Step 3
Using the denim secured in your hoop, start to create a series of long, vertical stitches in close formation. Now turn to work on the fabric in the opposite direction. Weave the thread under and over your first row of vertical stitches, making your way horizontally across the fabric. For the next horizontal line, weave the thread over and under the vertical stitches, repeating until you're happy with your design!
5. Cutout Jeans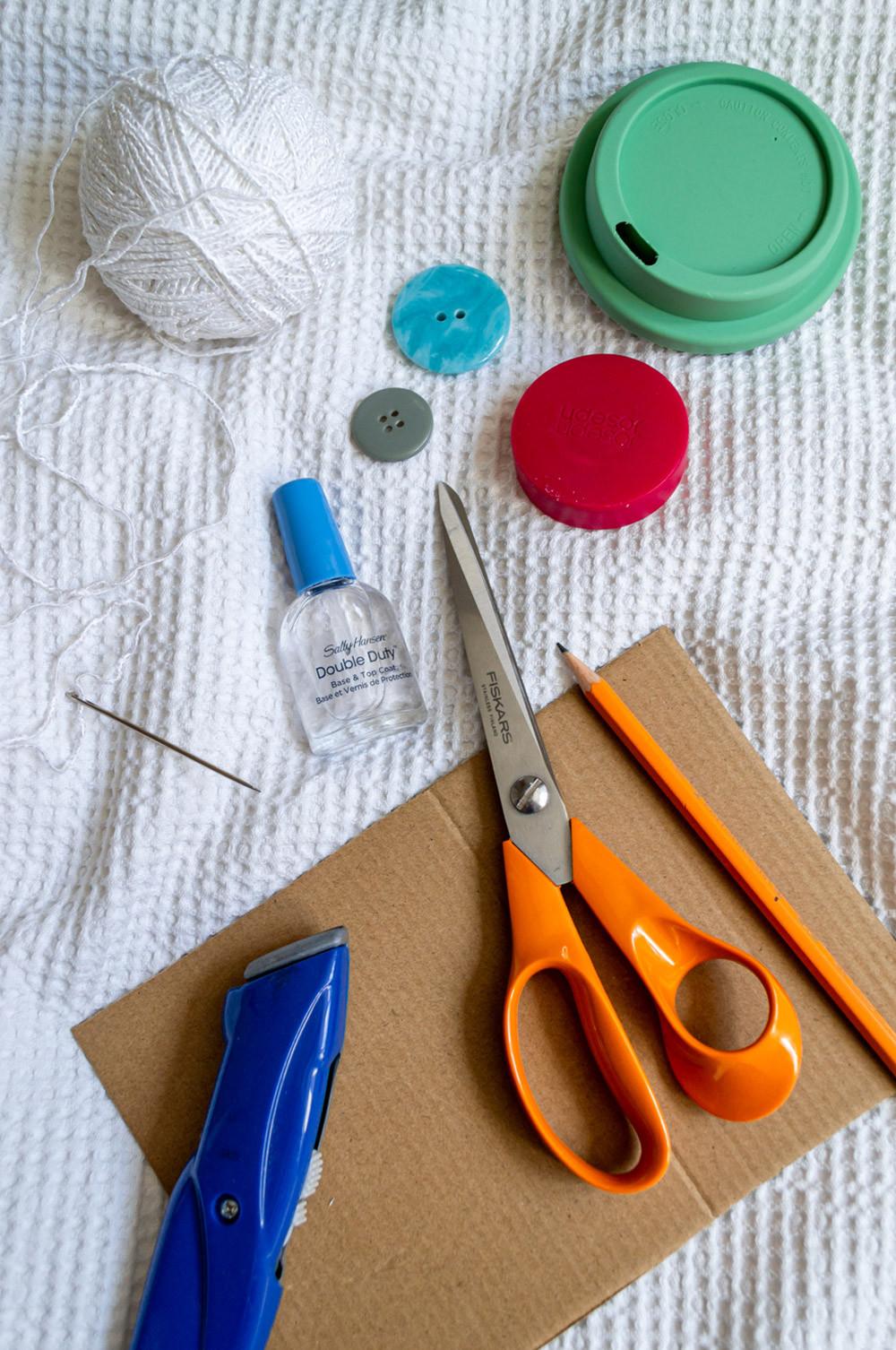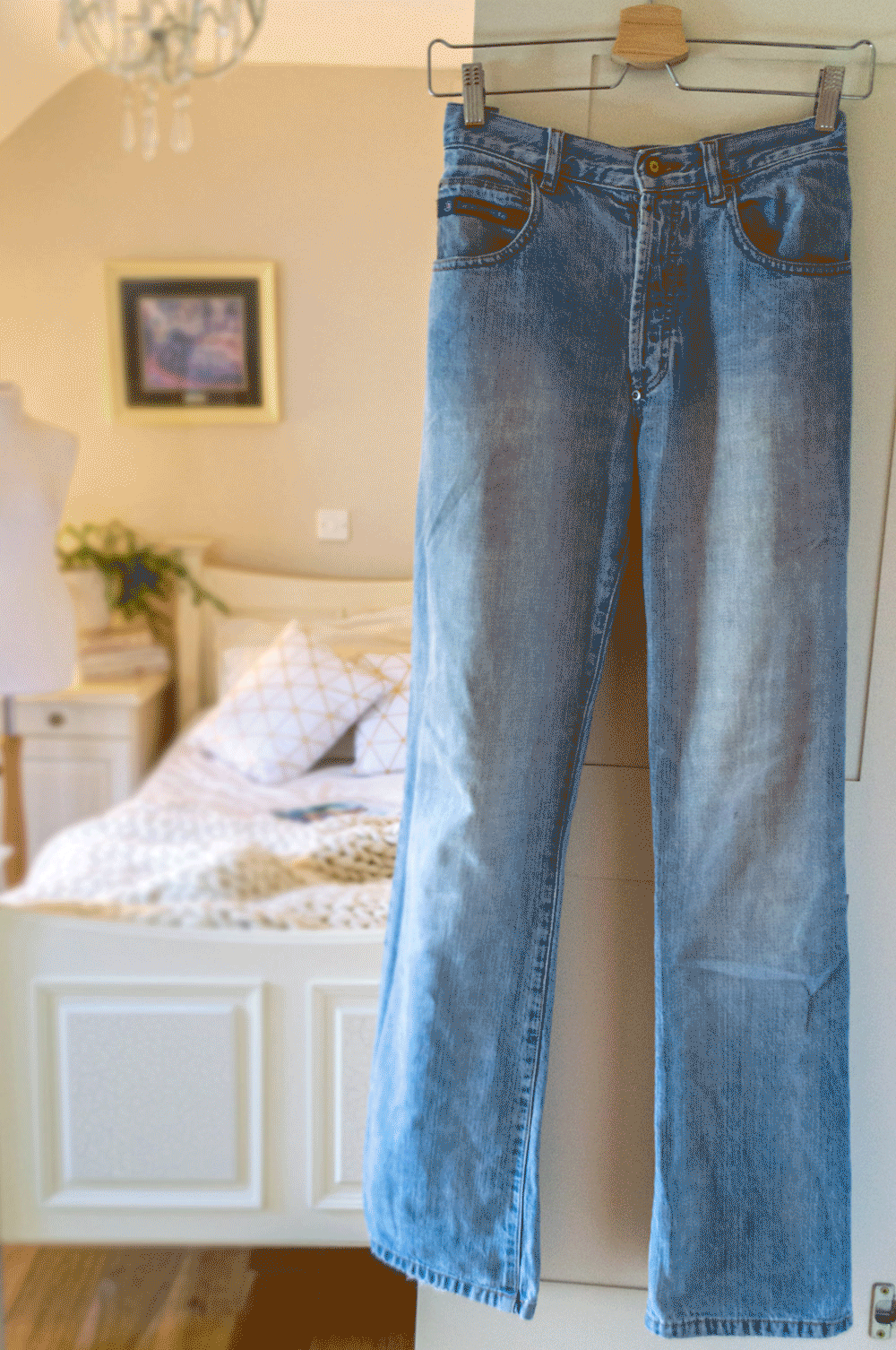 Step 1
Start by tracing the cutout shapes you want on your jeans. We decided on fun circles in multiple sizes. Next, place your stencils on top of your jeans, then take a pencil and draw around the shapes. Repeat, spreading your stencils across your jeans.
Step 2
Using scissors, carefully cut out your shapes. You'll be left with raw edges, which if left untreated can cause excessive fraying. Preventing this is easy: just set the edges with some clear nail polish.
Step 3
Once the polish is dry, you can start stitching decorative embroidery trim around the edge of your cutouts. We used a combination of straight and chain stitches, but the choice of stitch and thickness is up to you. Voilà: cutout jeans!