Home | Beauty
Looking Glam (From The Waist Up)
I love loungewear and a bare face from time to time, but sometimes I just want to look and feel more glamorous when working. So considering coworkers only see us from the waist up at the moment, I decided to try various ways to look and feel work-ready on top. (My sweatpants and slippers weren't going anywhere though, just out of sight.)
Five Easy Ways To Glam Up Your Isolation Look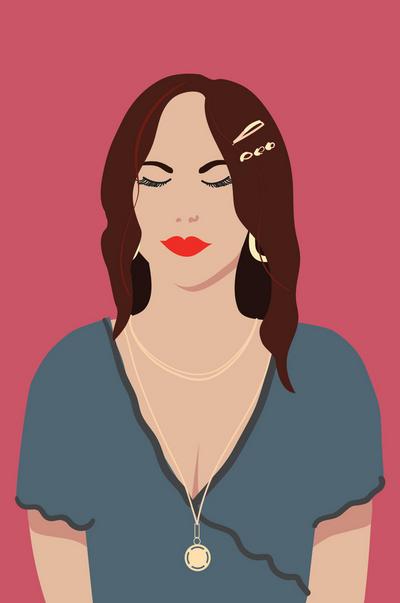 1. A Red Lip
Every girl knows a red lip goes a long way! I love deep burgundy in the daytime, so I picked my fave lipstick from our SS19 collection with Miss Gloria. Plus it's called "Powerful Woman," which always gets me pumped for the day ahead! When I'm just not feeling wearing lipstick, a gloss is my go-to. They say it's making a comeback from the 2000's, but TBH it never left my collection.
2. Earrings
Who else is an earring fan? While stuck at home I've been going through my piles of jewelry. It's been a journey through my fave pieces. Earrings are the most visible piece of jewelry when you're on camera (great for distracting from that messy bun 😉). Why not mix-and-match your fave pieces and perfect the stacked earring look while on camera? Don't be afraid to go big: I'm talkin' hoops, tassels and gems.
3. Eyebrows
Once we're back to "normal" I'll be running, not walking, to my eyebrow lady. But in the meantime, I'm tackling these brows alone. It's important: your eyebrows help frame your face. Considering my face will be in the middle of people's screens, I tried some of our salon beauty hacks and spent time grooming them so I'm camera-ready at all times.
4. A Cute Neckline
It's easy to get swallowed up in big fluffy sweaters and old random tees, so this week I went for a "fancier" neckline. I put on a V-neck cutout sweater: it's super-comfy but still makes me look and feel more put-together. Plus, with the weather warming up, cutouts will help you stay cool and comfy all day!
5. A DIY 'Do
I have a love/hate relationship with my hair, and have to admit it: since social distancing it hasn't been my top priority. So to show my locks some love, I've been wrapping my hair in bright scarves during the day. I can show off my newly-groomed brows, and it's an easy way to move my hair away from my face, too. Win-win! Not an updo fan? Use embellished hair clips and colorful slides to pin it to the side and brighten your day.