It's official: the Christmas season's here! Whether your little one loves sparkles, stars, shimmer or snazzy separates for her holiday party plans, we definitely have a dress to steal the show.
The Metallic Must-Have
When it comes to getting your little ones dressed, we know some days can feel like an "anything goes" day. Sequinned tutu for school? Fine, whatever... But if there's ever a time to chuck the rulebook out the window and go all-out with their look, it's the Christmas season. Got a sparkle-obsessed mini model? Go for our metallic dresses. In rose gold with puffed sleeves and a pretty A-line cut, style with black chunky boots like we did. Or pair with ballerinas for a picture-perfect party look.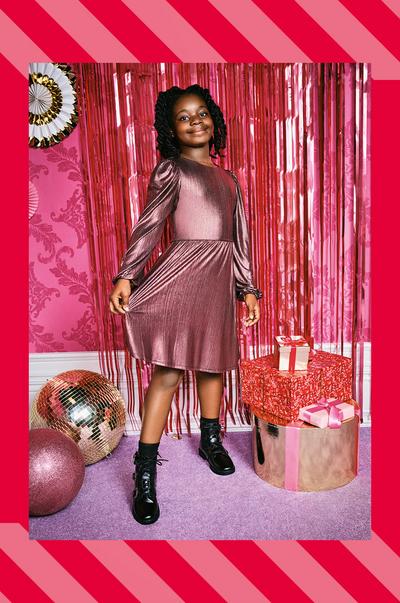 Your Little One's LBD
There's a reason that LBDs are an absolute wardrobe essential. Left it 'til the last minute? Grab one of our "LBD-with-a-twist" numbers for a fail-safe festive winner. Polka dots, mesh sleeves, chiffon and sparkle... These pretty-but-practical dresses have all their running, dancing and knee-sliding fun covered.
Have a budding fashionista in the family? A black and white dress lets them express themselves with bright shoes and accessories to make the look their own.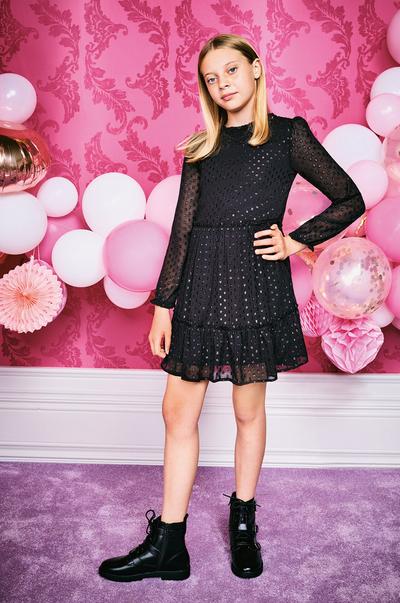 The Two-Piece Triumph
Want to switch up your little one's look this party season? Got a statement skirt and want to try twinning with your cute little dopplegänger at the next event? Say hi to our two-piece picks. From starry tutus to embellished mini skirts, keep the top half super simple and let the skirt steal the show. Pair with tights and boots and a denim jacket for outdoor RSVPs.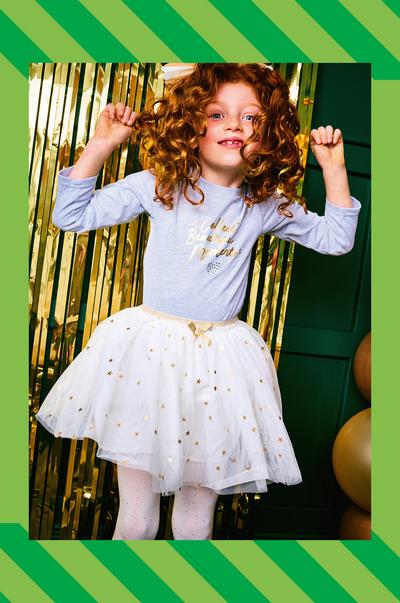 Party-Ready Ruffles
Your search for a princess-worthy party dress stops here. The rose tone and ruffles in this lightweight mesh fabric are perfect for any holiday event. Pair with ballet flats and a cardigan for the cutest Christmas look in the building. Or try black chunky boots, a leather jacket and a beanie to roughen up those party ruffles.