From overalls and sets to plush toys and rugs, our latest collection of genderless tonal basics and nursery must haves are perfect for your mini me and their surroundings through every season.
Do-It-All Overalls
Looking to fill your tiniest tot's wardrobe with quick and easy go-to looks? Then definitely pick up our overalls set. The brown tones and twill texture make it the perfect F/W piece: layer with the coordinating long sleeved top and brown chunky boots, a puffer coat and a beanie. When it's warmer, pop on a short sleeve tee underneath or even just the overalls on their own with some super cute sandals. (Yes it's totally normal for their wardrobe to be better than yours…)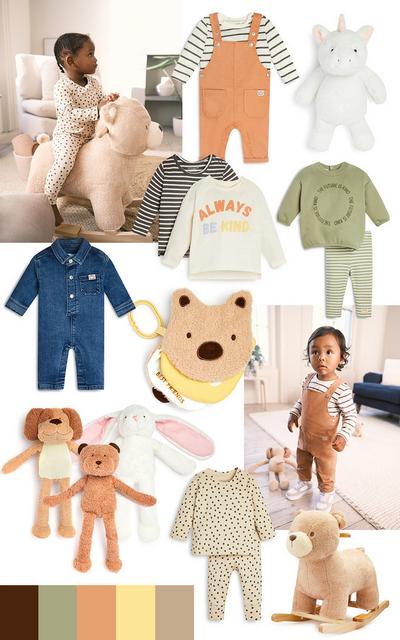 Soft Sets
Tonal two-pieces = easy looks, whether it's your OOTD or your mini-me's. So head in-store to snap up this polka dot set, perfect for your little one's lounging look. Dress it up with our zip-up fleece jacket and black high tops for the cutest casual look. You can also mix and match the set with jeans and white sneaks or a knit sweater and create multiple looks to take this set through the year.
Nursery Needs
So you have all the nursery basics: crib and changing table, high chair, etc. What about the little extras that make the room feel like their own little kingdom? We got your back.
Classic carpets? Not on our watch. Say hi to our adorable teddy bear rug: the round shape is perfect in the center of the room for a super-cute statement piece. Keep 'em busy: our soft toys include plush blocks, cuddly animal teddies and even a plush book to kickstart their inner bookworm. And the nursery showstopper? It's our teddy plush rocker – need we say more? Run, don't walk...