Men
10 Pieces To Put On Your Summer Style Checklist
Sunny days and warm breezes are here! So make sure you have your summer essentials ready to go. Not sure what those are? You're in the right place: we've listed THE wardrobe must-haves for styling endless summer looks. Whether you're packing for a vacay, doing a staycay or off to a BBQ, you won't think have to twice about your OOTD.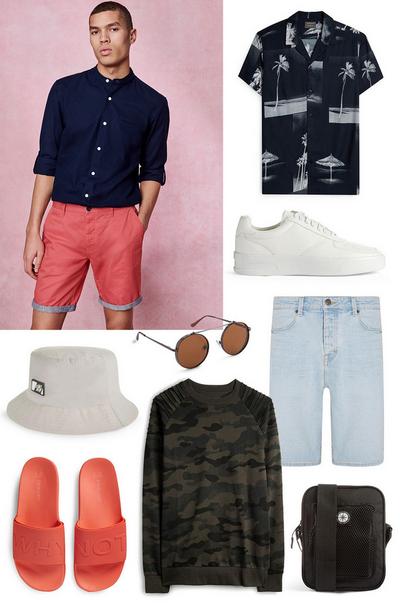 Crisp White Sneakers
Classic crisp white sneaks are a go-to: they make every look pop. Feelin' brave? Go all white. Not a big fan? An off-white pair is a great alternative pick.
Sport some new shades
Grab a fresh pair of sunglasses for a cool add to your summer looks. Play with different colors, prints and shapes, from rounded styles to classic aviators.
Printed Shirt Season
The printed shirt has become a summer must-have. Wear this versatile piece open, layered over your fave tee. Or button it up and tuck into dressy chinos: perfect for parties on balmy summer nights.
The Trusty Hoodie
Don't forget about your layers. An all-black hoodie is the obvious comfy go-to, but this versatile piece comes in so many great colors now: fill your closet with a pile of on-trend versions featuring mixed media, colors and awesome prints.
How's Your Hat Collection?
Never underestimate the power of a good hat collection. They disguise bad hair days, protect you from the rays – and automatically make you look oh-so cool. Whether you go for bucket hats, caps or cuffed beanies, make sure you're all stocked up.
Light Wash Jeans
It might seem kinda obvs – but what's a summer checklist without classic light-wash jeans? Now's the perfect time to sport this sun-bleached fave with color on top.
Shorts Season
It's finally shorts season! So make sure you're ready to catch those rays. Did you know you can dress up shorts for going out? Go for khaki or stone chino versions with a navy shirt.
The "Man Bag"
Don't be without an on-trend man bag this summer. A compact side satchel holds a lot more than you think: chuck in all your summer stuff from glasses to sunblock.
Your Go-To Sweater
The perfect thing for cooler nights. Sweaters are effortless pieces, both comfy and practical. Trade your coats and jackets for pull-on or zip-up layers you can throw on when the sun sets.
Slip On Some Slides
The slide's the perfect chuck-on-and-go shoe: it's right there in the name. Can't be bothered to lace up your sneaks? Slides will keep your feet comfy and cool wherever you're strollin' this summer.