Our unisex collection features classic loungewear staples, perfect if you are still warming up your wardrobe and taking your first baby steps into the post-lockdown outside world. The Summer Edit features short sleeves, casual accessories and light-colored must-haves.
Penn is famous for color-blocked clothing in a palette of navy blue, white, red and gray, ensuring that your take-home fashion haul will fit seamlessly into your wardrobe and everyday outfits.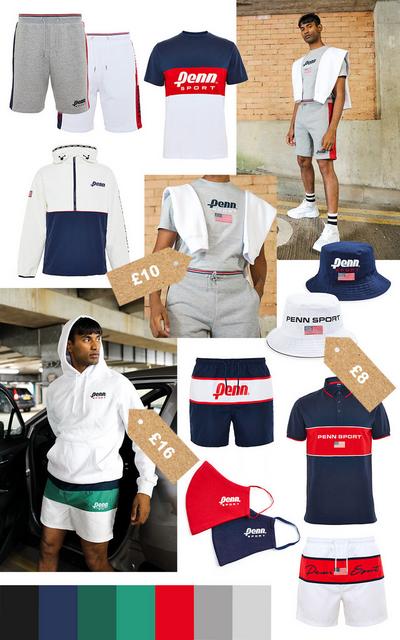 Jogger Shorts
If one item of clothing deserves to win a medal for longstanding service during lockdown, it's joggers. Maybe it's time to give your favorite pair a rest, and choose a shorter version for the summer months. Follow Ramzan's stylish lead by wearing them with a short-sleeved T-shirt, transforming these two versatile pieces into one ultra-trendy, tonal outfit. Top things off with sneakers and a bucket hat for the perfect cutting-edge, comfortable daytime look.
Tonal Tops
Grab a Penn X Primark T-shirt, and be amazed as it quickly becomes one of your most-worn styles. Go up a size for a baggier fit, and wear it with bicycle shorts, white socks and sneakers for the ultimate "I just threw this on" look. Or pair it with jeans and a leather jacket for dressier days out.
Need something a little more elegant for those summer dinner plans? We've got you covered. Swap the T-shirt for a color-blocked polo shirt in navy and red, paired with a pair of blue jeans and sneakers.
All Hail The Hoodie!
Scorching temperatures means it's time to ditch heavy coats and jackets, and break out that must-have of every summer wardrobe: the hoodie. A fresh, white hoodie pops against the green in these drawstring-waist shorts, making it Ramzan's go-to look for the beach or gym.
While a hoodie is perfect for lounging around, if you want to smash the "casual-chic" dress code agreed to in the group chat, you can dress it up by wearing it layered under a blazer with a pair of black jeans.