Woman
Alice Liveing Talks Fitness and Workout Fashion
For the third year running, we've teamed up with pint-sized fitness powerhouse Alice Liveing to launch a collection of stylish gym wear. To celebrate the collection's launch, we sat down with her to chat about workouts and wellbeing. Read on, as she shares her tips for gym newbies, along with the soundtrack to her best workout sessions!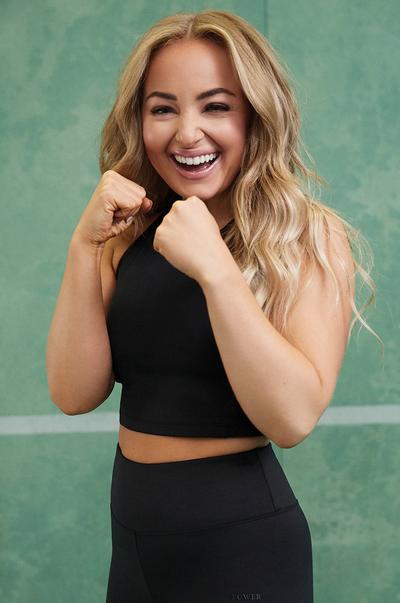 "I have so many job titles," begins Alice. "I'd say being a personal trainer is what I'd define myself as — it's my bread and butter. I guess I've grown into being an influencer and then, off the back of that, I'm doing lots of other things." Alice isn't exaggerating. Alongside training clients and sharing her ethos with almost 650k followers on social media, she is the author of three bestselling recipe books and writes her own blog, as well as a column for "Women's Health" magazine. "I'd say I'm quite scatty," she shares. "I'm organized with some things, like my diary, for example. I think it comes with the nature of my job; there's a hundred things going on at once."
As usual, the 26-year old has a rather busy day ahead of her, and we're eager to find out what she keeps in that gym bag of hers. "It's actually really basic," she laughs. "I have a water bottle always. I'm one of those people that are constantly drinking water. I also carry a spare gym kit, because you never know how much you're going to sweat! I always have hairspray. Unless you see me on a glam day, my hair is always like this." She points to her slicked-back blonde ponytail. "I'll carry some make up, and I have a facial spray that kills bacteria. I like to spritz that on my face if it's been a particularly sweaty session."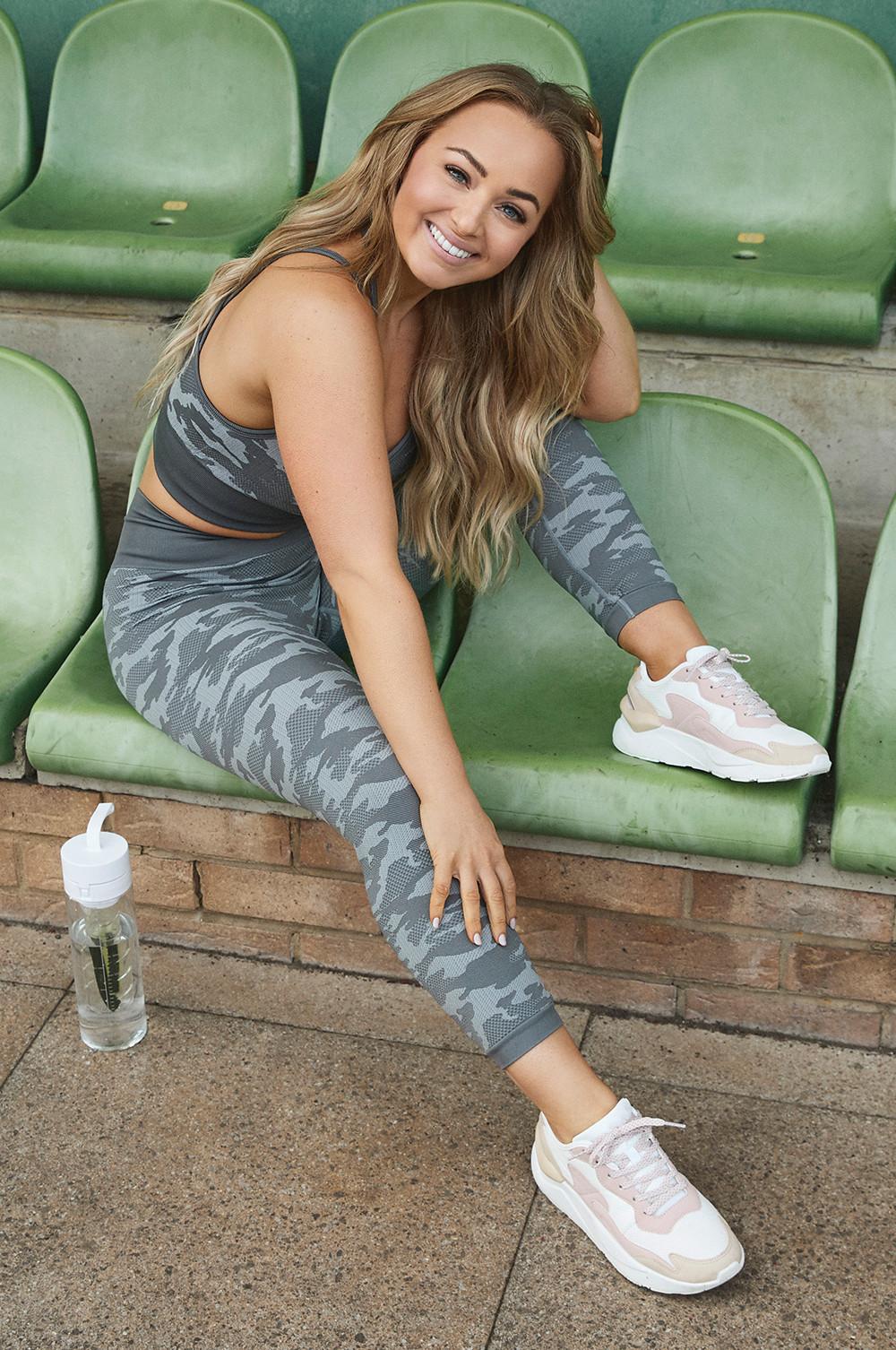 Alice's third Primark collection offers a variety of prints and styles for all shapes and fitness levels. "I think great workout wear is important," says Alice. "In the gym, when I'm wearing something that I feel flatters me and is stylish, that's perfect. Gone are the days where people wanted to go to the gym wearing their dad's old, baggy T-shirt. If we want people to embrace exercise, it's vital they go in whatever they feel most comfortable. It's the perfect motivation to encourage someone to get active."
While we certainly have a favorite set in the range — the Zebra Print, FYI — but what about Alice?' "I love the gray seamless set. It's so nice," she beams. "I feel like this time the collection has really evolved. We listened to what people loved last time, so there are lots of seamless options, and we've got great high-waisted leggings. They really hold you in but, at the same time, have plenty of stretch, so if you're doing lots of movement, they have the ability to move with you." She's not wrong. Four-way stretch technology means you'll never have to fear rips and tears when wearing the collection's leggings.
"The sustainability side of things has been a huge shift this time around," she explains. "We came into it much more proactively, trying to make sure we were making changes, where possible, to make the range as environmentally friendly as it can be. It meant working closely with Katherine, Primark's head of Ethical Trade and Environmental Sustainability, but also just being really mindful of where we can make changes, what fabric can we use differently."
"I think people need to learn that there's no compromise on quality when an item is made from recycled fabric. It's purely much better for the planet. We need to keep up with the way the world is going. We're so much more informed now about the impact of our shopping choices. It would be absolutely ignorant to turn a blind eye and not make a change."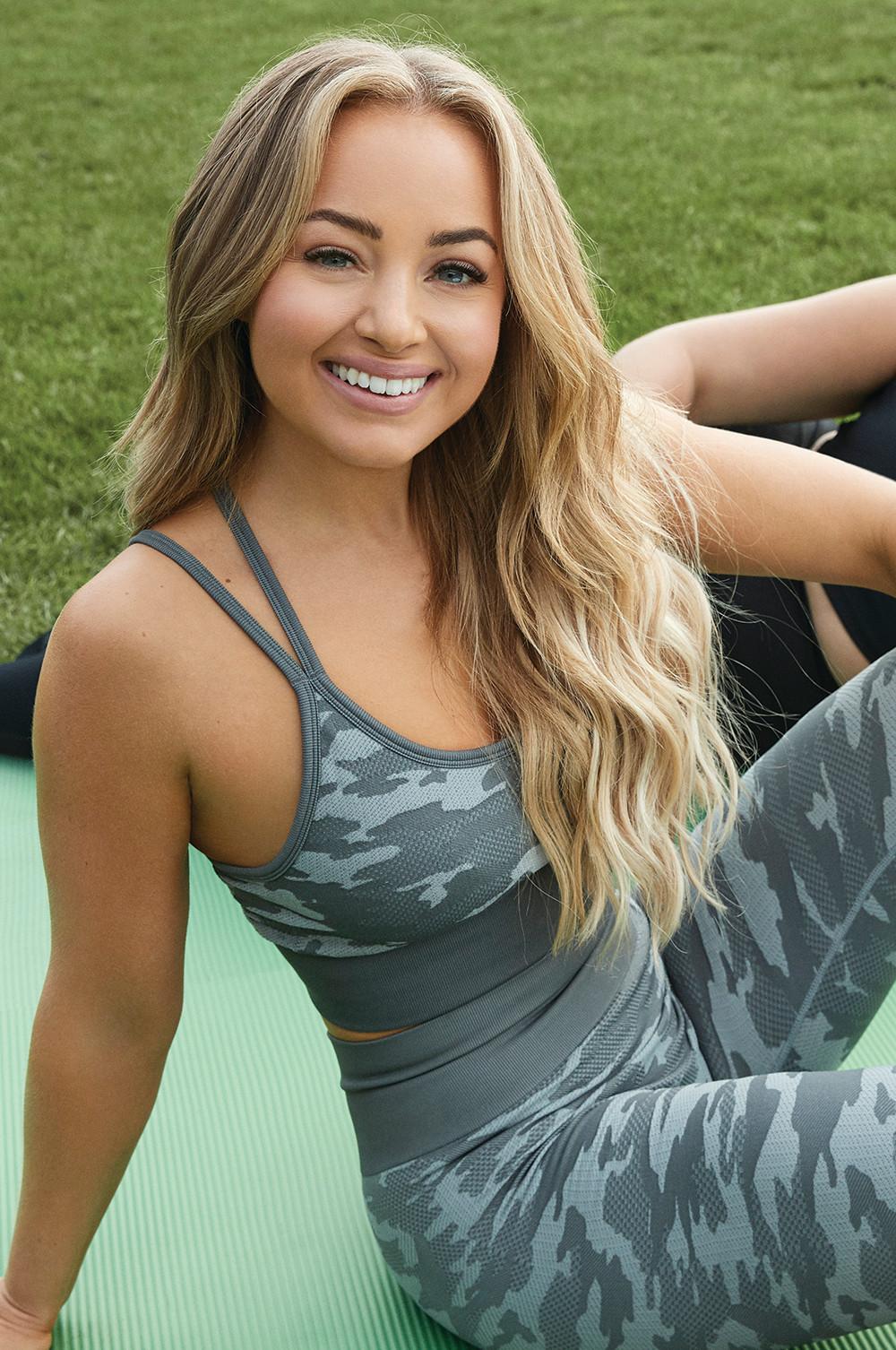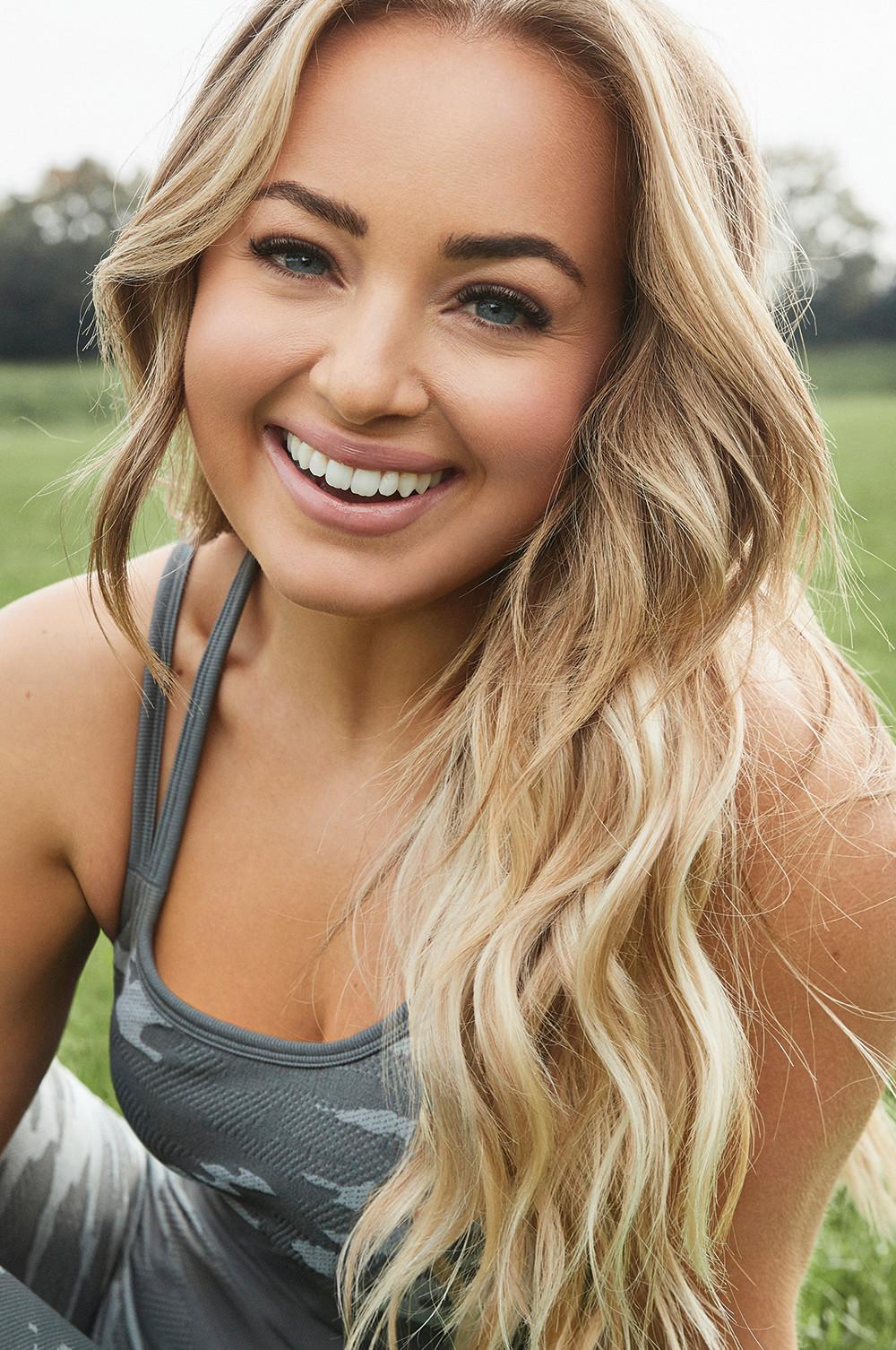 Following the launch of our Sustainable Cotton Program in 2013 and the release of a range 100% sustainable cotton jeans last year, we can't wait to find out Alice's thoughts on Primark's sustainability efforts. "I think the little things about Primark surprised me and my friends," she declares. "They've never, ever had plastic bags in-store. Not selling online means they've cut out much of the plastic associated with deliveries. Even in the supply chain, plastic use is so minimal. Even tiny things like all employees being given reusable water bottles is great. All of those small changes should always be applauded, too."
What about the fitness industry as a whole? Alice shares her tips for becoming a more sustainable gym goer: "Taking a reusable water bottle to the gym instead of buying plastic is a no-brainer! Another thing, which some people might think is a bit gross, is re-wearing your gym kit rather than washing it every single time. Sometimes it doesn't need to be washed. People should take better care of their clothing, that way it'll last. Taking a post-workout snack in reusable Tupperware, rather than buying something each time is a good step, too."
The New Year often brings an abundance of fitness-related resolutions, so if you're someone with a gym goal in mind, Alice has the perfect advice, "Start slow. I think a lot of people go too hard on themselves and then towards the end of January they're exhausted. Find something you enjoy; that's the most important thing. Then start doing it once or twice every week. I always suggest a one-off personal training session if you're new to the gym. It removes that sense of intimidation and looking at equipment thinking, 'How the hell do I use this?'" We've all been there!
Does she have a saying she goes by? "One mantra I definitely tell my personal training clients is, 'Rome wasn't built in a day.' I cannot tell you how long it takes to see lasting change," she explains. "The people that see instant change when training are those that do silly things that they aren't able to sustain. For my clients, I want to implement changes that they'll do for life. Changes aren't going to happen overnight, but they're going to stay! Really simple things like walking a little more, drinking more water, being a bit less stressed, getting a good amount of sleep, and exercising a couple of times a week."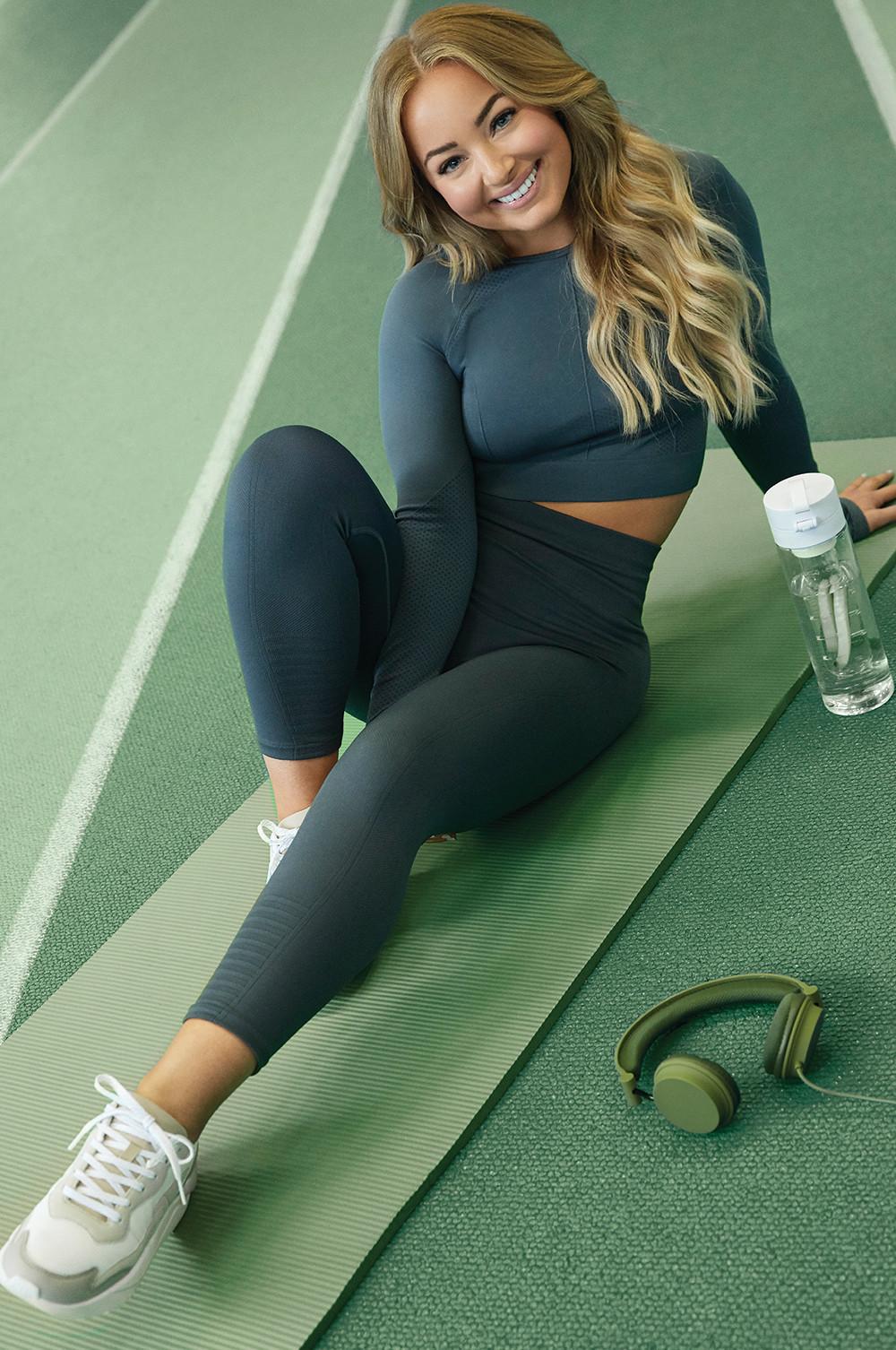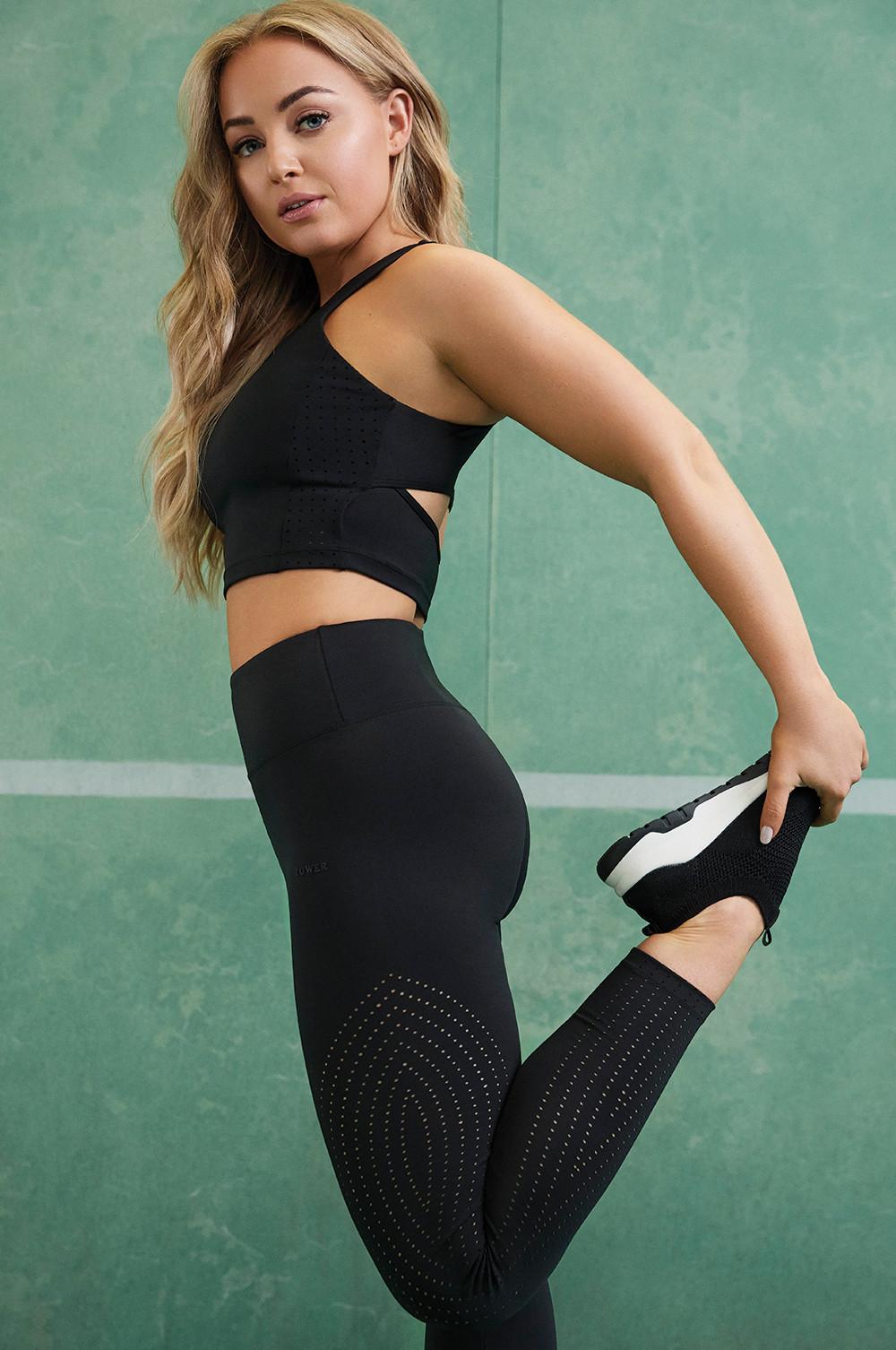 Exercise plays a huge part in Alice's day-to-day work, so how does she stay motivated? "I always have a coffee before I train, that is my number one thing," she states. "I try not to overthink my appearance either. I never judge anyone when they step into the gym, whether they have a full face of make up or not. I think it's really important that we remove judgement. If someone wants to exercise, then that's a positive thing regardless. I think music really helps, too. I have a couple of go-to playlists that make me feel ready to train."
We laugh as Alice assures me that she envisions herself in a music video while training, just like the rest of us, "Absolutely! I'll be there on the treadmill with the wind in my hair like, 'Yeah, check me out!'" Does she have an ultimate workout track? "Right now, it's 'Moment For Life' by Nicki Minaj," she suggests. "I recently interviewed Olympic boxer, Nicola Adams. She told me that was the song she uses to fire herself up. As soon as I listened to it, afterwards I was like, 'Oh my gosh, this is amazing!' So now it's mine too!" Adds to playlist