There's really nothing as refreshing as going on a winter stroll and taking in the beauty of Mother Nature in all her glory. Bonus: it's also an opportunity to strut your stuff in the coziest trends of the season. 'Cause let's be honest: did that winter walk really happen if it's not on your Insta feed...?
Preppy Pastels
Lilac and winter weather are a match made in heaven. This velvety soft houndstooth shacket is perfect paired with the matching skirt: the ultimate combo for frosty winter walks. Noggin a little chilly? We have a fluffy baby blue bucket hat to keep you toasty and trendy. Finish the look with white chunky shoes for the ultimate preppy look.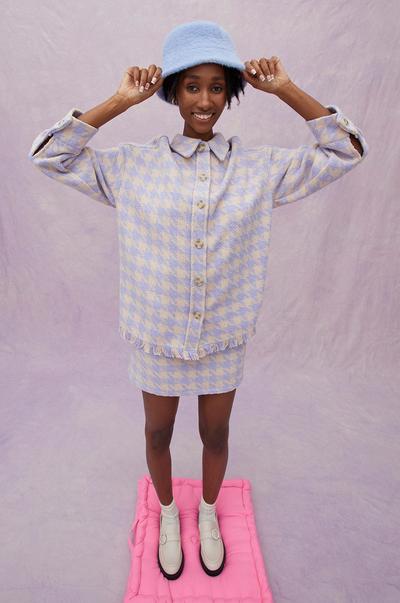 Dreaming Of Blue
This winter, pastel blue is one of our fave colors. It's a dreamy shade that makes effortless statement looks. Grab our woven blue dress with its matching shacket for an outrageously comfy and cute vibe. Finish the look with our beige Chelsea boots and bring some edgy energy to this chic set. This head-to-toe triumph will have you sashaying through the park like you own it.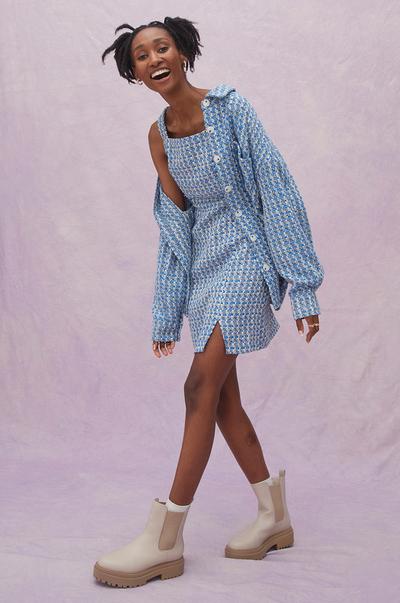 Bubblegum Pink
Nothing screams "main character energy" more than this bright matching shacket and skirt combo. They look good enough to eat, serving up bubblegum marshmallow vibes. Next-level your winter walks in this colorful baby, guaranteed to turn heads and bring on major style envy.