Woman
How To Reinvent The Wardrobe You Have
Love spending weekends shopping and lunch breaks browsing the shelves? We get it: you're missing the buzz of finding that new must-have piece. There's good news though: your closet's probably full of surprises. And now's the time to reorganize, reshuffle and revisit old faves. Follow our guide below and spend the afternoon shopping your own closet and reinventing your wardrobe!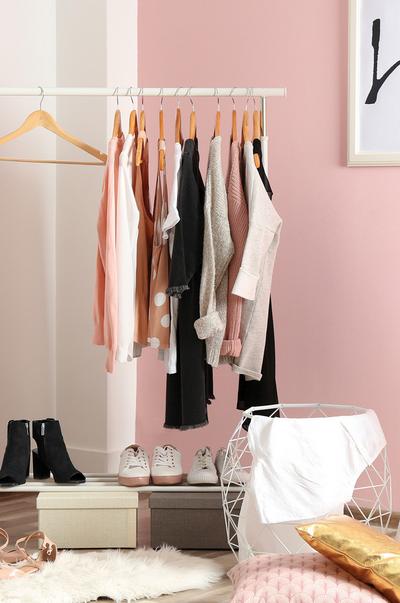 Divide & Conquer
The first step: create a blank canvas. Clear out your closet, shelves and drawers, and pile everything on the bed or floor so you can really see what you have. Divide into categories like tops, bottoms and dresses. Move anything that doesn't fit or you've never worn to one side.
Back To Basics
Plain tees, jeans and neutral pants and skirts that go with literally anything are the foundation of a capsule wardrobe. Gather anything in this category and position it front and center in your closet, so you can grab-and-go. Have a strict work uniform? Keep a free space for these pieces, too. Move fancy special occasion pieces you wear less often to the back.
Hidden Gems
Plenty of us have purchases hidden away in our closets: they seemed like must-buys in the moment, but ended up forgotten about. Now's the time to try them on again and style 'em up! Use this time to go for bolder looks around the house, weighing up whether you'd wear them outside.
Repair, Resell, Recycle
Got "old faithful" pieces in need of TLC? Get online and learn how to sew the button back on that blazer. Give old jeans a new lease on life: cut them a raw hem or turn them into shorts. If you still have piles of stuff you'll never wear, think about recycling or donating them. You can even sell more valuable pieces.
Super Styling
Our most-worn pieces are often the tried and true: they make the comfiest, most easily pulled-together looks or get the most compliments. So now's the time to try new combos, pairing up things you haven't thought of before. Never worn a mini with a chunky knit? Go for it. Don't know how to style an oversized dress? Try it on with a belt and see if it works better with flats or heels. Remember to take pics of your fave looks so you don't forget them.
New Color Combos
Forget all the old fashioned rules – almost any color combo goes these days. Try chic, head-to-toe black and white: just dig out pieces in the same or similar tones and wear together. Clashing bright, bold colors sometimes works, too. So pair your emerald green blouse with that fuchsia pleated skirt and see how it looks. Use your free time to truly experiment with what you have.