Woman
#PrimarkMeets Ajda Sitar
It's Primark's 50th birthday! To celebrate, we've picked some of our fave faces to front our latest campaign. When they weren't striking a pose, we took time out on set to ask them a few questions... Read on for their top Primark shopping hacks, must-have pieces and more!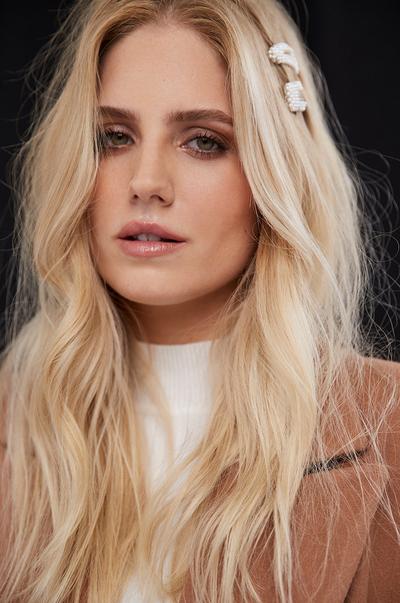 What are your top hacks for shopping at Primark?
Get there early, wear something light. You don't want your cardigan, coat or a big handbag obstructing you. Always take a trolley, even if you think you will be out in a second with only one pair of flipflops. Return for classics such as underwear, bras and PJs. Experiment (the prices are great for trying out something new) and don't forget to have fun! These are notes from a professional Primark shopper a.k.a. ME. Write them down and thank me later.
What kind of Primark shopper are you?
I would like to think I'm a planner. But to be completely honest, I always go crazy when I walk into Primark. I check Instagram, Youtube and blogs for items currently in season, but in the end I always fill up a trolley in no time.
If you could only buy ONE Primark item for the rest of your life, what would it be and why?
That's a hard one! Probably a non-wire push-up bra: so comfortable and soft, a perfect fit and without a doubt unbeatable price-wise. So many of my friends and Instagram followers have bought this one on my recommendation and loved it.
What forever fave Primark piece do you still have in your wardrobe from years ago?
I have a light grey sweater, it's probably over 4 years old. I bought it in London, have worn it a hundred times since then and it still looks great! Definitely one of my favorite clothing pieces, it's simple, but it brings back so many memories.
When you think of Primark what comes to mind?
Definitely a shopping trip to London years ago with my sister. We came there with our luggage half empty and ended up buying so many things we each had to wear two sweaters on the airplane back home. It was one of our first experiences of Primark so we went crazy. If I remember correctly it was actually my sister's first trip to London and Primark!