Giulia Alfeo is a Longboard Dancer whose platform has grown thanks to her funky dance moves and seriously impressive skills. Giulia says she wants to use her platform to "accelerate voices that I believe need to be heard, and to make people of the Longboard dancing community visible that might otherwise be unseen. My goal is to normalize talking about political subjects and to create an even more inclusive and diverse community."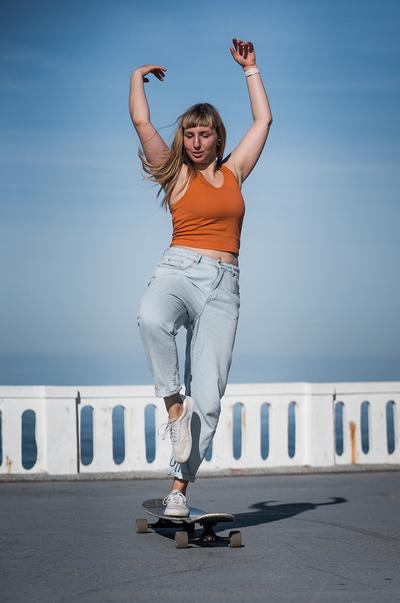 For Giulia, "dance is a form of escape from the everyday world. The music I'm listening to brings me into a flow that makes me travel to other places." Although she's happy dancing solo and getting lost in the music, she's also made some friends who share her love. "The Longboard Dancing community is a very young and small one. It's easy to make connections with people from all over the planet. I'm lucky to have friends all over the world who stay connected through social media. I hope I can visit them in their countries someday and discover the world on my longboard."
We asked Giulia about her fave song to dance to right now – but of course she couldn't pick just one. Slide by H.E.R, Diamonds by Sam Smith, and Triste, Louca ou Má by Francisco, el Hombre all came up as some of her go to's (thanks, we'll be adding them to our playlists too 😉).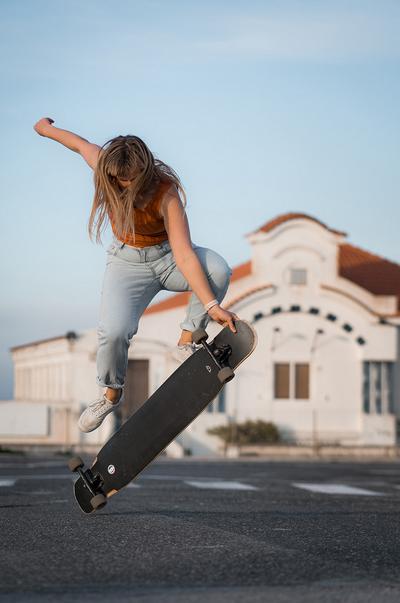 Giulia is also an instructor, hosting longboarding camps across Europe. To get some hot hacks ourselves, we spoke to her about the first steps for newbies to learn: "I start with the basics on how to push properly, break and carve. Once these basics are safe, I continue with a dancing step like the cross step." Follow Giulia on her Insta for a playlist and dancing inspo that make you want to move!