Woman
Stacey Solomon on style, body confidence and social media
Following the massive success of her first Primark collection, we caught up with UK TV's golden girl Stacey Solomon as she launches her second clothes collection with us. Read on as she reveals her fave pieces and thoughts on sustainable fashion, and spills her self-care secrets…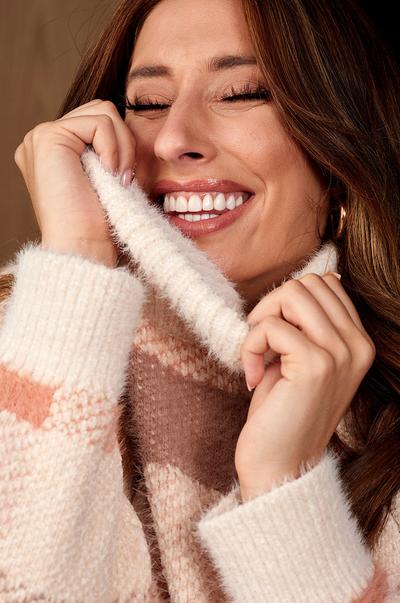 After a rapid rise to fame on The X Factor Stacey stole the TV limelight, winning on the reality show I'm a Celebrity and snagging a coveted spot on the Loose Women panel from among a wide variety of presenting gigs. Adored by many for her down-to-earth persona and 'real life' social media sharing, she's the showstopper when we meet on the set of her Primark photo shoot…
"I'm so excited to be back" she beams, "Honestly, when I was awarded the campaign last year it was a dream come true. So when Primark asked me to do it all over again, I couldn't believe it, and of course I couldn't resist. You can't imagine what it's like to walk past a store you've shopped in all of your life and see your face and designs in the windows. To me, it's the most amazing feeling!"
A year has passed since we last spoke to Stacey, so we absolutely wanted to find out how she tackled editing this new collection. "I was so overjoyed the first time around, I think I just got way too excited and wanted to include every piece I've ever dreamed of! I wanted glitter, I wanted rainbows…I wanted everything" she laughs. "This time around I wanted to have a running theme, I wanted it to feel like a thoroughly focused collection. All of the pieces can be easily mixed and matched with each other to create lots of different looks."
Stacey is a body positivity advocate, so there were undoubtedly design aspects that were key for her. "For me the most important thing was comfort, I wanted to have pieces that women can feel great and look great in. If I had to describe the line in one sentence, I'd say its everyday wear, for everyone, at any time or occasion, and I just love that. I feel that some brands miss the mark and only cater to one type of woman, but I've never felt like that about Primark. Great clothing should be accessible to everyone and in Primark I've always felt included, I can keep up with the latest trends and even afford to do that!"
"I know I will live in these" she says pointing to the t-shirt and sweatshirt from her line, both emblazoned with the slogan 'mother'. A devoted mother of three herself, she admits that the thought of people probably buying these pieces she has designed as gifts for their own mothers gives her a funny feeling in her tummy ("in a good way" she chuckles). "Being a mom is such an important part of my life and I know that motherhood means so much to so many women out there, so it was nice to give it a nod. It's difficult because I know not everyone can relate to being a mother but this sweater and t-shirt are so special to me. I sure hope that there are people out there who love wearing their 'mom badge' loud and proud."
Other favorites of Stacey's include a pair of white ankle boots which she's sporting as we speak, "I feel like white boots are hard to come by and the heel on these is the perfect comfy height and it's super chunky, I simply_can't_ do stilettos!" Ah jeans. Another of her favorite items from the collection. "This time they're a high-waisted and skinny with the hem cut off. I can wear them with everything"
Since we're on the subject of denim, we discover that Stacey knows all about our sustainability efforts. "I've got two pairs of the sustainable cotton jeans and I love 'em" she explains "One of the first things I did before working with Primark was to go into talks to learn all about their ethics. I really wanted to know everything and I was so blown away and impressed by everything I found out. The ethics and environmental team were amazing, it was all so fascinating. I learned about where Primark sources its materials, how they treat their workers, how they package their products and so much more. I think everyone should get used to the idea that they can shop sustainably and the more they do, the more likely brands are to become more and more eco-friendly"
"I should be a Victoria's Secret model" Stacey chimes in when the conversation turns to body positivity. "It would be nice if we had a bit more diversity wouldn't it? But I'm not one, and I don't beat myself up about it." Her millions of followers love her for her unfiltered, real portrayal of her daily life but we ask Stacey how she maintains her positive attitude, especially following the recent birth of her third son, Rex. "It's definitely a conscious effort and it's a constant one. I guarantee you every day I'm bound to have a negative thought but then I take a second and think actually, I'm incredibly privileged that I'm healthy. Guess what? It works! My body has produced three children and how wonderful is that?! I have to thank my body for all of the amazing things it's accomplished rather than put it down because it doesn't look a certain way, doesn't fit an image."
Proud to be a working mom Stacey let us in on how she juggles that all-important work/life balance. "I don't know if I could handle it without my family and Joe, I've got incredible parents who are so supportive. Joe's work is a lot like mine" she says, referring to her life partner of over three years and fellow TV presenter Joe Swash. "He's a great dad and a great male role model for the boys, so I'm lucky to have him around. Also, sometimes you just have to say no, it's about making those tough decisions but then you remember why you're doing it, and ultimately the boys come first Trying to get the right balance is almost impossible. Personally, I think everyone struggles with this"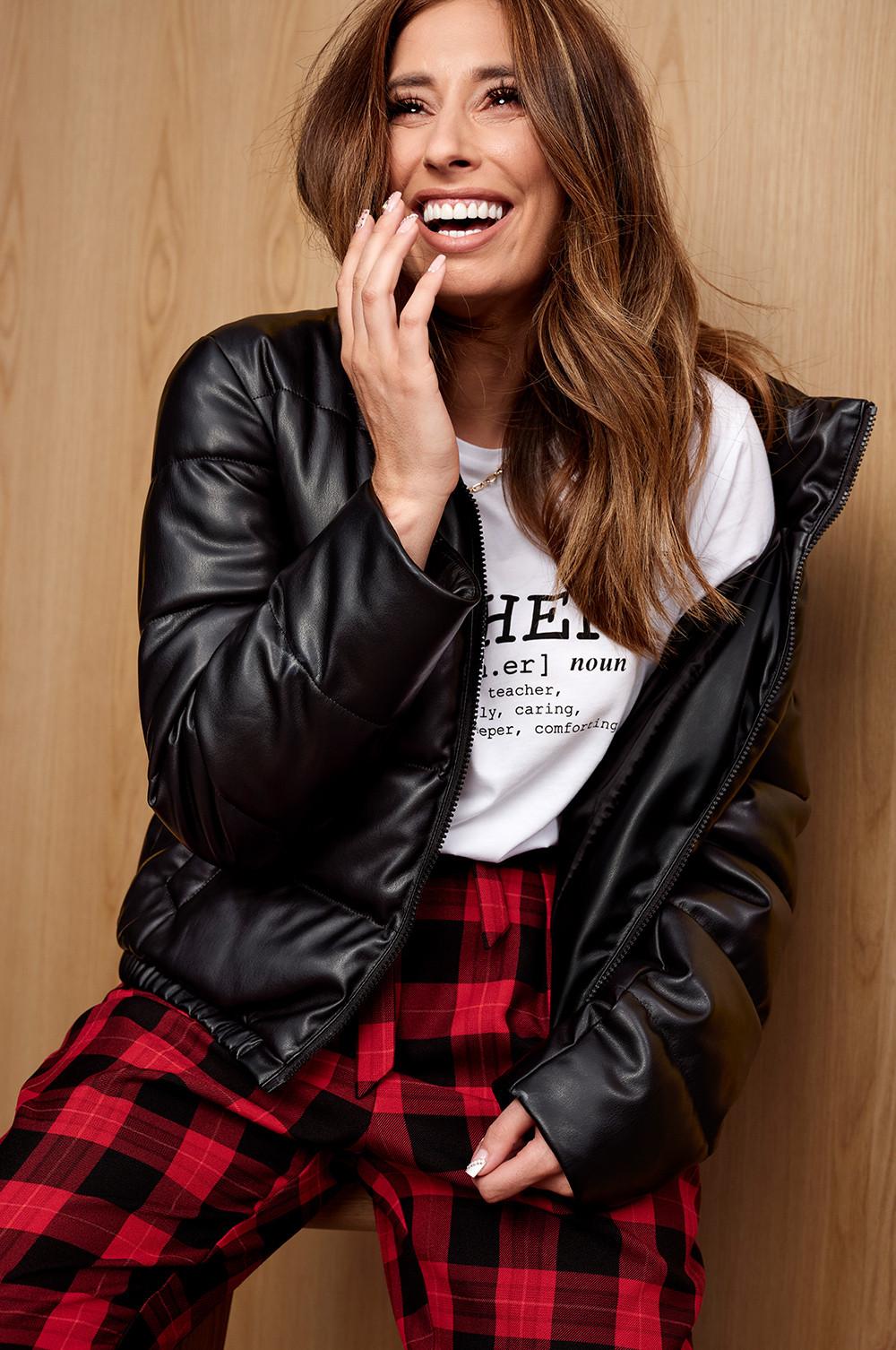 Stacey got pregnant with her first son Zachary, now 17 years old. At the time, social media was still a relatively new phenomenon, so we asked her how different things have been this time around. "I felt so alone when I had Zach. I felt somehow useless, but now with social media I have access to this entire community of people who share their own experiences and it makes you feel so much better about yourself.. People often write me to thank me for being so open, but really I should be thanking them because whenever I do share how I feel there are always people who approach me to tell me they feel the same and give me their advice. But it's a huge responsibility to have a platform that you know influences people. I'm always worried about doing something wrong, it's like on TV shows when they start with 'Don't Try This At Home'.
But what does she do when she needs a little me-time just for herself? Stacey bursts into laughter "I spend most of my me-time sitting on the toilet for slightly longer than I need to! Sometimes I read a book, or rather…a page of a book and I'll even spend an extra five minutes in the shower if I think I can get away with it. It's just about taking five minutes alone when you get the chance and taking a timeout to breathe and remember who you are, just getting your feet back on the ground"
So what's next for Stacey? "I don't know" she cries "This scares me! Whenever people ask me this I'm always like…I have no idea, I don't have a plan, l just keep going."
But do we have a chance of having her collaborate with Primark on a kids wear collection anytime soon? "Oh my goodness, that would be awesome, we've definitely discussed the idea but we'll have to see where it goes. It's definitely something I'd love to do, I absolutely love Primark kids clothing but there's always room for new and exciting concepts." At that point we mention her love for matching her outfits with Rex, and ask if she would she include some 'mini me' looks given the opportunity? "Oh come on now", she smirks 'My life revolves around matching looks!"'