People and Production
Helping factories meet international standards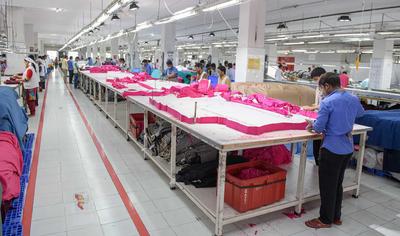 The Ethical Trade and Environmental Sustainability Team work hand in hand with suppliers, their factories and local partners to deliver programmes that help factories address locally-relevant issues and needs. We believe that the more factory management and workers know about the standards we expect and why they matter, the more likely they are to meet them. Sometimes this involves regular face-to-face meetings. At other times it's training programmes or more interactive methods like role-play. In a typical year more than 7,000 hours of training are delivered.
WORKING WITH MANAGEMENT IN FACTORIES
At the heart of our work with management in factories, is clear and open dialogue about the standards we expect.
Our Ethical Trade and Environmental Sustainability Team spends time with factory management to make sure they understand the different provisions set out in the Code of Conduct and what's expected of them. For example, we might explain why they need to have complete employment records or fire alarms in every section of the building. A lot of the time this is carried out on site as part of one-on-one meetings. However, sometimes we want to reach a number of factories in one go.
That's why we run external workshops to provide training and support on relevant issues. These workshops give factories and suppliers the chance to learn from one another away from the day-to-day running of the factory. The format depends on what works best for those involved. In Turkey for example, we usually run day-long workshops covering lots of different topics. This might include a focus on individual clauses of our Code of Conduct, an overview of new legislation like the UK Modern Slavery Act, a refresher on fire safety training, or even how to plan for an earthquake.
Workshops are usually delivered by a member of the Primark Ethical Trade and Environmental Sustainability Team but we also work alongside other expert organisations. For example, in South East Asia we joined the Better Work programme, a collaboration between the United Nation's International Labour Organization (ILO) and the International Finance Corporation (IFC), a member of the World Bank Group. The programme is designed to bring together different groups within the garment industry to improve factory working conditions and promote respect for workers' labour rights. Over 120 factories making products for Primark currently participate in the programme. As well as assessing how each factory complies with international labour standards, Better Work also gives practical assistance to each factory to help workers and employers address and fix any issues that have been identified. Being part of Better Work means each factory is given support and guidance from one central body. This is an effective approach as it avoids one factory participating in multiple initiatives that are offered by each of the brands or retailers it manufactures for.
Where factories making products on our behalf are spread over a large geographic area, for example in China, we have invested in an e-learning platform to give factories information and tools at the tip of their fingers. We offer over 20 different interactive courses covering the Primark Code of Conduct through to hiring procedures.
We are also continually testing new approaches to help factories improve. For example, in Southern India we are working with local Indian NGO ASK - The Association for Stimulating Know How – and U.S.-based NGO Verité on the Fair Hiring Fair Labour programme. The programme provides factories with a toolkit to help improve their recruitment and hiring processes.
SUPPORTING WORKERS IN FACTORIES
We believe that if we help workers better understand what they can and should expect from their employer, we can help empower workers and further improve working conditions in factories. That's why we run a number of programmes developed with workers, for workers. For example, in Bangladesh, China and South India we've found that imagery can be an effective way to bring to life the different elements of our Code of Conduct for factory workers. We've worked with local partners to create worker posters that visualise the code, helping workers in participating factories to better understand it.
In Bangladesh we're also running two other programmes. We've partnered with the NGO SHEVA to implement our fire safety project. The programme trains factory fire safety managers so they can deliver training to workers in a way that is relevant. This includes a fire safety DVD and leaflet and, in some factories, a tailor-made drama performance. We've also partnered with the Ethical Trading Initiative on its Social Dialogue Programme. Bangladeshi law requires all factories with more than 50 employees to have a Participation Committee made up of elected worker representatives. The project helps factories set these Committees up, and ensure that the workers who sit on these committees are chosen by their peers and able to communicate between colleagues and management.
In India we've been working on 'Drawing the Line' a partnership with two Indian NGOS, Women Win and the Naz Foundation. The programme is designed to find new ways to engage female workers so they feel empowered and confident to define what issues they feel are priorities for them in improving the factory.
As well as working with factories to help them understand and meet the standards Primark expects, we also run a number of education programmes for workers and factories so we can help further improve conditions in the garment and textile industry. Click next to find out more.