People and Production
Running education programmes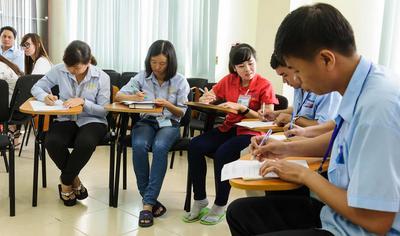 As a large international retailer we believe that we can play a role in improving conditions in the garment industry. That's why we've been working with international and local partners to deliver programmes that support workers and management. Together we've been able to help upskill workers, give them more earning power and opportunities and create more sustainable, productive factories in the process.
TRAINING TO IMPROVE SKILLS
In Bangladesh, we're part of a UK and Swiss government-funded project called 'Sudokkho'. Sudokkho helps factories set up better systems and processes for training workers in sewing skills for the benefit of both factories and workers. In particular, it means that many workers, mainly women, are learning new skills that enhance their earning potential.
We also participated in the Benefits for Business and Workers programme in Bangladesh and India to improve the HR capabilities of participating factories. The programme focused on delivering HR and productivity training to factory management, helping factories to increase profit as a result. One initiative introduced in a number of factories was a Buddy System in response to the need to better support new employees. Established workers were selected to act as a Buddy to new workers, providing information on factory facilities and acting as a first point of contact. Buddies were given additional training and responsibilities so they could play an increased role in the factory as a result.
WORKER WELFARE
Women make up more than half of the workers that manufacture Primark products. At Primark our access to factories can give us an opportunity to tackle some of the challenges being faced by female workers.
In China, India, Bangladesh and Myanmar we've partnered with Business for Social Responsibility on the HERHealth initiative (Health Enables Returns). The idea is simple: women train other women on their health needs and support each other in their learning. The topics covered are diverse but all are important and sometimes can be life-changing, for example personal hygiene, menstruation, family planning or sexually transmitted diseases. So far the programme has trained over 950 female coaches and reached more than 25,000 women.
"I've learnt many things from the peer educators and HERhealth, such as the importance of taking breaks, and the importance of nutrition and a good diet and that nutritious food does not have to be expensive. I talk to my mother and neighbour about things I hear from the HERhealth. My real hope is that I will be a peer educator soon." Shahana, Dhaka, Bangladesh
We also work within communities, for example in Southern India, where there are increasing numbers of inter-state migrants looking for work. These workers do not always know enough about relevant local laws or their workplace rights. That's why in 2009 we partnered with NGO 'SAVE' – Social Awareness and Voluntary Education - to introduce Worker Education Groups in Tirupur.
Worker Education Groups bring together local people to discuss issues that matter to them. Each group is given training and support over a four-year period, covering topics such as life skills and personal development, health and safety and workplace rights. So far, we've reached over 6,000 people and the programme continues to grow each year.