People and Production
Take a 360 virtual tour of a factory in Bangladesh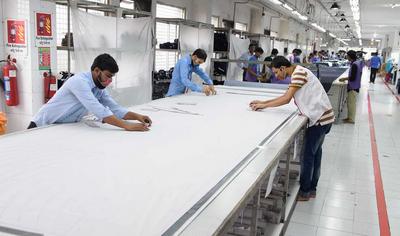 We are often asked where products for Primark are made. So we decided to let people see for themselves.
Like many other fashion retailers, our products are made around the world in countries such as Bangladesh, India and China. Primark doesn't own any factories, so all our products are made by our approved suppliers who manufacture on our behalf. We only work with suppliers and factories that respect the rights of their workforce and commit to meeting our standards which are based on international guidelines. We carry out over 3,000 audits a year to check these standards are met.
In 2016, we used virtual reality equipment to film a Primark pair of trousers being made in a factory just outside of Dhaka, Bangladesh. This 360 degree video follows the production journey of a pair of trousers, from the cutting and sewing together of material, to the labelling and pressing of the final product ready for our stores.
When watching the video on a desktop computer (Mac or PC), please use a mouse to scroll left and right, up and down to watch the video in full 360 degrees.
The direction of the video will change depending on the position of your phone. When the video is playing, please physically rotate the device around to watch the video in full 360 degrees. When watching the video on a mobile device, you will need to have downloaded the YouTube app from the relevant app store, and then click on the film title rather than the red play button to launch the video in the app.