Planet
Manufacturing responsibly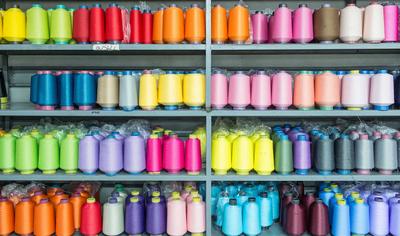 Vivid colours, eye-catching prints and fashionable designs are essential to bringing Primark customers the latest looks. Our suppliers use a range of fabrics and dyes to create the products that end up in our stores.
When suppliers and their factories make our products, we provide them with guidance on how they can reduce their impact on the environment. It's important to us that approved suppliers are taking the right steps within certain manufacturing processes to help make supply chains more sustainable.
Our collaboration with the Sustainable Apparel Coalition (SAC) is key to our work with suppliers in this area. The SAC has over 200 member organisations including other high street retailers, manufacturers and government organisations. All members are collectively committed to improving supply chain sustainability in the apparel and footwear industries. SAC has developed a suite of tools for brands like Primark to measure sustainability performance in a range of areas. It means we're all working to the same standards.
We're also prioritizing two key areas – eliminating the use of certain chemicals and water conservation.
REDUCING CHEMICAL USE
As textile manufacturing has evolved, so too has the range of fabrics and functionality on offer to customers. The development of water-resistant fabrics, or having the season's latest colours available across a range of products, has meant that new and different chemicals have been introduced into supply chains.
Like a number of other high street retailers, we have signed up to the ZDHC Foundation's programme, in which we are phasing out certain chemicals deemed hazardous and replacing them with alternatives. Primark has committed to the ZDHC's Manufacturing Restricted Substances List (MRSL) which lists the substances in chemicals that suppliers are not permitted to use in manufacturing Primark products. We have held workshops for many of our suppliers in China, India and Bangladesh to support them in implementing the MRSL in factories.
Our work on chemical management with our suppliers and their factories also includes the commitment we made to Greenpeace's Detox campaign in 2014, which is also centred around phasing out the use of certain chemicals within our supply chain. We continue to report annually on the progress we're making in this area, and have made our restricted substance lists publicly available.
WATER CONSERVATION
Water is one of nature's most precious resources and it should be used carefully. Textile manufacturing depends on water at many stages, whether it's dyeing materials or washing the final product before it's shipped. We're working with factories to reduce the amount of water they use, and to minimise potential water pollution from the use of chemicals.
Over the years, we have been working with a number of factories in China and Bangladesh to affect change. We have partnered with sustainable supply chains experts Solidaridad and the International Finance Corporation (IFC) on its Partnership for Cleaner Textile (PaCT) initiative in Bangladesh and its Better Mills Initiative in China. Both projects have delivered training to factory managers and invested in technologies to reduce water use and better manage the chemicals used in dyeing and washing.
These partnerships both mean we can help factories phase out restricted chemicals, and check that they are considering how to use water carefully, helping us to stay true to our commitments.