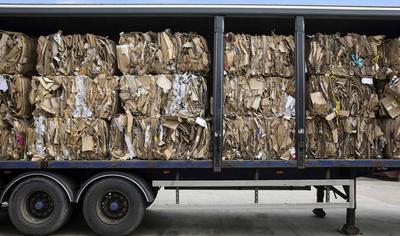 Recycling is an important way that all of us can better look after the planet and reduce the amount of waste that ends up in landfill. At Primark, we've been working on recycling for years – our iconic brown paper bags have been spotted on high streets since 2001.
Whether it's the cardboard boxes our products are transported in or the unsold clothes in our stores, we're doing more and more to improve what and how we recycle.
CLOTHES
At Primark, we want to find a good home for any clothes that we don't sell. In Europe we have been donating our unsold clothing and buying samples to the charity Newlife since 2010. Newlife specialises in providing support for disabled and terminally ill children and their families by funding equipment and providing specially trained nurses to help with children's care. Newlife collect, sort and recycle these clothes to raise funds for the important work that the charity does. Our partnership has so far raised €3 million for Newlife.
In the U.S. we partner with a not-for-profit organisation called Delivering Good. Our U.S. stores donate unsold clothing to the organisation, which then redistributes the items to those in need around the world. This could be to families who have been displaced following a natural disaster.
OTHER MATERIALS
Our recycling initiatives are not limited to just clothing. We are committed to increasing the levels of recycling within our stores, particularly for cardboards, plastics and hangers. As part of this process we have established Resource Recovery Units in our UK and German depots. From here the cardboard, plastic and hangers that are collected at our UK and Northern European stores are reprocessed and sent for onward recycling or energy recovery. This 'backhauling' arrangement allows us to be actively involved in the recycling process, and has significantly reduced the volume of third party waste collections from our stores.