Home
How To Celebrate Your Birthday In Isolation
Celebrations and social distancing don't exactly go hand in hand and unless you've unofficially decided to 'postpone' your date of birth it's likely that many spring/summer babies will be spending their big day in quarantine. Even if you hate making a fuss of your birthday at the best of times spending it in isolation is far from ideal but read on for our tips on how to make your Covid-19 birthday celebrations a little more bearable…
The Essential Guide on How to Spend Your Birthday Alone in Lockdown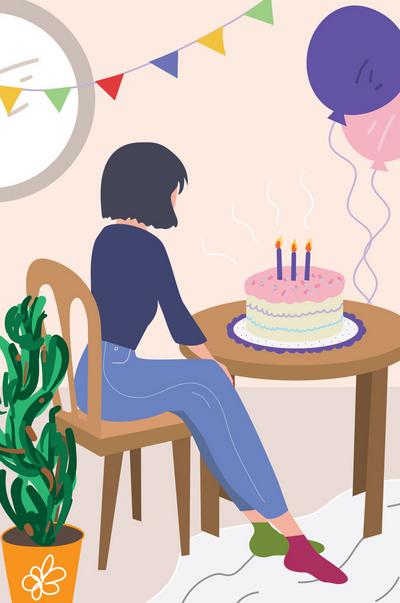 Breakfast In Bed
Hit snooze and treat yourself to an extra fifteen minutes of blissful sleep, after all it's not like you'll be in a hurry to go anywhere. If you're isolating with family or housemates then drop a hint that you'd love breakfast in bed, if they don't offer up then ensure your pre-birthday supermarket run includes your fave brunch treats and serve them up yourself!
Screen Time With Friends
Thanks to the wonders of modern technology you can easily get your friends together for some face to (virtual) face socialising. So if you're reluctant to spend your birthday alone, make sure you send out a digital invite for a gathering on apps such as Zoom or House Party, and stock up on your favourite snacks and drinks to sip and munch throughout. If your birthday is a while away, then consider any pals that might have one coming up and arrange a surprise video call party. Some might find chatting via video awkward and frustrating, especially when you all keep interrupting one another but you can easily add some structure to your socialising by putting together a quiz or game.
Dinner Party
If you'd usually eat dinner out at your favourite restaurant on your birthday eve then recreate it at home. Set your table and get out the fancy cookware, you could even play some ambience enhancing tunes to achieve that real restaurant feel. If you're not able to get out to gather ingredients or just aren't the best of cooks then check online for local restaurants offering delivery services during the lockdown.
Cut The Cake
No birthday is complete without cake and you've no excuse to not put those baking skills to the test now you have more free time to play with. If you'd rather not risk it then pick up a plain cake with your shopping and use your favourite sweet treats, melted chocolate and icing to decorate it. You'll pass time and end up with a truly personalised party for one treat.
Shake It Off
It's completely normal to feel a little bit angsty about spending your birthday without your friends and loved ones but dancing can be the best therapy. Put together a birthday playlist to see you through the day. You could even tune in to a live streamed DJ set, or give that Tik Tok routine a try at last!