Home
How To Create A Spa Sanctuary At Home
If you're desperate for a spa day to help inject a little mindfulness into your life, then read on for our DIY treatments and spa secrets so you can reach maximum relaxation mode. Before we begin, start with some relaxing music and scented candles or diffusers to help create a serene atmosphere. By the end of your spa day you'll be feeling pampered and ready to dive into bed for a good night's sleep.
Our Top DIY Spa Day Tips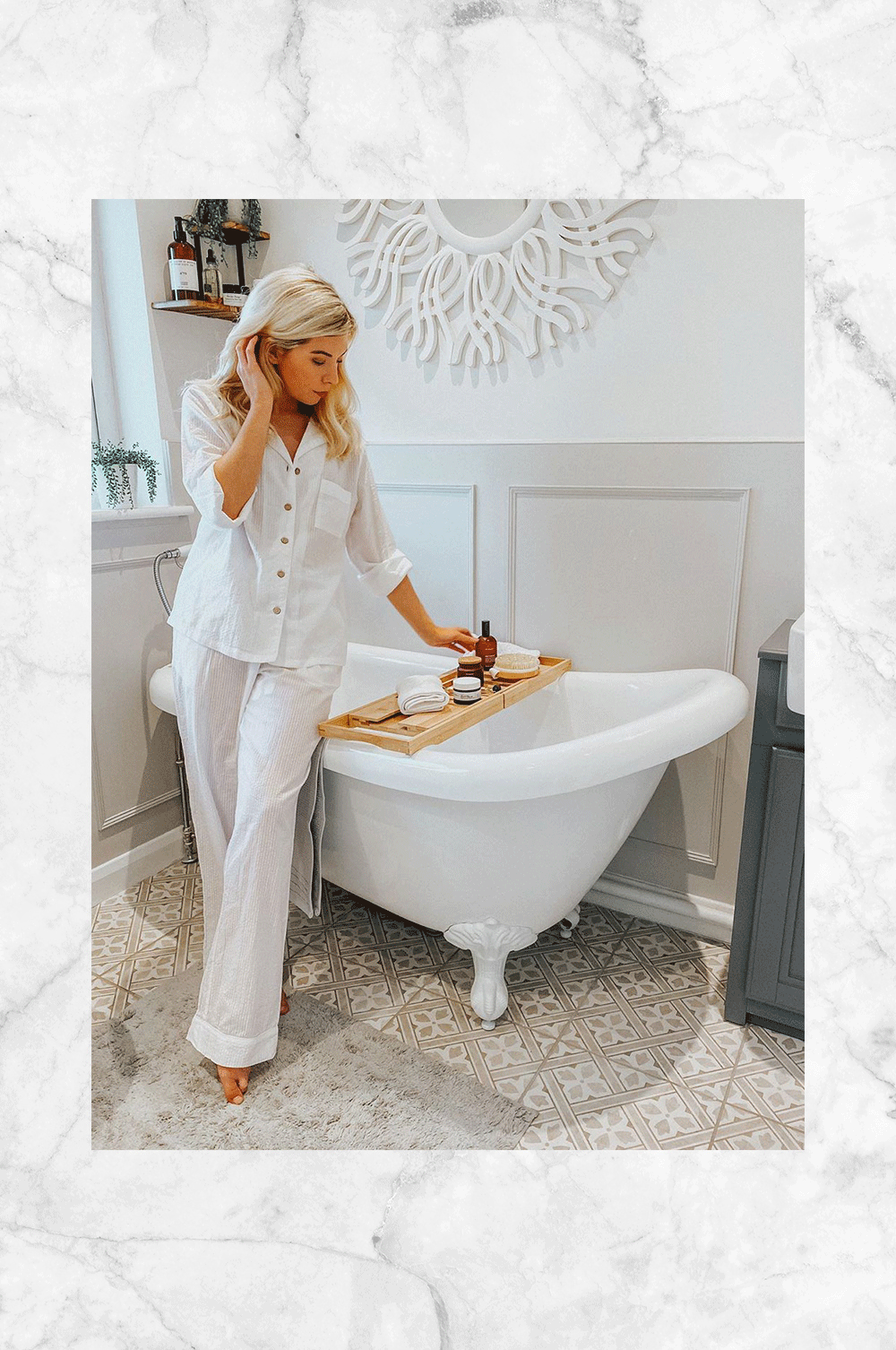 DIY Skincare Products
If you need help combating tired eyes, simply cut cotton pads in half, dampen with water and refrigerate. When you're ready, drop your favourite serum onto the pads and place under your eyes, our personal favourite is our vitamin C oil which helps to brighten the under eye area. Make your own DIY face scrub using your favourite face wash and some table salt for an easy 2-in-1 facial. Now for those who want to soak in the bath with a face mask, grab some milled oats, honey, one egg yolk and combine together. This beautiful mask has exfoliating and brightening qualities that'll leave you glowing.
Make Your Own Skincare
How to Use Your New Skincare
Start your facial by using a face wash to remove any make-up and build up on your skin, secondly use our DIY scrub to gently remove dead skin cells and bring bodily vitamins and minerals to the surface before rinsing. Apply your face mask, add your DIY eyepatches and let them sit for 10 minutes, then simply use a warm damp towel to remove. Once your face is dry apply your favourite serum and use a facial roller to move the product into your skin, massaging in upwards motions from the neck up, this will help aid absorption and the drainage of any puffiness. Finish by massaging your go-to moisturiser into your face, neck and décolletage. Look at that, you're glowing!
The Facial
Dreamy Bath Time Routine
Keep those candles lit and start prepping your dream bubble bath. Whilst your water is running sprinkle in bath salts and add a few drops of oil for moisturised skin post bath. Pour in some scented bath foam or drop in a bath bomb if you're feeling fancy. Get your loofah ready and drape your towel and pjs on the radiator so you can slip into cosy clothing after you've soaked. Now all you have to do is slip into your bath, grab a book or listen to a podcast and treat yourself to some fruit infused water or a cup of tea.
Tub Time
How To Rehydrate Your Hands
With all the extra hand washing necessary during COVID-19, your hands might be a little on the dry side, so to help you combat dehydrated skin try our simple treatment for soft palms. Start by softening your hands in lukewarm soapy water. Then using a mixture of table salt and olive oil you can create your own scrub to help eliminate dead skin. Rinse off and dry before naturally pushing back your cuticles and removing hangnails with cuticle scissors. Select a cream or balm to moisturise your hands with and don't forget to apply a few drops of oils to your cuticles to leave them hydrated too! Top Tip: Slip on cotton gloves overnight to intensify the hydration process. No gloves, no worries, cotton socks will do the trick too!
Dehydrated Hands Treatment
DIY Infused Water
Keep your whole body hydrated too by creating a refreshing spa beverage with some cucumbers, berries, mints and your favourite citrus fruits. Cut them up and place in a large jug or bottle filled with water, infuse your H20 overnight or for a few hours before you plan to drink it. Use any extra slices of fruit as snacks throughout your spa day or place the cucumbers under your eyes to help reduce puffiness.