Kids
10 Kids Summer Wardrobe Must-Haves
Summer styling should be easy breezy, filled with colours, fun prints and comfortable clothing so your kids can run free and splash around. Make sure your little one's summer gets off to a fashionable start with all their sunny day essentials ready and waiting in their wardrobes. Scroll down to check out our essential checklist for the season.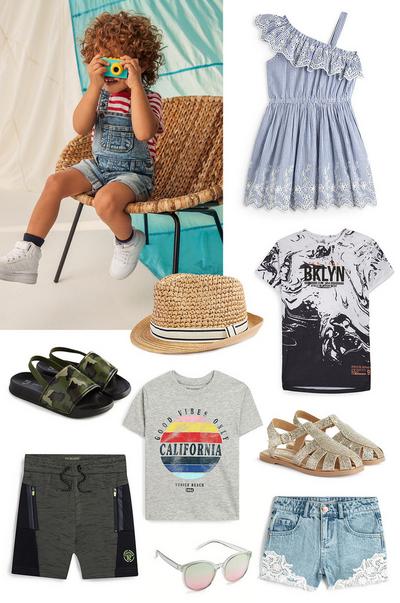 Swimsuits And Shorts
Paddling pools, water fountains or beaches, where there's water on a hot day your little one will want to splash around! Whether you're staying at home or driving to the beach make sure you've got their swimsuits and shorts at the ready.
Denim Shorts
A clear choice for the dream summer wardrobe. This timeless summer classic makes a reappearance every year, allowing your kids to look and keep cool. Get the festival chic look with our crochet denim shorts available in our older girls and younger girls shorts range.
Sliders And Sandals
One of the best things about sliders and sandals is not having to fuss over laces, plus you can avoid a mass collection of sand at the bottom of their shoes! Making these the ideal summer slip on for beach trips and picnics.
Patterned T-Shirts
Summer is all about fun, from garden games to colourful wardrobes! Now's the time to whip out their fave tees or re-stock your kids wardrobe with a new range of printed and patterned shirts. Check out our graphic boy's tees for a statement summer look!
Summer Dresses
The flowy girls summer dress is here to solve all your wardrobe woes. From finding an easy outfit to pop over their swimwear, to the reliable and easy throw-on that will work for the days when they want to dress-up! It's not restricted to just summer either, in the autumn simply pair with tights and a chunky knit layer.
Dungarees
Not only are dungarees simply adorable but they're practical too! This is the perfect outfit for family arts and crafts days or weekends spent gardening in the sunshine.
Hats
A good hat collection will last you the whole year! This summer whip out the bucket hats and caps to keep your little ones shaded whilst they're out playing or lounging in the sunshine.
Pumps & Trainers
Don't forget the slip-on pumps and trainers when heading out for the day. A supportive shoe should be on hand (or foot) all year round, especially for family sports day!
Sunglasses
Now's the time to add some fun accessories to their wardrobes. Colourful sunglasses are a great way to look cool whilst keeping them safe from the sun.
Pyjamas
At the end of the day nothing feels better than slipping into some fresh new PJs! Make your kids bedtime just as appealing as the daytime with our range of kids nightwear..