Men
10 Items That Should Be On Your Summer Outfit Essentials Checklist
Sunny days and warm breezes have arrived so make sure you've got your summer essentials ready to go. If you're unsure of exactly what they are, then you're in the right place because we've listed the wardrobe must-haves when it comes to styling endless summer outfits. Whether you're packing for a staycation or off to a BBQ, you won't think twice about your look of the day.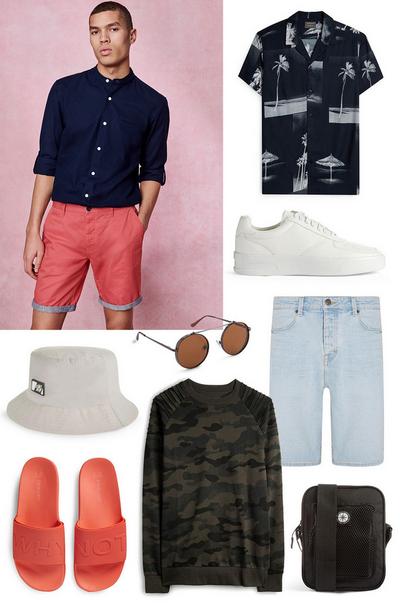 Crisp White Trainers
The classic crisp white trainer is that reliable shoe that makes every outfit pop. If you're brave, go all white, but for those who don't want a bright white sneaker, slip on an off-white number as an alternative!
Pop On Some Sunnies
Pop on a new pair of sunglasses as a stylish finishing touch to your summer looks. Try experimenting with different colours, prints and shapes from rounded to classic aviators.
Printed Shirt Season
The printed shirt has become a staple look for summer outfits. This versatile item can be worn open and layered over your favourite tee, or buttoned up and tucked into some smart chinos, perfect for balmy evening parties.
The Trusty Hoodie
Don't forget about your layers. An all-black hoodie is the comfort item we all reach for, but as this versatile piece grows in popularity fill your wardrobe with a range of different on-trend hoodies featuring mixed media, colours and prints!
How's Your Hat Collection?
Don't underestimate the power of a good hat collection. Not only do they hide messy hair days, but they'll protect you from sunny rays and automatically make you look cool. Whether you go for bucket hats, caps or cuffed beanies, make sure you've stocked up.
Light-Wash Jeans
It may seem a bit obvious, but what's a successful summer checklist without a pair of trusty light-wash denim jeans? Now is the perfect time to sport this sun-bleached style denim, that'll complement a colourful top half!
Shorts Season
It's the only time of year you can get away with wearing shorts, so make sure you take advantage of the sunshine! Usually seen as a more casual item, shorts can also be worn as a smarter look. Why not try a light brown chino short with a navy shirt?
The 'Man' Bag
Don't be without a stylish man bag this season. The compact side satchel holds a lot more than you think, allowing you to pop in all your summer essentials from your glasses to your sunscreen.
Your Go-To Jumper
The perfect item for those cooler days and evenings. Jumpers are effortless items that are as comfy as they are practical. Swap out your heavy coats and jackets for pull on jumpers and zip up layers you can slip on when the sun sets.
Slip Into Some Sliders
The slider is the perfect slide on and go shoe, after all it is in the name! If you can't be bothered to lace up your trainers this summer, then summer sliders will keep your feet comfortable wherever you stroll.