Men
#PrimarkMeets Anaricius
Our wonderful summer cast kindly chose to share some words of wisdom about love. Get to know the confident and thoughtful Anaricius, who discusses his passion for basketball, and shares why his mother is his inspiration.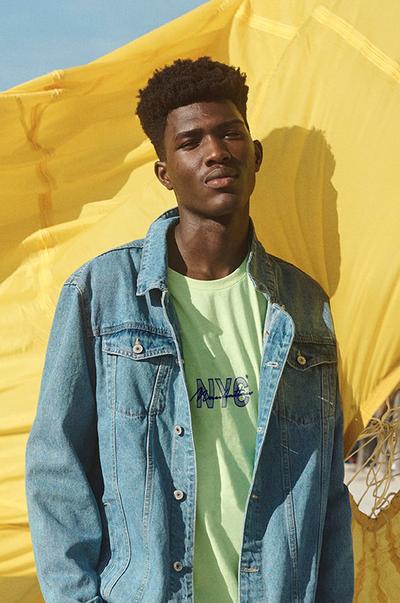 Who was your first true love?
My high school ex-girlfriend.
Have you ever had your heart broken?
No.
What does being comfortable in your own skin mean to you?
To me being comfortable in your skin means embracing who you are as a person. Loving everything about yourself. Whether you think it's a flaw or not. Loving your skin colour, hair, eyes, and your body in general. Just not being ashamed of the person God created.
Is home truly where the heart is?
Yes, definitely, because home is where I'm comfortable and where I get unconditional love.
Where is your happy place?
My happy place is when I'm playing basketball. In that moment I'm not thinking about anything else but the game. I feel free, and I make my own decisions on the court. Nothing else matters at that moment but the game.
How do you express your love?
I mostly express myself through my silence. Usually if I'm angry or I'm not feeling something or someone, I become every silent. Also, I often express myself through my wardrobe. Most people can tell how I'm feeling simply by the way I dress.
Who did you want to be, as a child?
Honestly, there's not one person I wanted to be as a child, but I always strived to be a better version of myself growing up.
What makes a person beautiful?
What makes a person beautiful in my eyes is their mindset, that to me is very attractive.
What makes you feel content?
Giving back to people makes me feel content, even if it's something small.
When was your first kiss?
My first kiss was in 7th grade.
What makes you, you?
I keep myself, to myself. I don't speak much. Most people call it boring, but I call it peaceful. But on the other hand, once I'm comfortable in my surroundings I'm the coolest guy to be around.
What makes you feel connected to people?
I feel connected to people that have positive energy and great vibes. Also, I connect with people who have a great taste in music.
Who are you?
I'm an introvert. I'm very peaceful and calm, but once I become comfortable in my surroundings I'm the life of the party – I'm a mixture of both quiet and fun.
Who do you admire most in life, and are they an inspiration to you?
I admire my mother and my mentor. My mother because of how strong of a woman she is, and my mentor because he pushes me to the limit to try new things, he doesn't let me settle.
What do you love most about yourself?
I love my confidence and my humbleness.
Anaricius' Quick Fire Round?
Anarchy or order? Order
Make up or fresh faced? Fresh faced
Heels or trainers? Both
Day or night? Day
Dressed up or dressed down? Both depends on the occasion
What's your favourite colour? Grey
What's your favourite word? Articulate
Are you a morning person or night owl? Both
Fave pizza topping? Bacon and pepperoni
Last book you read? Rage Becomes Her, by Soraya Chemaly
Last person you text? My mom
Puppies or Kittens? Puppies
Biggest pet peeve? People who wear watches on their right hand
What's your life motto? Nobody cares, work harder