Women
5 Tips To Body Positivity
This International Women's Day we sat down with our girl Stacey Solomon to talk all things body confidence.
Renowned for her highly successful TV career, Stacey has also become a spokeswoman for promoting body confidence. So we asked her, what are her top tips for empowering women to feel their best, and know that they are enough, on the daily. Scroll down for some seriously inspiring advice.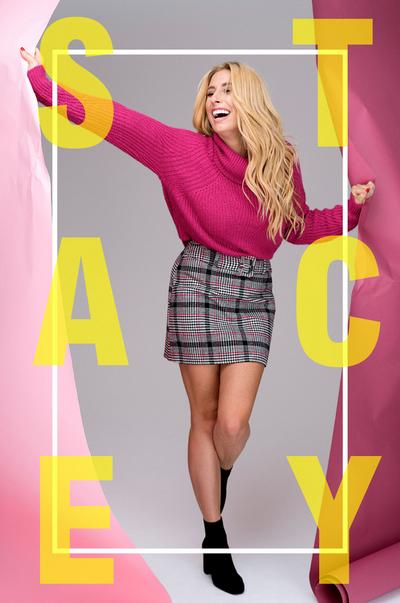 You've become a spokeswomen for body positivity and celebrating female self-confidence, where do you think you get your body confidence from?
I think I've been extremely privileged by my influences. My parents were never superficial, and reiterated that what I look like doesn't define me. It's also been a considered effort. We are bombarded by society 'perfect' images all of the time, and I have to consciously tell myself that I am enough. That I am all I need to be. It's a work in progress and always will be, but I'm always blown away by how positive and inherently kind human nature is. The more I hear from people and receive encouragement and positive comments, the easier the above becomes. So for all of those people, I am so grateful.
Who or what empowers you to be yourself at all times?
My family, friends and so many people I speak to through social media or at events, or just walking around. People are inspiring and so accepting. The more honest and authentic I am, the easier I find it to relate to people. And it's almost always greeted with kindness, which is enough to encourage anyone to carry on being themselves.
Who is your body positivity role model?
I have so many. All of my colleagues at Loose Women during our Body Stories campaign, (where we all posed in our underwear for a photoshoot, that was produced without airbrushing or filters to promote body positivity), there was such an incredible empowerment that oozed from each and every one of those women. I have so much admiration for everyone that has stood up and championed the cause for body positivity. All of them are my role models.
What is your advice to anyone looking to boost their body confidence?
Try not to ingest the narrative that is being sold to you. Realise how incredibly individual you are, and why that is so imperative to society. Imagine the world if everyone looked exactly the same. Diversity is beautiful and therefore EVERYONE is beautiful in their own way. You are enough.
Do you believe wearing certain clothes can improve your self-confidence?
If so, what do you reach for each time you need a boost? I believe that self-confidence comes from within and we aren't, or at least shouldn't be, defined by what we wear. But I do feel that wearing bright colours and glittery outfits makes me feel like me, and its a display of what I like and what I'm drawn to.