Women
A day in the life of… Alice Liveing
Ever wondered what it takes to be a personal trainer, Instafamous influencer, and author all at once?
This International Women's Day we took some time out with Alice Liveing, to find out her work ethic secrets, and just how she fits it all in. Read on to find out why early alarm calls are a positive thing (if you say so Alice), prepping for the day ahead, and lots of sleep are the keys to success. Prepare for some serious girl boss inspiration.**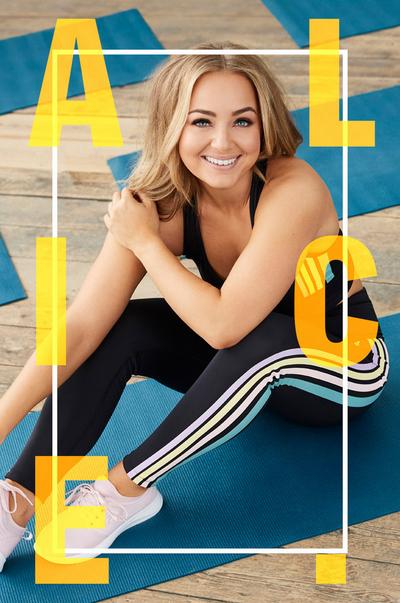 5.45am - My alarm usually goes off early and I am not one to snooze it. I have always been a morning person, so these are my golden hours of the day and I try and maximise this quiet time whilst it feels as though the rest of London is still sleeping.
6.15am - I am dressed and ready for the day, and leave my house equipped with my back pack, coffee cup, water bottle and laptop. I prefer to get the bus to work in the mornings as it's often quieter and quicker at that time, and I get the benefit of seeing the sun come up in the summer months.
7am - I spend my bus journey writing posts for Instagram and replying to emails, so that I have a clear head before I get in to the gym. I arrive at work and have my first coffee of the day, before seeing my morning clients. I usually have between 1-3 clients first thing.
9am - I tuck into my breakfast, check up on emails and reply to any comments that might have cropped up on my social media.
10am - I like to prioritise my training in the morning as I find I have most energy then. I usually do a weights session that lasts around an hour or so, followed by a tasty post workout shake.
12.30pm - I often have a lunch time client so will eat an early lunch. I always try and bring a packed lunch to work, but we also have tasty food at the gym too with big salads and healthy options, so I can easily grab something quickly.
2-5pm - My afternoons are usually spent running between meetings and capturing content for my own channels. It's often nice to be out of the gym for the afternoon and it allows me to keep up with the other side of my business. If I do get a few moments to myself, I try and have a book in my bag to read. Reading for me is the perfect escapism from social media and life, and I find stealing a few minutes between meetings and work to read can be the perfect way to relax.
6pm - I like to get home around 6pm. I'm such a granny, I love nothing better than settling down on my sofa with a cup of tea and watching a bit of Netflix to unwind in the evenings. My boyfriend Paddy doesn't get home until gone 8pm most evenings, so this is my chance to get organised for the following day, cook some dinner, prepare food for the next day and finish up any last bits of work.
9.30pm - I love my sleep and as I'm such an early riser, I find getting an early night helps me to really get the best sleep, so it's lights out early in our flat, and I kind of love it!