Women
Primark Meets Miss Gloria
Meet Chloe and Abi - the brains behind the graphic design brand Miss Gloria, and our latest collection collaboration.
With a mission to make a difference, and connect with women all over the world, Miss Gloria have body positivity, girl power, and feminism high on their agenda when it comes to inspiration. Scroll down to read how the brand got started, how they manage to keep their fingers on the cultural pulse, and what's next for the design duo.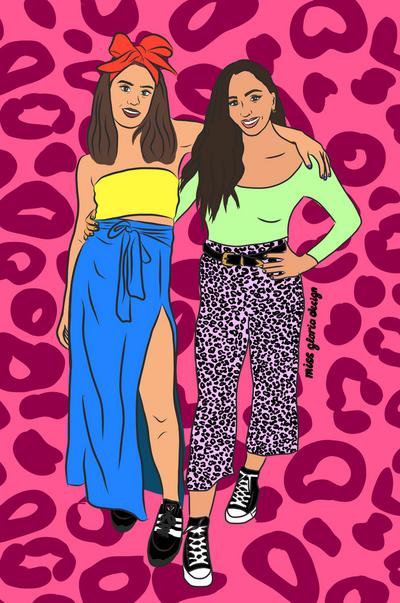 Illustration by: Miss Gloria
Tell us a bit about yourselves. Where did you two meet and how did your business get started? We've been friends for SO long. We went to the same secondary school, and did the same course at university where we lived together too, and now we both work in London! I guess our lives were just meant to be aligned! Miss Gloria started around the same time as the #metoo movement went viral online. We were feeling extremely anxious, but also empowered. We've both always been creative and loved illustration and design, so when we left uni we decided we needed a creative outlet and started the Instagram account together as a hobby. We felt the need to express how we were feeling about issues in the world, as well as struggles that all women/girls face in everyday life, in a creative and accessible way.
How excited are you to be working with Primark? We still can't believe it! We've been shopping in Primark since before we can remember. To actually see our designs in store... I think there might be tears! We've seen Primark's journey to become more and more ethical, sustainable and inclusive, especially with their transparency around factories, the diverse model choices within campaigns, and the messages they portray, which makes us so thankful that they have given us this opportunity. The fact that we can now spread our message globally and help even more people, is incredible.
We've learned a lot about you already from your Instagram account alone, but how would you sum up Miss Gloria Designs in 3 words? Empowering, bright and sassy!
What is the inspiration behind Miss Gloria Designs? The starting point was learning about feminism at school and university, and noticing things going on in the world that made us angry or uncomfortable, as you do growing up as a woman. About a year and a half ago we started following accounts on Instagram that were all about girl power, feminism and pushing the boundaries of what it means to be a woman in society. We realised the impact that seeing a graphic about consent, or not shaving your legs can have! These inspired us to start one ourselves to empower others. We've both always been passionate about design and illustration, and thought it would be great to create our own content about these issues in a way that inspired others. This is why we make our designs as bright and funky as possible, but always carrying a message.
How would you describe your illustrative style? We like to keep things simple, in a cartoon kind of style. We use single black strokes and love vibrant block or clashing colours. We also add in the odd leopard or fluffy background, and a funky font here and there. We'd say our style is fun, and bright, but with a serious message.
How do you manage to keep your finger on the pulse of new cultural trends and movements? Mainly Instagram. We follow so many inspiring accounts that open our eyes to new things every day, we're in a constant flux of learning. Social media is huge for this, and can be used for good. Also the news - it's important to know what's going on in the world.
Who are your girl power icons? Gloria Steinem, one of the queens of the feminist movement in the 1960's, she's also the inspo behind our name. We were very inspired by Gurls Talk which is run by Adwoa Aboah. We also love designers like Hattie Stewart, Robin Eisenberg, Florence Given, and feminist zines like FEMzine and Gal-dem. Chidera Eggerue is also a huge inspiration, and what she's doing for black women, the self-love empowerment movement and knowing your worth. And obviously girls like Amika George who started the period poverty movement, there's just so many women and girls killing it.
Do you have an empowerment quote that you live by? I love the quote 'speak up, even if your voice shakes', we were both nervous about sharing our work in the beginning, especially to friends. There is also so much pressure and stigma around being a feminist and standing up for yourself, in case you say or do something wrong, but I think learning to express how you feel and standing up for what you believe in becomes easier the more you do it. Your voice is important.
You've both found your forte at a young age, what advice would you give aspiring artists trying to break into the industry? It was definitely by accident! We started it as a hobby to outpour our frustration with inequality, and show our passion for things we really believe in through creativity, and it just seemed to snowball. It sounds cliché but do what you enjoy and follow your heart, and I'm sure success will follow. Reach out to others that inspire you, and ask about their experiences and how they can help. It also helps that we're both surrounded by many incredible women who inspire us every day, and help us push forward. We also have friends who share their experiences with us, and we often design graphics based on this.
What can we expect from your Primark collection? Bold, bright and leopard! Think fierce goddess!
Which item from the Miss Gloria collection does everyone need in their wardrobe? The pyjamas! We also LOVE the little canvas bags, and leopard print dress top.
What's next for Miss Gloria? We want to continue collaborating with brands and charities who support women and are conscious of social change. Our aim is to make as many girls and women feel empowered and confident as possible, and to do this we will hopefully, one day, make Miss Gloria our full-time job, so that we can dedicate ourselves to it and make a difference!