Women
#PrimarkMeets Saffy B
We had a chat with our fave Brighton blogger Saffy B, ahead of her new Primark summer range. She spoke to us about all things travel, from top tips to embarrassing stories. So, read ahead for some holiday inspo. Trust us, you'll leave ready to book a vacation! We'll see you in the sun 🌞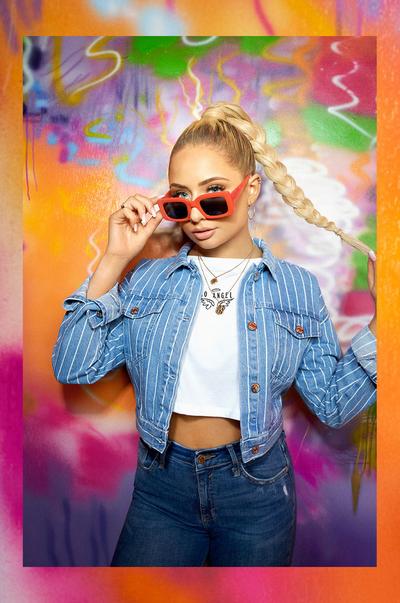 Where's your dream destination? Japan and Bali.
Do you have a fave travel buddy? My Mum.
What makes the perfect travel companion? Someone you can have a laugh with.
Where are your travels taking you to next? LA.
What are your top tips for making the most out of a weekend away? Have some downtime and plan some fun activities.
Where is your favourite place that you've travelled to so far? Miami!
Spill, what's your most embarrassing travel story? When I stepped into the pool thinking the ladder was stairs. I fell in to the 9ft pool with my headphones still on and everything!
What's the most important thing to remember when travelling? Your passport!
Care to share your smart saver tips for a holiday abroad? Make sure you save before you go so you can go and enjoy it.
What are your fave mini‐break destinations in the UK? I love going on Spa Breaks.
Why do you think travel is important? Because you get to see new places and learn more, its also nice to create new memories.
Have you ever missed a flight? No!
If you could live anywhere, where would it be and why? Miami or Ibiza, both places are really relaxed but also have lots of buzz.
What are you top five travel essentials? Passport, phone, camera, money and of course make up!
Top tips for travelling light. Haha I don't!
What do you like to read on holiday? I love listening to podcasts as opposed to reading.
What is your favourite holiday activity? Jet skiing.
If you could only take three items from this collection on your next trip abroad, what would they be and why? Suitcase, towel and sliders‐ all things you definitely need for a sunny holiday.
Quick Fire Round:
Window or aisle seat? Aisle City or beach? Beach Long or short haul? Long Hot or cold destination? Hot Solo or group trip? Group Detox retreat or party holiday? Party Backpack or suitcase? Suitcase Fold or roll? Fold