Women
#PrimarkMeets Suzanne Jackson
This year we're celebrating 50 years of Primark, to mark the occasion we've chosen some of our favourite faces to front our latest campaign. When they weren't striking a pose, we took a moment on set to ask each of them a few questions. Read on for their top Primark shopping tips, must-have Primark items and more…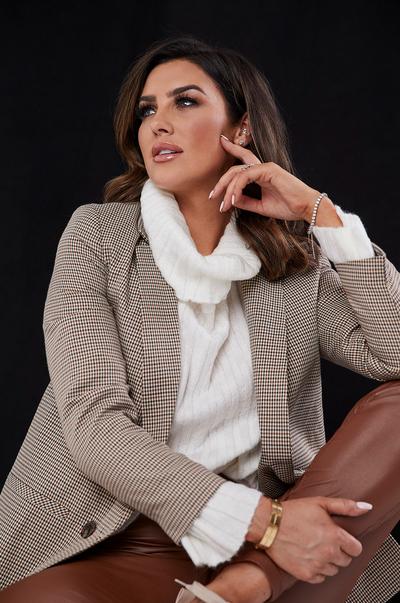 What are your top tips for shopping in Primark? When shopping in Primark, I always try and build a look around a key staple, for example, Primark's jeans are of seriously impressive quality and the fit is second to none. Once you have a pair that is suited to your shape, it's then easy to find other items to build around that staple. In my opinion classic staples always win. I know it sounds like a cliché, but there's a lot to be said for thinking outside the box. Pyjama tops don't have to be limited to bed. In the past, I have worn a silk pyjama cami on a night out because it was so pretty when teamed with jeans. On Instagram recently, I saw a post by a blogger who decided to wear a long waistline skirt as a bandeau dress, and it looked great on her! I also once saw a blogger wear a slip dress underneath an over-sized jumper, with just the lace trim from the dress being visible. I though it looked super stylish.
What kind of Primark shopper are you? To be honest, I'm a little bit of both. I'm definitely the girl who goes in for socks and comes out with two brown bags full, however the fact that I work with Primark on a monthly basis, piecing together outfits, means I do go in with an idea in my head as to the type of look I'd like to create and build around. The best thing about Primark is that there is something for everyone there. Whether you are going in for a travel toothbrush or the latest pair of must have jeans, it's impossible to leave Primark without one brown bag full of gorgeous bits and pieces! The best part of all is that Primark's items don't break the bank balance.
If you could only buy ONE Primark item for the rest of your life, what would it be and why? Honestly, the slippers! For me, the slipper socks are just the comfiest slippers I have ever owned. In all seriousness though, I'm torn between the jeans, the swimwear and the PJ's. All three categories are my faves from Primark. Every time I wear an item from one of those three categories, people tell me the items look a million dollars. You would never think they were priced under the 20 euro mark. #ILovePrimark
What Primark item do you still have in your wardrobe from years ago, that remains a forever fave? I still have a camel coat that I bought from Primark one Christmas about three years ago now. It's still in my wardrobe and it still looks brand new. It was such a good buy; I have always loved it. I was actually very excited to be wearing a new camel coat in the Primark 50 campaign I shot recently because it instantly brought the mind the similar coat I had bought all those years ago.
When you think of Primark what comes to mind…? As a fashion blogger who has worked in the industry for nearly ten years now, some of my best items and some of my most sought after staples have been from Primark. Primark is so relatable to everyone; it doesn't matter how much in in your bank account, there's something there for all tastes, all styles and all budgets. I especially love how fashion forward Primark is. There's no way I could ever walk by a Primark store and not go in. It will forever be one of my fave high street retailers. On that note, the shoot I did for the Primark 50 campaign has been one of the standout moments in my fashion career. To be the only Irish representative to shoot an iconic campaign for an iconic brand like Primark was just surreal and it really cements our relationship on working so successfully together, whether it be in terms of fashion or with regard to my own beauty products on sale in their stores. Thank you Primark for always believing in me.