Dames | Men | Kinderen
Trend van het moment: De Grinch
Iedereen houdt van die mopperige kerstverpestende Grinch, ook al gedraagt hij zich niet erg feestelijk. Maar gelukkig hoef je niet in Who-ville te wonen om je te wentelen in zijn sombere kijk op de kerst. Bekijk onze collectie feestelijk Grinch-leuks. Hij vindt ze vast vreselijk, maar we durven te wedden dat jij ze geweldig vindt!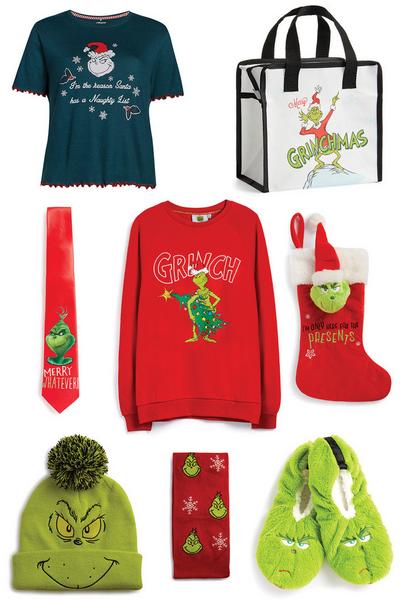 Als jij net als de Grinch chagrijnig wordt van de feestdagen hebben we meer dan genoeg nachtmode voor je om lekker binnen te blijven en je innerlijke Grinch de vrije loop te laten. Dit is de perfecte kleding voor een kerstfilm-marathon. Onze Grinchpyjama's en -sloffen voor dames én heren zijn comfortabel en lekker warm, maar je kunt natuurlijk ook all the way gaan in onze Grinch-onesie!
Hoorde je jezelf al net als de Grinch mopperen dat als je niks leuks om te dragen hebt, je net zo goed niet kunt gaan? Geen zorgen, wij hebben kleding waarvan je vrienden Grinchgroen zullen zien van jaloezie. Trakteer jezelf en je kleintje op matchende truien met de tekst 'Merry Whatever'. En wat dacht je van een Grinch-sjaal of een muts tegen de kou?