Jeans wyprodukowany w duchu zrównoważonego rozwoju
Niewielkie obciążenie dla środowiska, a jednocześnie wielki styl – nasze jeansy o kroju mom są wykonane w 100% w bawełny ekologicznej i posiadają złoty certyfikat Cradle to Cradle Certified®. Model jest dostępny w pełnej gamie rozmiarów oraz w dwóch kolorach: klasycznym niebieskim i stonowanym ecru – dzięki temu spodnie pasują do każdej sylwetki i każdego stylu. Podkreślający sylwetkę fason mom z wysokim stanem i zwężanymi nogawkami wygląda świetnie w połączeniu z niezbędnymi latem krótkimi topami lub wpuszczonymi do środka T-shirtami. Rozdarcia nadają stylizacji swobodnego charakteru, który dopełnią modne w tym sezonie sandały na grubej podeszwie.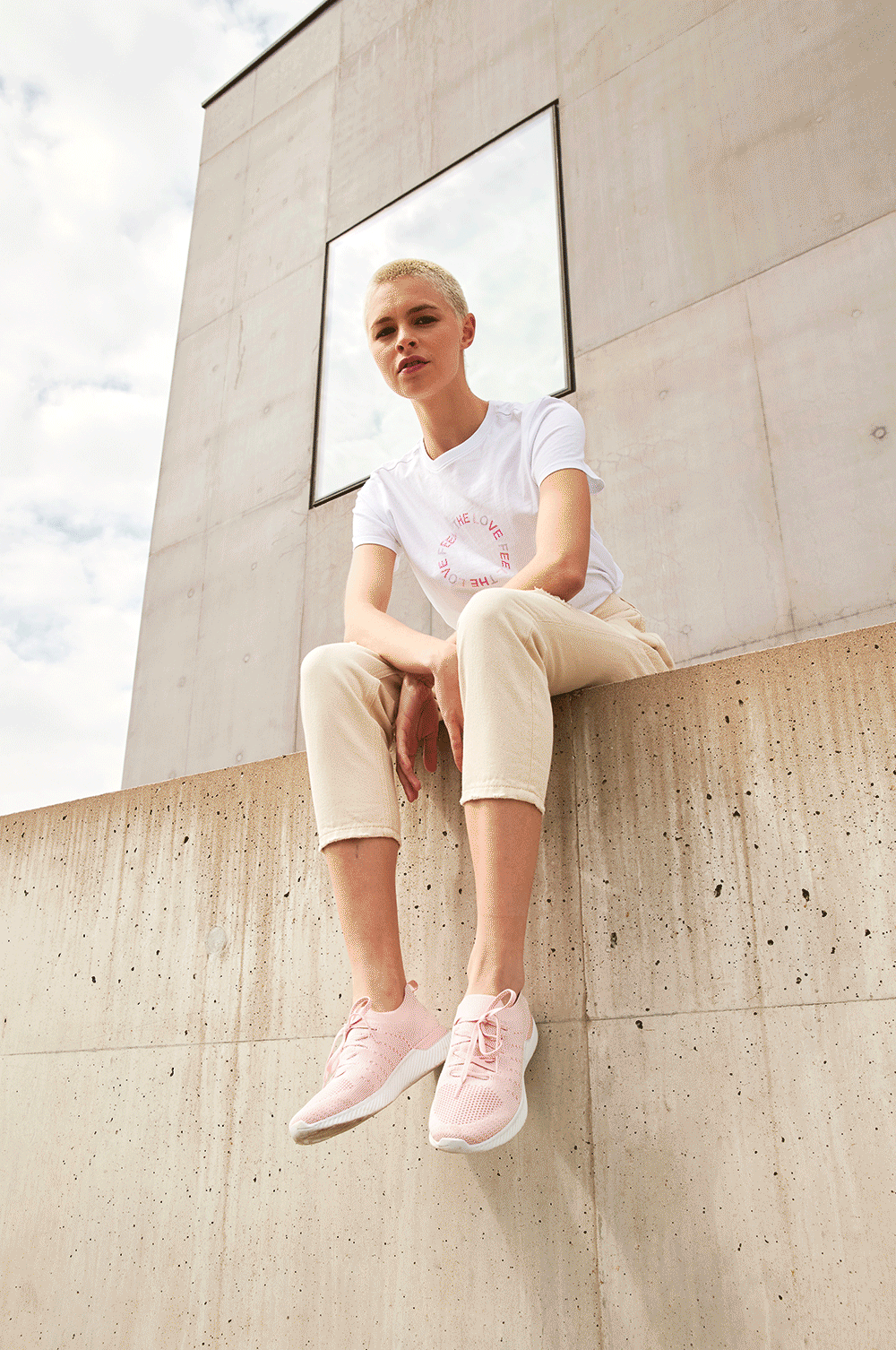 Czym jest złoty certyfikat Cradle to Cradle Certified® ?
Cradle to Cradle Certified® to uznawany na całym świecie miernik bezpieczniejszych, bardziej ekologicznych produktów wytwarzanych z myślą o gospodarce o obiegu zamkniętym.
Bezpieczeństwo materiałów
Gwarancja stosowania materiałów, które są bezpieczne dla ludzi i dla planety.
Zamknięty cykl życia produktów
Projektowanie i wytwarzanie produktów w sposób, który pomaga wyeliminować powstawanie odpadów i zapewnia możliwość ponownego wykorzystania materiałów, tak by wspierać rozwój gospodarki o obiegu zamkniętym.
Odnawialne źródła energii
Wytwarzanie produktów przy wykorzystaniu energii odnawialnej, a tym samym ochrona planety i klimatu poprzez zmniejszanie i eliminowanie emisji gazów cieplarnianych.
Dążenie do uznania wody za cenny zasób naturalny, zachowywanie jej dla lokalnych społeczności i zapewnianie czystej wody dla ludzi i planety.
Wspieranie tworzenia bezpiecznych i sprawiedliwych metod pracy w łańcuchu dostaw i wytwarzania produktów.

Stworzone z myślą o długotrwałym użytkowaniu, przy użyciu materiałów pozyskanych w zrównoważony sposób, nasze jeansy o kroju mom to przyjazna dla środowiska modna propozycja, która nada się do przerobienia, jak również do recyklingu. Dzięki złotemu certyfikatowi Cradle to Cradle Certification™ możemy oferować niedrogie, modne i dostępne dla wszystkich ubrania z jeansu, jednocześnie zmniejszając ślad środowiskowy naszych produktów.