Nasza kolekcja butów, torebek i akcesoriów z poliuretanu z kożuszkiem z pewnością sprawdzi się doskonale, gdy zrobi się zimno. Wygodne i eleganckie akcesoria i buty wzbogacą Twoje stylizacje na chłodniejsze dni.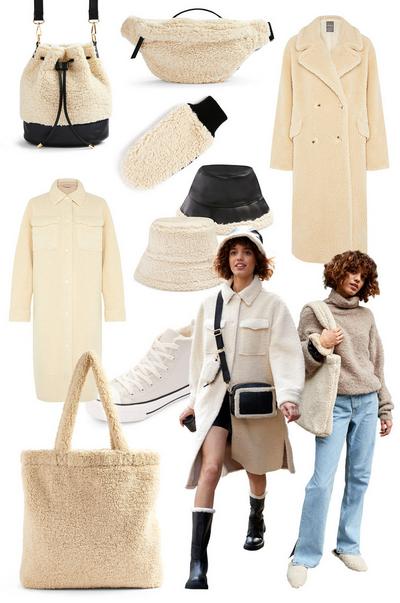 Kolekcja z poliuretanu i kożuszka
Syntetyczny kożuszek o fakturze owczego runa to nowoczesna interpretacja sztucznego futra. Gęsty i ciepły, bez zbędnej objętości. Czarna sztuczna skóra z poliuretanu dodaje wyrazistości i doskonale uzupełnia stylizację. Jeśli przytulny płaszcz z kożuszka to dla Ciebie za wiele, możesz postawić na akcesoria z naszej kolekcji.
Dwustronny kapelusik czy opaska? Nakrycia głowy z kożuszkiem to najnowszy sposób na dołączenie tej modnej tkaniny do swoich stylizacji. Gumka owijka z kożuszka stanowi ciekawy akcent, który ozdobi koński ogon noszony w deszczowe dni.
##Torebki i buty z kożuszkiem
Oto torba z kożuszka, która sprawdzi się do noszenia lekkich drobiazgów albo jako uroczy akcent stylizacji. Czarna listonoszka z poliuretanu z wykończeniem z kremowego kożuszka ułatwia zimowe spacery, podczas których chcesz mieć wolne ręce. Pasuje do grubszych ubrań z dzianiny.
Jeśli uważasz, że nerka to wyłącznie element letniej garderoby, czas zmienić zdanie. Ta kremowa nerka z kożuszka to wszechstronny must-have sezonu. Noś ją w pasie lub swobodniej – ramieniu.
Oto zwieńczenie poszukiwań – Twoje nowe botki na zimę. Te sznurowane buty za kostkę idealnie uzupełnią stylizację z sukienką maxi w kwiaty, ale równie dobrze sprawdzą się też do Twoich ulubionych jeansów. Jeśli lubisz wysokie buty, na pewno przypadną Ci do gustu te czarne buty z podszewką z kożuszka. Możesz nosić je na dwa sposoby, z cholewką wywiniętą lub nie. Jeśli lockdown sprawił, że tęsknisz za komfortem wsuwanych kapci, te kremowe klapki typu mule inspirowane trendami z wybiegów będą najlepszym wyborem sezonu.