Bez względu na powód, dla którego wybierasz stylizacje pozwalające zakryć ciało, w naszej kolekcji idealnych na lato osłaniających modeli znajdziesz modowe niezbędniki, które możesz dowolnie zestawiać i łączyć, a jedynym ograniczeniem jest Twoja wyobraźnia!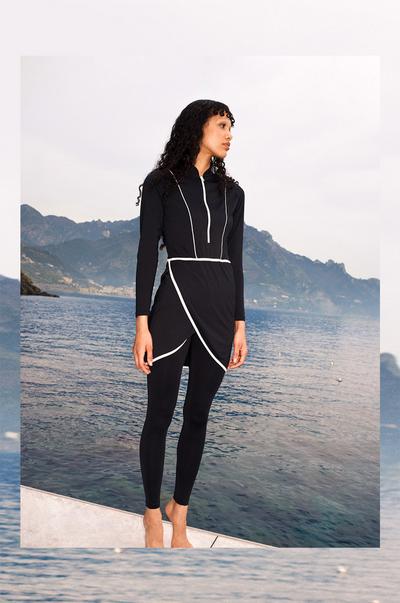 Lekkie warstwy
W naszej osłaniającej kolekcji znajdziesz wszystko, czego potrzebujesz, by stworzyć strój na każdą okazję tego lata. Zakrywanie ciała podczas chłodniejszych dni jest łatwe, natomiast wyższa temperatura, wilgotność i słońce sprawiają, że staje się to większym wyzwaniem. Jak możesz zachować komfort w letnie dni? Sięgnij po lekkie i oddychające materiały, takie jak bawełna czy len.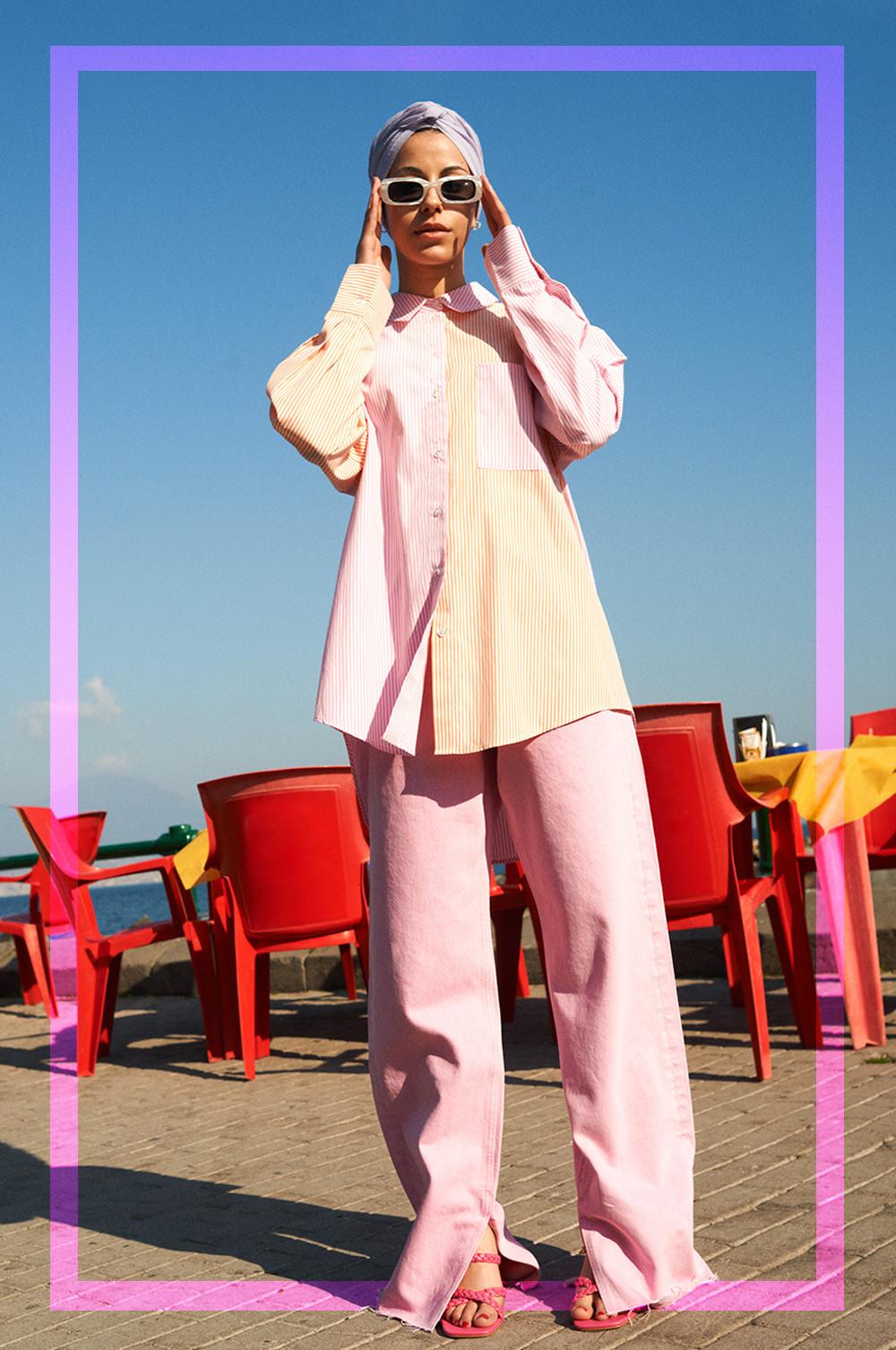 Daj się ponieść trendom na ten sezon z wyrazistymi kolorami i nadrukami z naszej kolekcji. Jeśli potrzebujesz modowego zastrzyku dopaminy, z pewnością docenisz naszą kolekcję wydłużonych popelinowych koszul dostępnych w pełnej gamie jaskrawych barw. Wystarczy, że wybierzesz odcień, który najbardziej Cię rozpromieni. Zapięte na guziki czy zarzucone na sukienkę – barwne koszule to pewny przepis na pełną radości stylizację.
Nasze wzorzyste spodnie palazzo i bojówki z szeroką nogawką przygotowaliśmy w modnych odcieniach, takich jak jaskrawy róż czy soczysty pomarańcz. Kontrastujące kolory w zestawieniu z azteckimi wzorami to baza osłaniającego stroju, którego na pewno nie można nazwać nudnym. Akcesoria to skuteczna metoda, by wynieść stylizację na nowy poziom. Postaw na kolorowe chusty, okulary przeciwsłoneczne z kolorowymi szkłami oraz warstwową biżuterię, która będzie modową kropką nad i.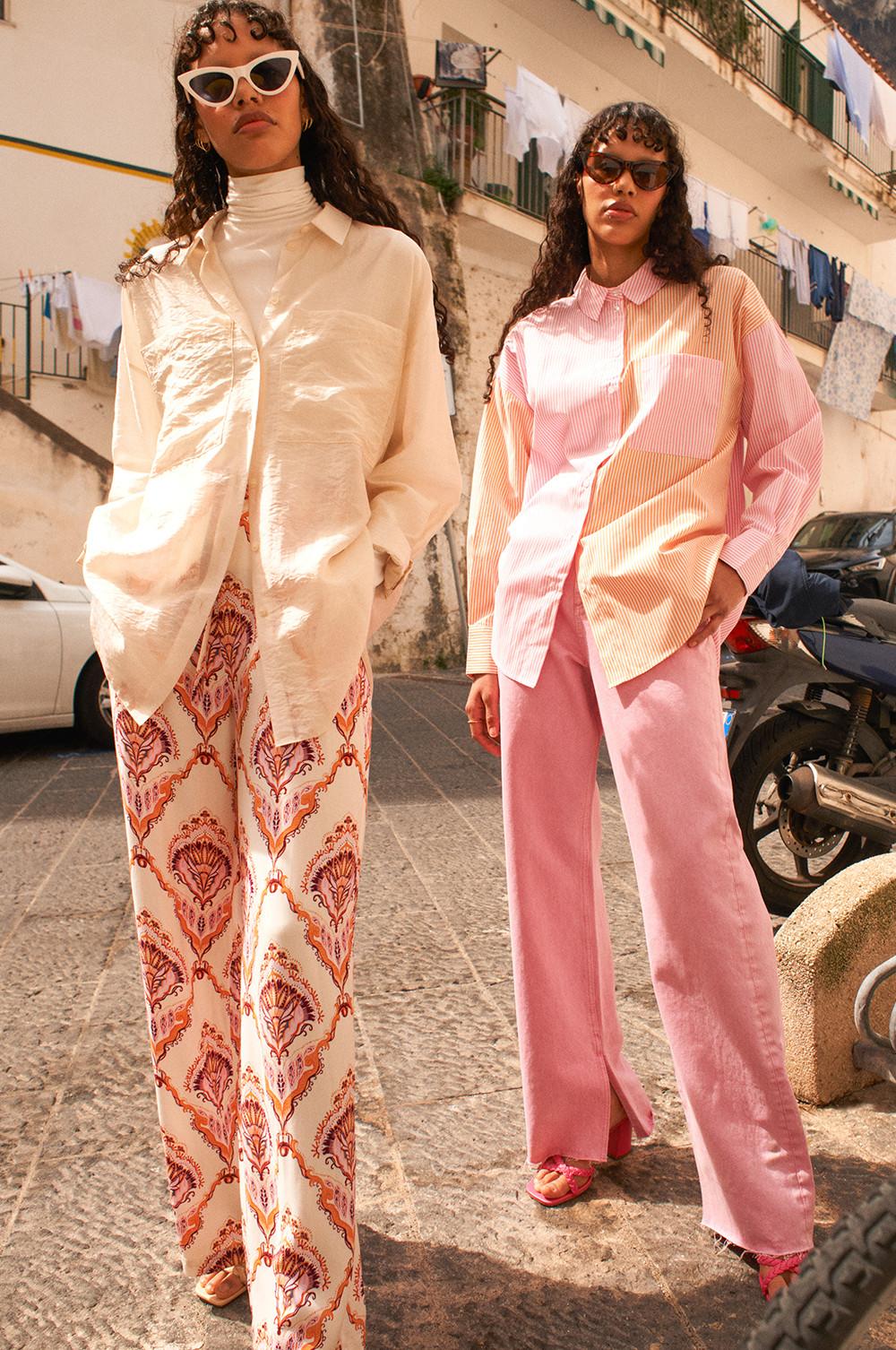 Osłaniające stroje kąpielowe
Dostępna z końcem maja kolekcja osłaniających strojów kąpielowych w przystępnych cenach sprawi, że czas na plaży lub basenie upłynie Ci w świetnym stylu. Gustowna czarna koszulka do pływania z długim rękawem w zestawie z legginsami do pływania zapewnia pełną osłonę przy zachowaniu maksimum komfortu, dlatego jest idealną opcją na lato.