Giulia Alfeo to tańcząca na longboardzie dziewczyna, która zyskała sławę dzięki ruchom tanecznym w stylu funky oraz niezwykłym umiejętnościom. Giulia chce wykorzystać swoją popularność, aby "dać głos tym, którzy powinni zostać wysłuchani oraz pokazać światu społeczność tańczących longboarderów, która w innym wypadku mogłaby nie zostać dostrzeżona. Moim celem jest sprawienie, by poruszenie tematów politycznych było czymś normalnym oraz stworzenie jeszcze bardziej inkluzywnej i różnorodnej społeczności".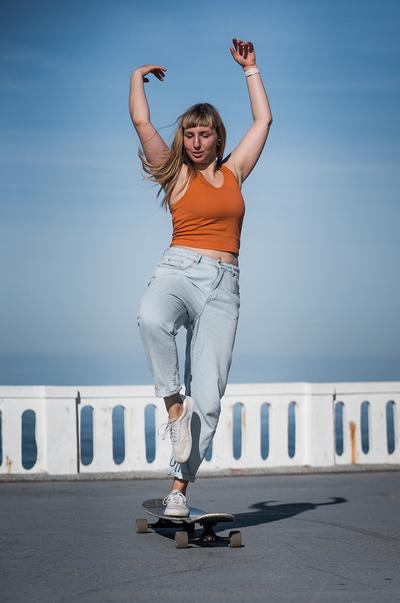 Giulia zdradziła nam, że dla niej "taniec jest formą ucieczki od codzienności. Muzyka, której słucham, sprawia, że łapię flow, dzięki któremu mogę podróżować w różne miejsca". Giulia czuje się szczęśliwa, tańcząc solo i mogąc się zatracić w świecie przepełnionym muzyką, jednak poznała też inne osoby, które tak samo kochają taniec. "Ponieważ społeczność tańczących longboarderów powstała stosunkowo niedawno i wciąż jest niewielka, niezwykle łatwo jest poznać osoby z różnych stron świata. Mam to szczęście, że utrzymuję kontakt ze swoimi przyjaciółmi na całym świecie za pomocą social mediów. Liczę, że będę mogła ich odwiedzić i odkrywać świat na moim longboardzie".
Zapytaliśmy Giulię o jej aktualnie ulubioną piosenkę do tańca i, co chyba oczywiste, nie mogła zdecydować się na jedną. Wśród tych ulubionych wymieniła "Slide" H.E.R., "Diamonds" Sama Smitha oraz "Triste, Louca ou Má" Franscisco, el Hombre. Dzięki za rekomendacje, na pewno też znajdą się na naszej playliście 😉.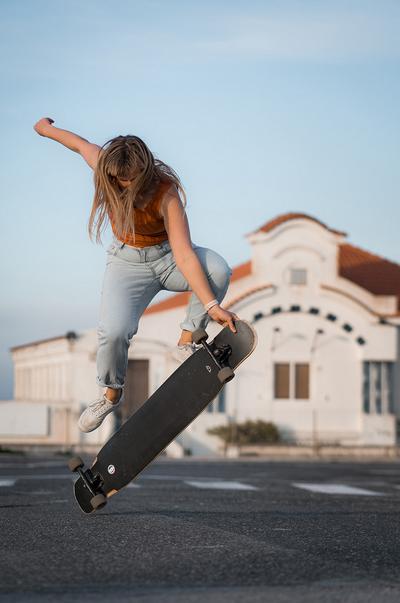 Giulia jest także instruktorką i organizuje obozy longboardowe na terenie całej Europy. Z nadzieją, że uda nam się poznać kilka tajników, zapytaliśmy Giulię o pierwsze kroki dla początkujących: "Zaczynam od podstaw, czyli poprawnego odpychania, hamowania oraz skręcania. Gdy te podstawy mamy w małym palcu, kolejnym etapem są kroki taneczne, np. krok krzyżowy". Jeśli szukasz tanecznych inspiracji oraz playlist, które poderwą Cię do tańca, koniecznie zaobserwuj Giulię na Insta!