Dodatki w postaci biżuterii to niezawodny sposób na to, by nawet najzwyklejsze ubrania zyskały "to coś". Chcesz zabłysnąć podczas spotkania online, wciąż mając na sobie piżamę, a może szukasz czegoś, by uzupełnić swój klasyczny zestaw "jeansy plus top"? Z naszą kolekcją niedrogich złocistych dodatków możesz dobierać i łączyć elementy biżuterii w nieskończoność – aż do uzyskania pożądanego efektu.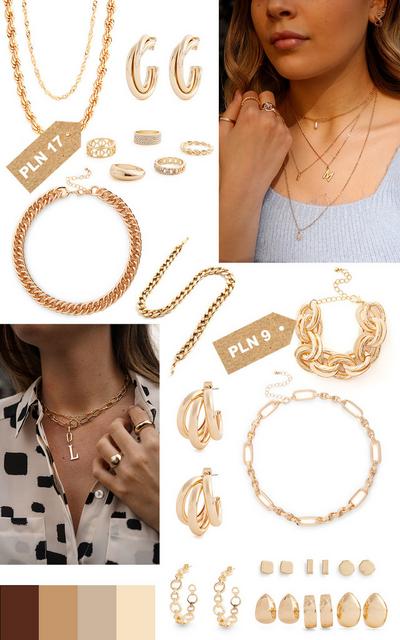 ##Złote naszyjniki z łańcuszkiem od 13 PLN
Masywne łańcuszki królowały na wybiegach podczas pokazów wiosenno-letnich kolekcji – nie musisz jednak wydawać fortuny, aby uzyskać ten look! Połączenie dłuższych naszyjników z krótkim łańcuszkiem oplatającym szyję pozwoli Ci przemienić zwykły T-shirt w wyjściową stylizację. Naszyjniki z inicjałami to idealny sposób na spersonalizowanie swojej biżuterii. Świetnie nadadzą się też na prezent dla każdej miłośniczki błyszczących dodatków.
Istotne detale
Zaopatrz się w jeden z naszych zestawów pierścionków i stwórz instagramowy look, ozdabiając wszystkie palce, lub wybierz ulubiony pierścionek na każdy dzień. Jeśli w czasie pandemii Twoja kolekcja kolczyków leżała odłogiem, najwyższy czas ją odświeżyć, wybierając coś z naszej gamy niedrogich złotych kółek. Od małych obrączek w kształcie croissantów po duże eleganckie koła – u nas znajdziesz kolczyki w każdym możliwym stylu. Dobierz drobne wkrętki i ozdobne kamienie, by uzyskać perfekcyjną ozdobę uszu.