Mężczyźni
Streetwear w świecie bez kwarantanny
Obostrzeń ubywa, więc jeśli czujesz, że najwyższy czas odświeżyć garderobę, to nasza najnowsza kolekcja odzieży męskiej inspirowanej latami 90. jest właśnie dla Ciebie. To era świetności MTV pamiętająca czasy, w których odzież pełna nieskrępowanego luzu wprost ze sceny skateboardingowej trafiała na szczyty stylowych zestawień. Ten sam skaterski styl zdobywa serca, garderoby oraz instagramowe posty dzisiejszych miłośników streetwearu. Przewiń w dół, wrzuć na luz i skompletuj swój niezbędnik.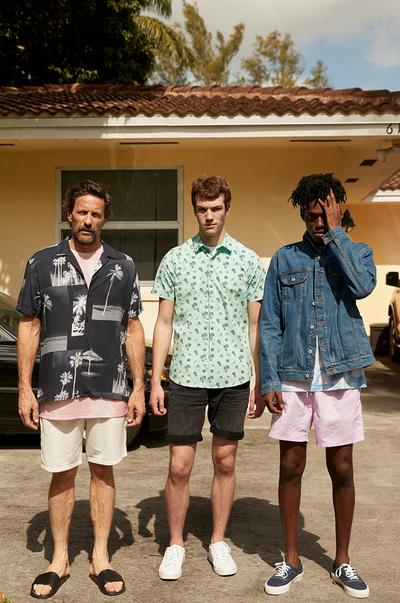 Inspiracja ze skateboardingu
Powitaj lato z pastelowymi kolorami, sięgając po naszą odzież inspirowaną skateboardingiem. Pojawiła się w idealnym momencie, bo właśnie nadszedł czas przygotowań do powitania ciepłych dni. Wybieraj spośród boardshortów, luźnych koszulek oversize i bluz z kapturem z logo MTV. To połączenie komfortu i stylu w jednej kolekcji, które idealnie sprawdzi się podczas pikników lub kiedy pracujesz z domu. W tej palecie stonowanych kolorów można znaleźć głównie jasne pastelowe odcienie i wzory tie-dye, które doskonale odzwierciedlają letni klimat.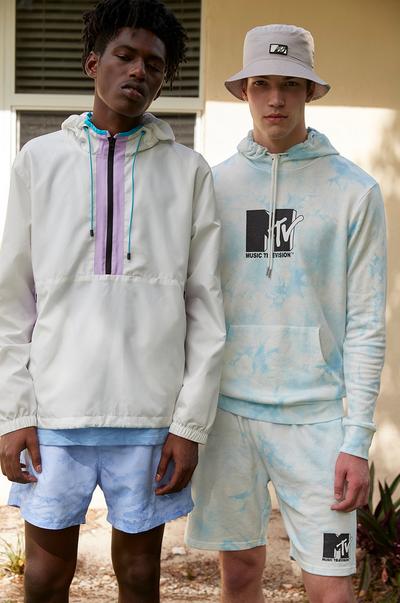 Żadna pogoda Cię nie zaskoczy
Jasnożółta, przeciwdeszczowa kurtka z kapturem to lekka i niezbędna warstwa na deszczowe dni, długie spacery i chłodne letnie wieczory. Szukasz bardziej uniwersalnego, a zarazem równie modnego okrycia? W takim razie sięgnij po naszą kurtkę jeansową na guziki, która z łatwością wpasuje się w każdy trend. Tradycyjne buty skaterskie, takie jak modele za kostkę czy tenisówki, świetnie współgrają z produktami z tej kolekcji. Możesz też postawić na pełen luz, zakładając klapki i skarpetki.