Ženske
#PrimarkMeets Francesca Cinà
Letos praznujemo 50 let Primarka. Da obeležimo to priložnost, smo izbrali nekaj naših priljubljenih obrazov, ki bodo v ospredju naše najnovejše kampanje. Ko niso pozirali, smo vsakemu izmed njih na prizorišču snemanja postavili nekaj vprašanj. Berite naprej za njihove top nasvete za nakupovanje v Primarku, Primarkove artikle, ki jih preprosto morate imeti, in drugo ...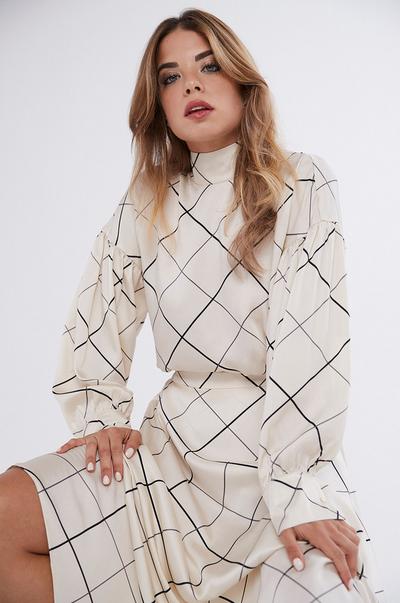 Kateri so tvoji top nasveti za nakupovanje v Primarku?
Prvo pravilo je, da moraš takoj na vhodu vzeti nakupovalno košarico, ker če misliš, da se boš izognil nakupu preveč stvari, se vsekakor motiš. Zame je to nemogoče! Torej razen če želiš poskusiti nesti vse v rokah, se pripravi in vzemi košarico, takoj ko vstopiš.
Naslednji nasvet je, da se sprehodi skozi vse oddelke in preglej vse police. Primark ima vedno lepe stvari, in tudi ko mislim, da ni ničesar, kar bi potrebovala, vedno najdem kaj zanimivega.
Kakšna Primarkova nakupovalka si?
Po dolgih letih nakupovanja v Primarku sem spoznala, da nima smisla iti v trgovino z mislijo, da bom kupila samo tisto stvar, ki jo potrebujem, ali z vnaprej pripravljenim seznamom. Edina stvar, ki jo načrtujem, je dve uri, ko me ne bo nihče motil, ker moram po nakupih. Na koncu kupim vsaj en izdelek z vsakega oddelka.
Če bi do konca življenja lahko kupila samo EN Primarkov artikel, kaj bi to bilo in zakaj?
Elastike za lase! Že leta uporabljam samo Primarkove, zame so res nujne. Vsakič, ko nakupujem v Primarku, kupim en šop.
Kateri Primarkov artikel imaš že vrsto let v svoji garderobi in je še vedno med tvojimi najljubšimi?
Torbo iz džinsa z belimi bombažnimi ročaji. Uporabljam jo že leta, v mestu in na potovanjih. Uporabna je tudi, ko grem na plažo. Nezamenljiva je!
Kaj ti pade na misel, ko pomisliš na Primark?
Ko pomislim na Primark, pomislim na zabavno nakupovanje, hkrati pa tudi na to, kako je uporaben, saj trgovino vedno zapustiš zadovoljen z nakupovalno izkušnjo in vedno najdeš kaj takega, kar te osreči.