Ženske
Zdaj v trendu: Mean Girls
Spustite na plan svoje notranje zlobno dekle z našo linijo oblačil za prosti čas in dodatkov, ki so nastali po navdihu kultnega filma. Že res, da je moto "Ob sredah nosimo rožnato", toda to linijo bomo nosile ves teden ...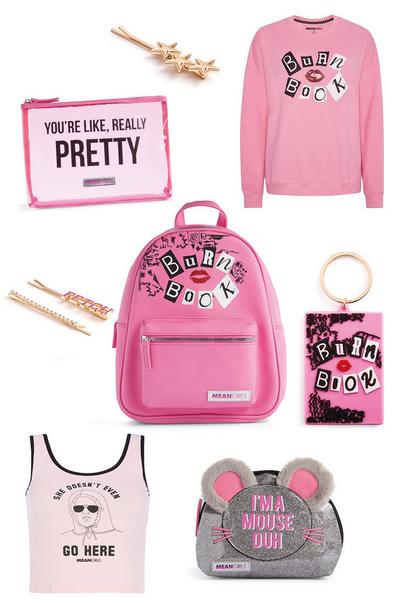 Ne glede na to, ali so vaši lasje tako obilni zato, ker so polni skrivnosti, ali zgolj zaradi suhega šampona, bo vaša frizura z našimi sponkami za lase videti tako "fetch". Tako je, z našo sponko za lase z napisom, ki je popoln dodatek za vsak čop, pomagamo Gretchen Wieners uveljaviti besedo "fetch". Izberite kakšno izmed naših res lepih torbic za ličila, da vanjo shranite tudi svojo kolekcijo lepotnih izdelkov.
Kdo je bil vaš najljubši lik? Če je bil Damian, potem morate imeti našo pižamo z napisom "She doesn't even go here", poleg tega pa je to popolna oprava za tematski filmski večer s prijateljicami. Te kolekcije nam preprosto ni nikoli dovolj: ko gre za zadostno količino robe Mean Girls, ni meje!