Wyraziste bluzy z napisami, komplety, sukienki polo i plisowane spódniczki – w tym sezonie dziecięce propozycje to esencja radosnej, barwnej zabawy modą.
Tenisowe inspiracje w wersji delux
Sportowe inspiracje w modzie to ponadczasowy trend, niezależnie czy mówimy o stylu uczelnianym czy athleisure. W tym sezonie nie może być inaczej. Choć spódniczki mini w super krótkim wydaniu przeżywają teraz swoje 5 minut, tego lata najpopularniejsza dziewczęca opcja to plisowana spódniczka.
Trapezowy fason, drobne plisy i energetyzujące kolory, sprawiają, że ta propozycja ma szansę zdetronizować jeansowy klasyk i urozmaicić kolekcję ulubionych spódnic. Postaw na kolorowe kontrasty i dobierz do niej jedną z naszych bluz z napisem oraz opalizujące klapki lub wybierz siateczkową koszulkę i skarpetki z barwnym akcentem, by stworzyć energetyzujący zestaw, który z miejsca poprawi nastrój każdej dziewczynce.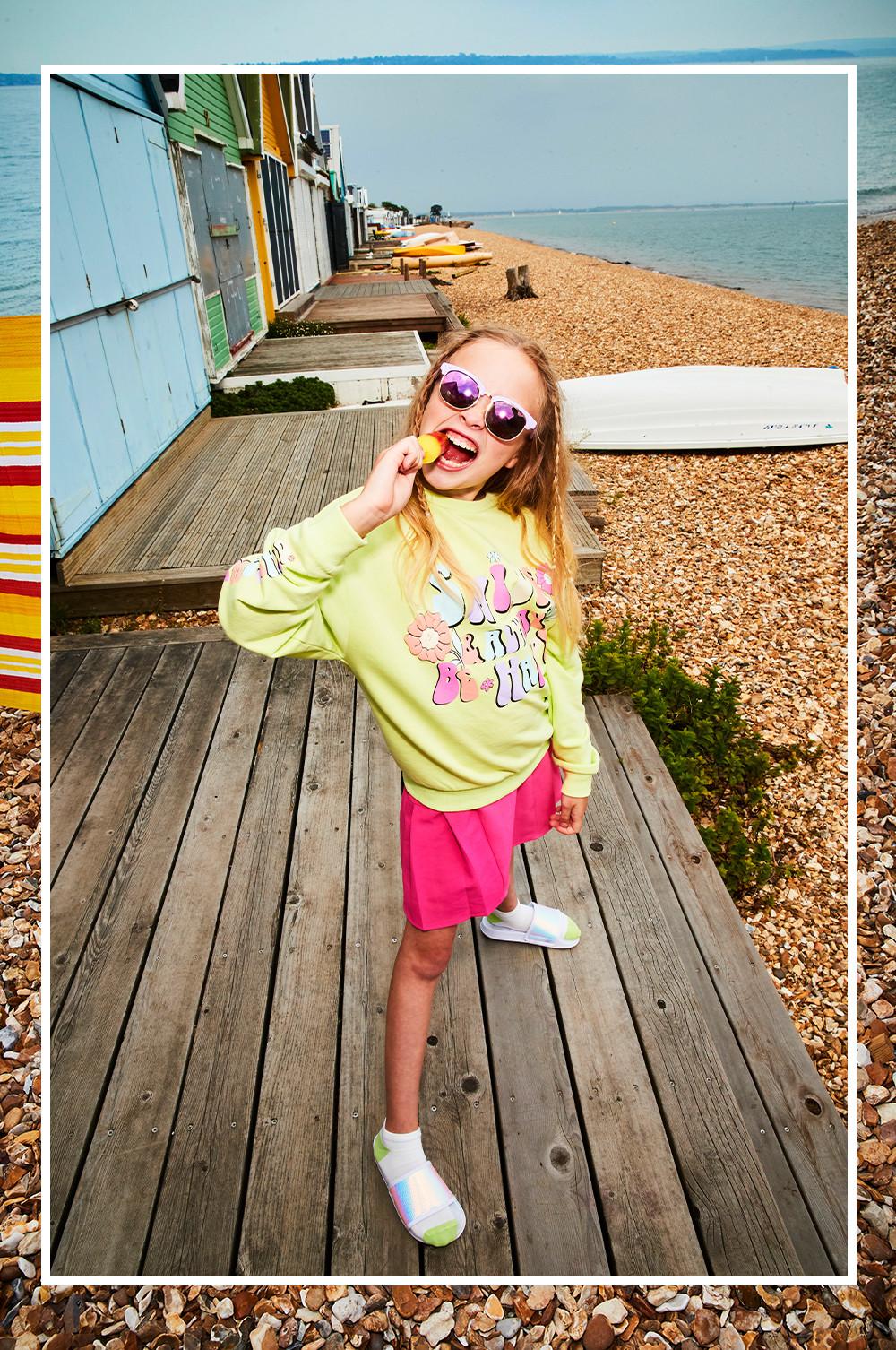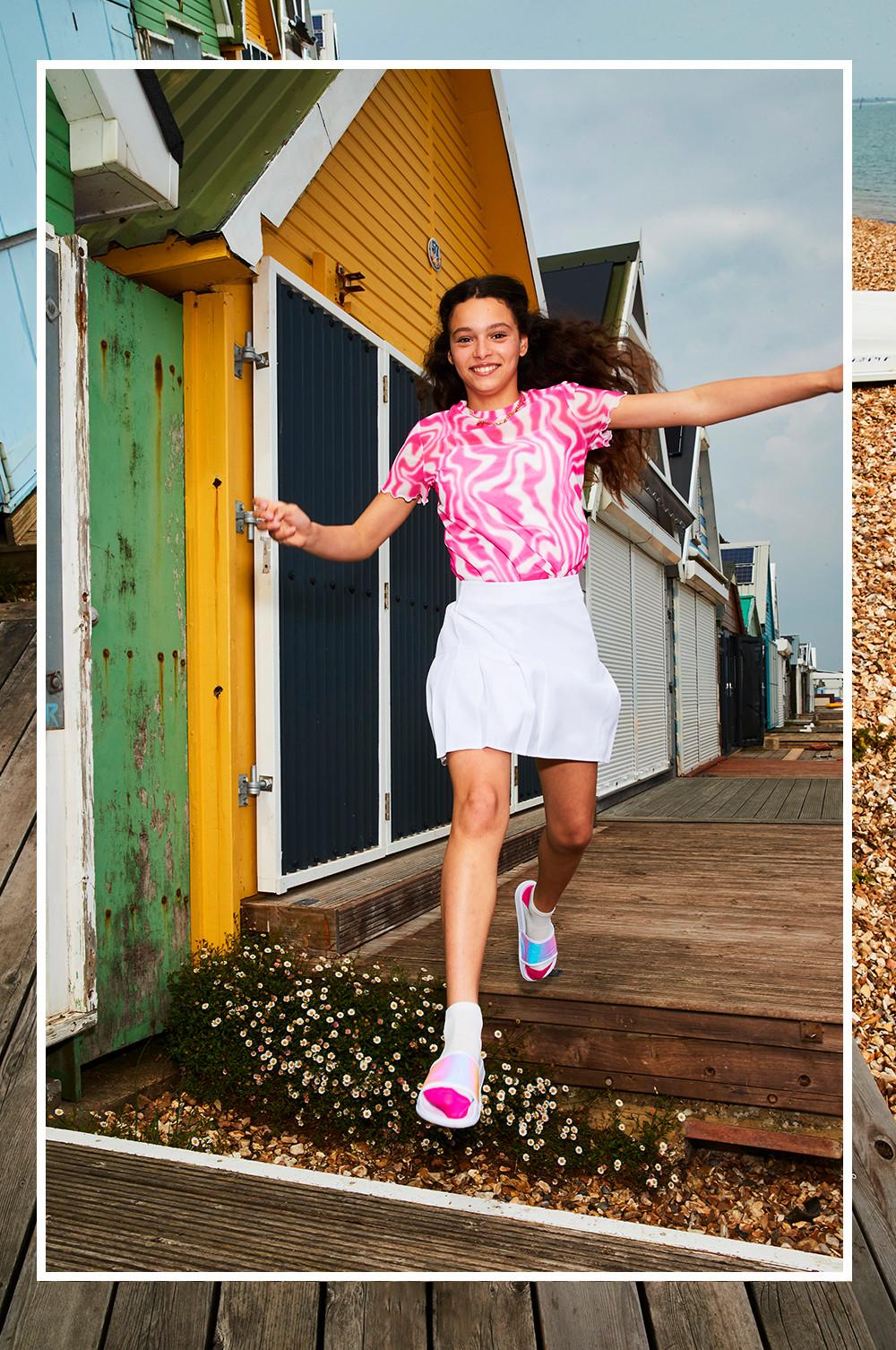 Z tenisowych kortów wynieśliśmy nie tylko pomysł na plisowane spódniczki, ale też sukienki polo. Sztywny kołnierzyk nadaje klasycznemu fasonowi akcent w stylu preppy, a wyraziste kolory i logo sprawiają, że ten ponadczasowy strój nabiera współczesnego charakteru. Jednoelementowy, kompletny ubiór na niejedną okazję prezentujący się idealnie w zestawie z masywnymi sportowymi butami i koralikowymi akcesoriami.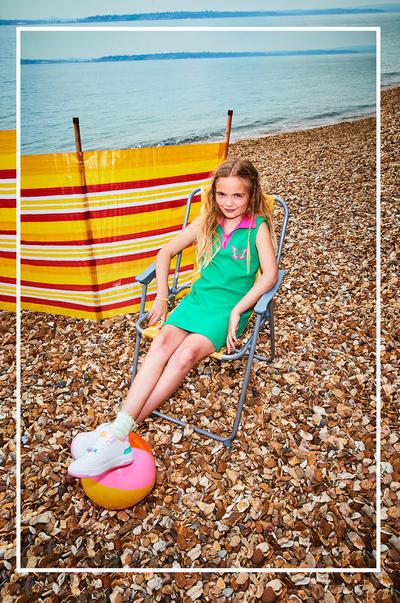 Pomysł na: Stylizację z bluzą w roli głównej
Bluza w roli głównej daje prawdziwe morze możliwości, gdy chodzi o dziecięce stylizacje. Zakładamy, że Twoja pociecha nie boi się niczego i chętnie wyruszy na modową przygodę, dlatego przyciągająca wzrok bluza w jaskrawych barwach z wyrazistymi, zabawnymi hasłami ma dużą szansę stać się jej ulubioną.
Tradycyjne jeansy proponujemy natomiast zastąpić inspirowanymi latami 70-tymi dzwonami we wzór, którego nie powstydziłyby się same dzieci-kwiaty. W ten swobodny trend w nurcie wolności wpisze się również nakrycie głowy z miękkim rondem, na przykład jeden z naszych kapeluszy wędkarskich. W tym sezonie tryumfy święcą także kolorowe komplety. Wystarczy dobrać klapki i gotowe. Prawie... Młoda dama z pewnością chętnie włoży też sporo pierścionków i bransoletek.