Zeszły rok przebiegał pod znakiem przymusowego pobytu w domowych pieleszach, prawdopodobnie więc Twoja torebka pozostawała w ukryciu przez cały ten czas. Jeśli potrzebujesz odświeżyć nieco swoją kolekcję torebek, mamy mnóstwo opcji do wyboru. Piękna i praktyczna listonoszka to idealna, stylowa opcja, która doskonale wpasuje się w Twój nowy, post-lockdownowy look. W przeciwieństwie do torebki na ramię czy torby z uchwytami, listonoszka nie angażuje rąk, więc świetnie sprawdza się w jeden z tych dni, gdy jesteś w biegu. Czysta radość!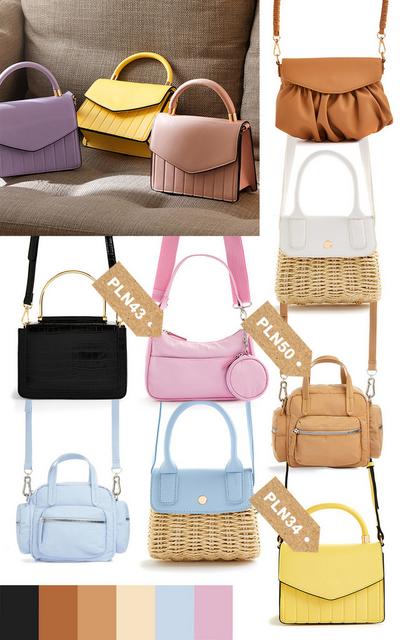 Styl – torby listonoszki
Od wyraźnie zdefiniowanych kształtów po nylonowe modele z wieloma zapinanymi kieszeniami i odpinanymi portmonetkami na drobne – mamy dla Ciebie całą gamę listonoszek w różnych odcieniach i kształtach.
Niezależnie od tego, czy lubisz zmieniać torebkę, by pasowała do danej stylizacji, czy też wolisz polegać na jednej, sprawdzonej opcji, wykorzystywanej za każdym razem, w naszej przystępnej cenowo kolekcji znajdziesz listonoszkę, która spełni Twoje oczekiwania. Wybierzradosną, pastelową torebkę i dodaj nieco barw do swojej stylizacji lub postaw na plecioną słomkę – kwintesencję lata. Z metalowymi detalami, przeszyciami i wyściełanymi panelami nasze listonoszki to niezbędny dodatek do Twojej letniej garderoby.
Listonoszka to także obowiązkowy akcent przełamujący monochromatyczny styl. Wykorzystaj regulowane paski i dopasuj ją do swoich indywidualnych preferencji. W zestawie z letnimi sukienkami maxi, luźnymi fasonami czy kompletami stworzy stylizację idealną.