Úžasná příroda se stala hlavní inspirací pro domácí potřeby a doplňky v roce 2021. Po roce stráveném hlavně mezi čtyřmi stěnami jsme opět připraveni vyrazit ven. Vybírejte z našeho sortimentu zemitých barev inspirovaných venkovem a nechte přírodu vstoupit.
Vsaďte na zelenou
Zelená je barva, které to v interiéru sluší po celý rok. Můžete ji použít na pozadí a oživit růžovou nebo broskvovou, nebo můžete použít zelené polštáře a přehozy k vytvoření uklidňující atmosféry v obývacím pokoji či ložnici.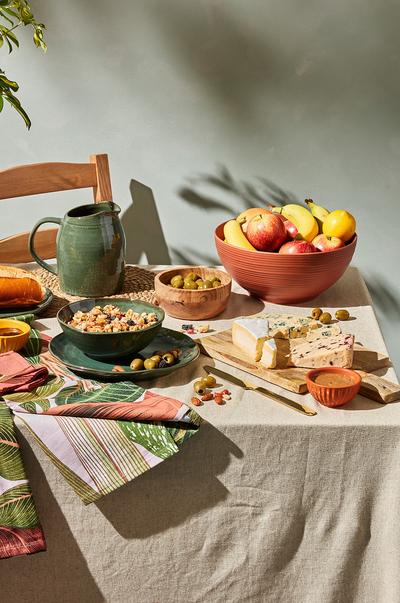 Naše ložní soupravy s potiskem květinových a tropických listů vás obklopí letní atmosférou, ve které se vám bude krásně usínat. Zemité odstíny jako terakota nebo broskvová budou v této sezóně hrát prim. S našimi bytovými doplňky dodáte svému interiéru moderní ráz.#
Stolování v interiéru/exteriéru
Již brzy bude opět čas návštěv. Je na to váš jídelní stůl připraven? Během lockdownu vám možná začal jídelní stůl sloužit místo psacího stolu. Nastal čas uklidit z něj kancelářské potřeby a vrátit ho jeho původnímu účelu.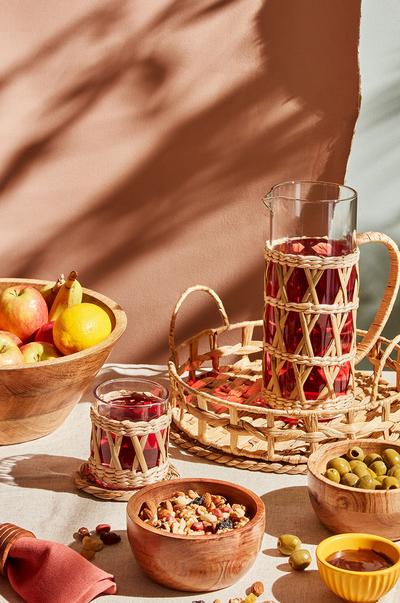 Stolovat můžete vždy ve slavnostním duchu, ať už doma, nebo pod širým nebem na zahradě. Vždy však můžete s použitím našich produktů vykouzlit úžasnou tabuli. Určitě vás zaujmou řemeslně zpracované zelené keramické talíře, misky a džbány, které dodají vašemu stolu lesk. Pokud jste si oblíbili ratan, máme pro vás sklenice, džbány a podnosy s ratanovým opletením, po kterých vaše srdce ihned zatouží. Tkaná prostírání, plátěné ubrousky a mističky na dochucovadla dotvoří celkový vzhled.
Nezbytnosti pro stolování a pikniky